The food and beverage industry in Canada is saturated with over 97,000 bars and restaurants across the country (source). With this many restaurant businesses in the market, competition is rife and new small businesses often struggle to compete with the big chain franchises.
Considering the Covid-19 pandemic, the lockdowns and social distancing measures put in place, restaurants struggled to stay afloat this year as many did not have the business infrastructure to allow them to adapt to the changing situation. This is why it is extremely important to have a restaurant business plan in place to deal with unprecedented circumstances. 
Although the closing of restaurants due to Covid was devastating for restaurant owners, it has created opportunities for new business owners who want to take advantage of this new gap in the market. If you are considering opening a restaurant, in this article we cover what you need to know about starting a restaurant business and creating a solid business plan that will ensure its success. 
Why do so many restaurants fail?
Did you know that an average of 60% of restaurant businesses fail in their first year? Before you open your restaurant, it is important to know why so many restaurants struggle in order to avoid repeating their mistakes. 
The main reason restaurant businesses fail is due to a lack of industry knowledge and poor restaurant management. Many business owners get carried away with their restaurant concept and forget to prioritize key aspects of their business (finances, inventory, fluctuations in demand, etc.). To avoid this, it's important to develop a thorough and long-term business plan that sets out everything that needs to be done and what you can expect to generate in years to come. 
How to save a failing restaurant 
How much money do you need to start a small restaurant?
The startup cost of a restaurant depends on a lot of different factors, however, on average, a Canadian entrepreneur can expect to pay around $275,000 in start-up costs. The main initial start up costs include things such as rent, or if you are buying the building a substantial downpayment. 
Here is a list of restaurant startup costs that you should keep in mind: 
Lease security deposit 

Business licenses and permits 

Legal fees 

Remodeling costs 

Kitchen and cooking equipment

Furniture and tableware

POS system and

online ordering platform

 

Advertising and marketing costs 

Mortgage or lease payments 

Food and beverage costs 

Employee salaries 

Utility costs

Insurance and permits 

Miscellaneous expenses
Restaurant opening checklist
If you think you've got what it takes to open your own restaurant and make it in the hospitality industry, we are here to help. There is a long list of things that you need to consider and include in your business plan in order to assess whether or not this is going to be a viable business opportunity for you. In order to help you do this, we have prepared a comprehensive checklist of everything you need to know and do before opening your restaurant business. 
1. Decide on a concept
It's important that you have a solid idea of what you want your business's value proposition to be, what you want it to look like and who you are going to market your offer to as everything else depends on this. 
Our best advice is to look for a niche in the market. As previously mentioned, the restaurant industry is already highly saturated with an endless variety of restaurants so customers are spoiled for choice. If you can come up with a unique idea, you are sure to attract intrigued diners. 
Once you have decided on a concept, things will start falling into place and you will be able to answer the following questions: Where should you set up your restaurant to easily reach your target audience? What kind of menu items should you prioritize? Which supplier should you get your ingredients from? 
2. Create a business plan
A thorough business plan works as a blueprint that tells you everything you need to do before the opening day and beyond. The main elements that you should include in your business plan are things such as:
Executive summary 

Market analysis 

Sample menu 

Staff requirements

Design brief 

Finance predictions
Business plans can be quite overwhelming and time consuming, so whilst we encourage you to take charge of creating your business plan, you should also enlist the help of business professionals who will be able to advise you in areas that may be outside your scope of expertise (finance, market analysis, etc.). 
How to develop a restaurant business plan 
3. Apply for licenses and permits
Throughout the process of deciding on a concept and drawing up a business plan, you should also have chosen a location for your restaurant. The location of your restaurant is important as it will dictate the kinds of licenses and permits you need as each province has different requirements and regulations. 
Some of the most common permits that most restaurants require regardless of location are:
Registration of business name

Business license 

Certificate of occupancy 

Sign permit 

Food service license 

Liquor license 
Make sure you are fully covered and have all the relevant licenses to avoid fines. 
4. Create your menu
This is likely a step that you have been thinking about since the idea to start a restaurant first entered your head. For many restaurant owners, creating a menu is the easiest part of the process, especially if you are passionate about food. 
However, it's important to keep in mind that there are logistical things to consider when creating your menu, most of which revolve around pricing. You need to consider the kind of establishment you are and who you are marketing your products and services to as this will dictate the cost of the ingredients you buy and what your pricing strategy is. 
For example, if you are a high-end restaurant, you will want to find quality suppliers who provide luxury ingredients and goods. On the other hand, if you are a local, more rustic establishment, and you want to keep your restaurant menu prices down for your customers, you will want to create a menu with affordable ingredients that are in season.
8 expert tips to create a great menu 
5. Invest in technology
In the restaurant industry, your best friend is technology. Technological tools help owners run their businesses more efficiently, streamline operations, collect valuable data to guide decision-making and improve customer satisfaction. 
Here are some of the most important technological aspects to consider: 
POS system
Opening up a restaurant business means that you will have to handle payments in cash, as well as credit and debit cards so having a point-of-sale system (POS) is essential. Having such a system increases security, makes accounting tasks easier and it reduces internal theft. 
It also makes communication between the different work areas such as the kitchen and the waiters smoother. Some POS systems have other key features such as inventory management and integrate with your online ordering system so that your restaurant can receive online orders and prepare deliveries. 
Best POS systems on the market 
Online ordering platform
An online ordering system is a must, especially in these unprecedented pandemic times when online orders have allowed restaurant owners to keep their businesses afloat. Giving customers the option to order online widens your possibilities and increases your profit margins. 
Online ordering also opens up the possibilities of delivery. Nowadays, a lot of people like to enjoy the food from their favorite restaurant from the comfort of their home and a great way to make this possible is to have your own branded online ordering system to avoid the high commissions (up to 30%!) of third party apps. 
All in all, whether you create your own custom mobile ordering app, leverage third party apps or find a happy medium between the two, you need to make sure you offer take out to your customers.
Here's what you can achieve with UEAT's online ordering platform:
37% increase in sales 

32% increase in conversions from visitors to customers 

41% increase in average ticket  
Marketing tools
Although old school marketing can still be successful, the modern age demands that your business also has an online presence. Creating social media accounts will allow you to increase your reach and advertise on multiple different platforms to reach more potential customers. It is also a good idea to incorporate a loyalty program into your marketing campaign. 
Discover smart restaurant marketing tools to out order the competition
6. Opening time
Although there are some in-between steps that you need to cover before you get to opening day, such as hiring staff, at this point, the bulk of the work has been done, so all that is left to do is open.
It's a good idea to organize a soft opening, which is a fast, casual experience for family and friends to see what you have been working so hard on. In addition to being a sentimental evening, it also gives you a chance to test the waters before your grand opening so think of it as a rehearsal.
Then, it's the grand opening! You should have marketed this event well and got the word out to as many people as possible to ensure you have a big turn out for your restaurant opening! First impressions really do matter so make sure everything is as perfect as can be. You could also get in a local newspaper or radio station to provide coverage of your restaurant and hopefully get a few good reviews to entice new customers.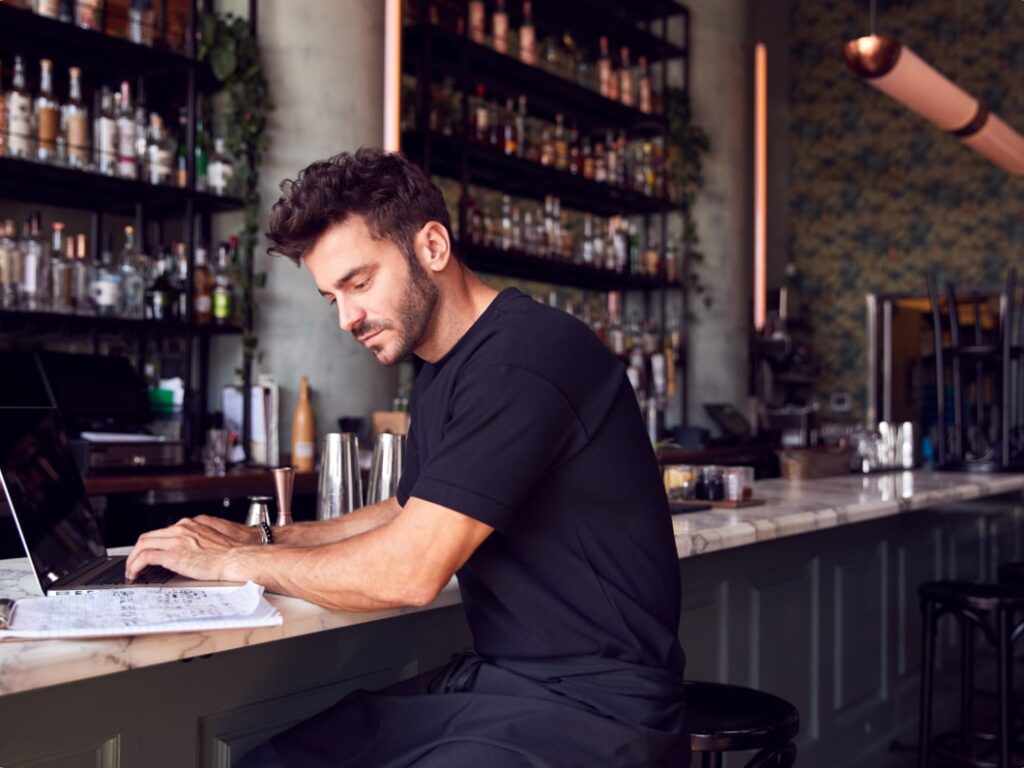 Subscribe to our newsletter for the latest insights in restaurant management
By clicking the button above, you agree that UEAT will use your information to contact you about relevant products, content and events. You can unsubscribe from these communications at any time. For more information, see our Privacy Policy.