From booking airline tickets to paying bills, mobile applications have become a key element in nearly every industries. We now have access to unlimited knowledge in the palm of our hand… and our late nite cravings are now just a few clicks away. 
In the last years, there's been a boost in online orders in the restaurant industry, so much so that it's opened up a new sales channel on a global scale. It comes to no surprise as mobile apps increase the profitability of businesses and have made available various functionalities that improve the user experience. If you're a restaurant owner and you're not offering your food online, every day you wait to make the jump, your competition gaining more and more of your market.
Most entrepreneurs agree that they should provide an online sales channel for their customers but they are not sure which strategy is best suited for their restaurants. Should they solely rely on third-party delivery apps such as Uber Eats and Grubhub? Should they opt for an online ordering system? Or should they incorporate both solutions to get the best results? 
If you're facing the same dilemma, keep reading to get more insight and find the solution that is best suited for your restaurant business.
What are the advantages of delivery apps?
More clients 
The most notable benefit is that you can reach more customers and attract new audiences with food delivery apps. Each platform comes with its own loyal users and target audience, some of which you may not be able to reach on your own. This gives you greater exposure, which can increase the amount of orders and convert new customers into regular clients.
Delivery 
We cannot deny the fact that they make it much easier for customers to get food right at their front door without having to go all the way to the restaurant. They also manage the delivery logistics for restaurants. All the logistics of the orders are handled by the third party delivery services, your business only has to prepare the food. This means you don't have to pay, train or manage delivery staff.
Convenience 
Many of the people who use this type of service do it because it's convenient. Whether it be millennials who want to order their favorite Chinese food while watching Netflix or families who don't have enough time to prepare their meals. The convenience of food ordering is attractive to a range of different types of customers. Even if it's considerably more expensive than showing up to the restaurant, customers are willingly paying for the convenience.
What are the disadvantages of delivery services?
High commissions 
Third-party home delivery companies are known for charging high commissions. In fact, these commissions can go as high as 35% per meal. With profit margins already low in the restaurant industry, these commissions may not be viable, even if you consider the advantages you could receive in return.
Loss of proximity with your clients 
A crucial detail about partnering with third party delivery apps is that you never have access to your customer data. Without the customer's name, email and order details – there is no way for you to learn more about your customers buying habits. You forfeit your customer data to a third party provider who will then send offers and promotions about other restaurants they are partnered with.
Your customer experience is in the hands of someone else
Outsourcing delivery to third parties means that you have no control over your customer experience because you are not directly managing your interactions with your clients. This means that your customer service is in the hands of delivery apps drivers. For example, if the order is late or cold, the restaurant will be blamed for the bad customer experience. 
Loss of notoriety 
When you rely on third parties to advertise your restaurant, customers no longer visit your website to order. Not only is this directly affecting your brand's visibility online, your clients are redirected to a delivery portal where your competition is sharing one space.
Fierce competition 
Speaking of competition, third party delivery apps promote intense competition and that is actually how they make money. If you want to get more exposure and appear higher in the results of searches, you actually have to pay more. Plus, when clients are using these apps, they are given different choices before ordering and they can compare your menu to that of your competitors. If your competitor has an offer or lower prices, you are sure to lose that customer order.
Key takeaways
If third party food delivery services can bring you additional customers, then go for it. If they end up representing 10% of your revenues, that may not be bad. They start being a problem when they represent a big chunk of your revenues since they can eat up 35% of every order.

Unless you have your own

online ordering system

, you run the risk of losing many customers if you only outsource delivery by using third parties 

You should not rely solely on third party restaurant delivery services if you want to protect your margins

If you have customers who are loyal to your brand, why send them to Uber Eats at a 35% loss? These customers know how to get onto your website. Why not offer them a sweet promotion to incentivize them to order directly from your website?

For your loyal customers who are interested in picking-up food directly from your takeout, wouldn't you want to have an option that costs less than $1.25 per hour or less than $0.65 per order?

And what it if that

solution

that was costing $0.65/order was also consistently and systematically bringing in an extra $3? So instead of costing you $0.65, it would add $2.35 per order, thus $705 per month to your business, would you see this as an expensive solution?
The best solution for your restaurant 
Anything in excess is usually bad business and you should never put all of your eggs in the same basket, which is why we don't recommend relying solely on third parties if you wish to promote online orders and open up a new sales channel. 
Restaurant owners are turning to online ordering systems more and more because they offer many advantages and don't come with the disadvantages that third parties. This is not to say that one solution is better than the other. In fact, the best solution in our mind is a combination of both strategies – an omnichannel. Meaning that by having your own online ordering system and using third parties as a secondary channel, you would be able to yield the best results. You would significantly increase your profits and remain in control of the customer experience.  
Benefits of UEAT's online ordering system: 
Don't hesitate to contact us if you have any questions or would like to learn more about our services.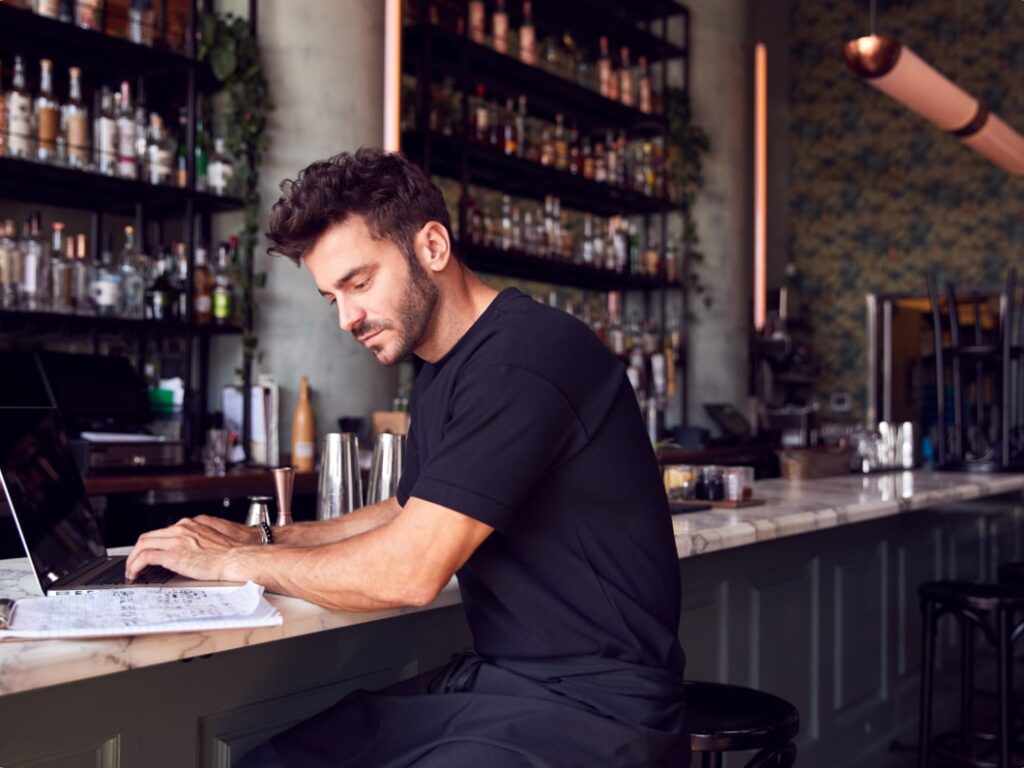 Subscribe to our newsletter for the latest insights in restaurant management
By clicking the button above, you agree that UEAT will use your information to contact you about relevant products, content and events. You can unsubscribe from these communications at any time. For more information, see our Privacy Policy.