Restaurant owners and managers often ask UEAT: "How can I drive more traffic to my online ordering platform?"
This question arises for all types of restaurateurs—whether they have experience or not with digital marketing. Oftentimes, they are looking for cost-effective ways to be less reliant on third-party delivery platforms. Still others want to simply expand their restaurants' reach to new markets. And naturally, some restaurants are just starting out in adding online sales to their business models.
It is important to remember that driving traffic to your online ordering platform is one thing. However, for that traffic to generate sales and profits, you need an online order system that converts website visitors into actual paying customers. If you're still on the fence about which online ordering platform to choose or are considering switching solutions to achieve higher performance levels, make sure you read our free guide on maximizing your success with online ordering. You can get it here.
Let's presume you have an online ordering platform that customers appreciate and results in few abandoned carts. Are you still wondering why not more customers are using your online ordering platform and opting for marketplaces or telephone calls, even if you offer local delivery options, takeout and curbside pickup? Let's take a look at some easy and affordable ways to drive high-quality traffic to your online ordering platform.
Top tips for driving traffic to your restaurant's website and online ordering system
1-Train your staff
This may sound like a no-brainer, but training your front-of-the-house staff to consistently mention the availability of your online ordering options to both on-premise and call-in diners can be a very inexpensive tactic to increase awareness of your restaurant's website.
2-Optimize your website for Google searches
We hear you! Most busy restaurateurs don't have time to be constantly optimizing their websites to rank high in Google's search results. However, by investing with local search engine optimization (SEO) professionals, small tweaks to your website's content, images and design can make a huge difference without breaking the bank. For example, the pros can teach you how to add keywords to your site, such as your restaurant's name, cuisine type and location, which Google loves in order to help hungry customers find, for example, "the best pizza joint in [name of neighbourhood]."
3-Promote your online ordering EVERYWHERE
Apart from their staff mentioning the availability of online ordering, restaurateurs benefit from many different customer touchpoints with customers to underscore the advantages of ordering online from their establishments. Set up promotional posters throughout your restaurant as well as give take-away postcards that could feature a recipe on one side and your online ordering platform's web address on the other. Switch up your takeout/delivery/curbside pickup packaging to highlight that loyal customers get an extra discount if they keep ordering online. Regularly post on social media about deals you have for online ordering customers only.
4Tie in your online ordering to your loyalty program>
Did you know that 95% of loyalty program members are happy to engage in a restaurant's program through new technologies (aka: online ordering)? Not only do loyalty program customers spend more, but they are also eager to find new ways to earn points and benefits faster. Generously reward your customers for placing online orders with bonus points, freebies, or special deals.
5-Develop an exclusive online ordering menu
Many restaurateurs serve up exclusive online ordering menus—either throughout the year, or periodically based on themes or holidays. It's all about tapping into customers' FOMO (fear of missing out). Whether you want to offer menu items that cannot be found in your dining room or a meal-in-a-box concept, the sheer notion of "exclusivity," "for a limited time only," or "for the first 50 customers only" can significantly boost online orders.
6-Boost your presence on local directories
Of course, it is important to be on Google. But don't diss local directories for your online ordering platform (and restaurant in general). TripAdvisor, Yelp and Foursquare are just some of the online listings you can leverage. An extra bonus? These sites often provide a means for your customers to give reviews!
7-Cross-promote with local businesses
Strength in numbers! By partnering with local businesses, including flower shops, hair salons, office buildings, etc., you can cast a wide net for new users of your online ordering. Strike up discounts for each other's businesses to drive consumers to spend their dollars within the area you operate. It's good for your online business and it's good for the local economy!
8-Send out email, text and direct mail campaigns
If your restaurant collects customer data via your online ordering platform, loyalty program or other means, you can promote your online ordering through systematic emails, text messages or even direct mail campaigns. Naturally, you don't want to spam your customers via digital or snail mail channels; nevertheless, these can be great tools to get people to order online, particularly during slow periods of the day, month or year.
9- Get creative on social media
You don't have to just tell your followers you've got an online ordering platform! Add videos of your kitchen brigade preparing online orders, interviews with your chef, or even share patron-curated clips. Repeat after us: you don't have to be a Hollywood blockbuster producer; as long as the videos are of good quality, you're good to go! Your social posts could also include contests for followers to guess the secret ingredient in next month's online order special, for example.
10- Incite customers to refer friends and family!
Word of mouth works in the digital realm too. Encourage your online ordering customers to refer X number of friends and family members for a chance to win a prize or bonus points with your rewards program. You'd be surprised how much your die-hard fans will be happy to help out their favourite restaurateurs.
Driving traffic to a restaurant's website and online ordering platform doesn't have to cost an arm and a leg. Start small. Try out which tactics to see the ones that resonate most with customers. Happy promoting!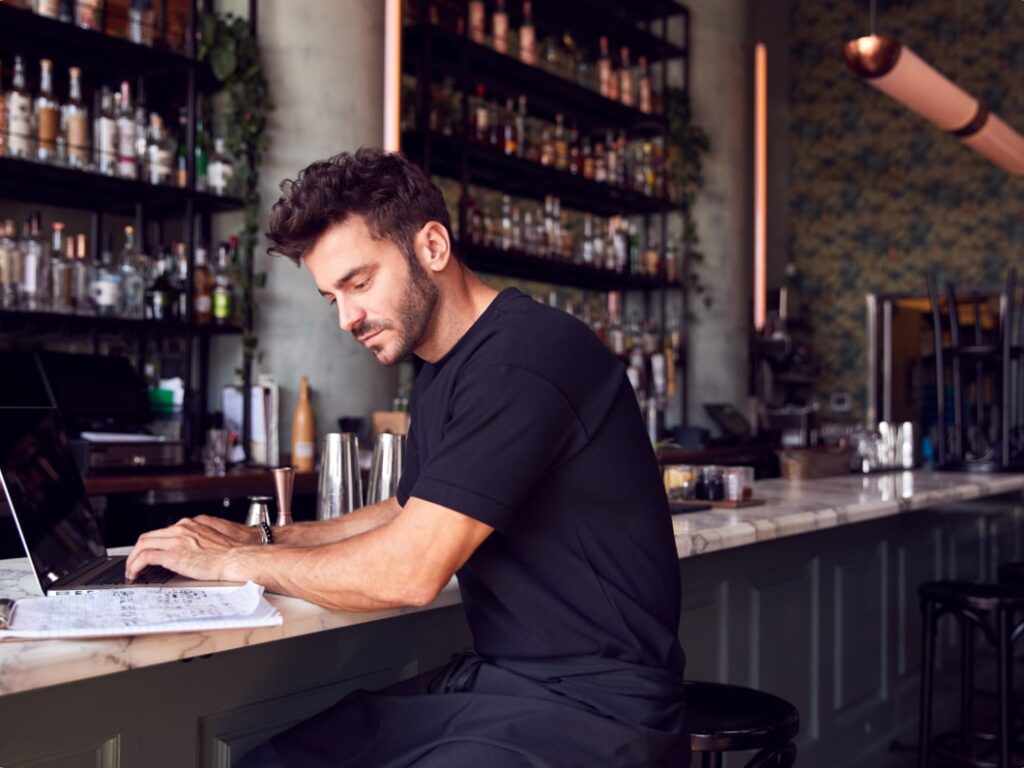 Subscribe to our newsletter for the latest insights in restaurant management
By clicking the button above, you agree that UEAT will use your information to contact you about relevant products, content and events. You can unsubscribe from these communications at any time. For more information, see our Privacy Policy.