In the digital world of today, more people than ever use online information to decide what streets to drive on, where to shop, and where to eat. Google search results have begun to replace traditional methods of advertising and are becoming one of the main ways people interact with businesses. Ranking higher on Google is a key goal every restaurant should strive to achieve in order to increase revenues and visibility online. 
Do restaurants need SEO?
Search Engine Optimization (SEO) is crucial for success in the restaurant industry. Local SEO can drive online traffic towards a restaurant's website, which can translate into increased sales and a stronger brand image.
Why is SEO important for restaurants?
The purpose of SEO is to influence search engines like Google to position websites higher on the search engine results pages. If a restaurant is not on Google, then it practically doesn't exist for thousands of potential customers.
How do I get my restaurant at the top of Google?
The best way to get a restaurant at the top of Google's search results is to develop a solid SEO strategy. To do this you will have to create a website for your restaurant, determine the keywords that your target market searches for on the Internet when they want to eat, optimize your landing pages and create unique content.
Here are experts tips for restaurants to rank higher on Google:
Determine your target audience (demographics, income level, age, etc.). This will help you reach your potential customers.
Set clear goals for your SEO strategy. This will help you measure the success of your SEO efforts.
Identity the actions needed to optimize your website both on and off-site.
Perform a keyword research specific to the restaurant industry. It's important to know the language your potential customers are using in order to optimize your content and improve conversions. Keyword research will tell you the search volume of specific keywords, keyword variations to use as well as tell you how competitive certain keywords are.
Target niche keywords. They generate less traffic than broad keywords but they can help you reach your target audience more efficiently. To find niche keywords you can use Google's search suggestions.
List your restaurant on local directories as well as review sites (Yelp, TripAdvisor, etc.). Most customers search and trust positive reviews.
Focus on on-page optimization. For example, include target keywords in your web pages and blog posts, get rid of crawl errors, etc.
Optimize off-page SEO. This is a great way to improve the authority of your domain, which is a ranking factor. The best method to go about it is to develop a backlink strategy.
How to rank your restaurant on Google in 5 easy steps
1. Get on Google
The first step to rank higher on Google search results is to let Google know your restaurant exists. All a restaurant has to do to be listed on Google is register on Google My Business.
Setting up an account is a free and simple process. This will allow you to appear in Google listings and Google local business listings as well. 
You can increase the appeal of your restaurant's business profile by customizing it with the following information:
Links to your restaurant's website and menu
Images of your location, brand, and menu items
Your address on Google Maps, so potential customers know where to find you
Your opening hours, which should be updated on public holidays and other similar dates
Contact information, such as a telephone number and email address
Information about your services, including take away, dine-in, and delivery options
2. Be active on social media
Social media pages are an indispensable source of opportunities to attract new customers. People use social media for all kinds of activities, from checking on their friends and family to dating and even choosing where to go on weekends. If you wish to connect with customers and increase your visibility online, social media is the way to go. Many customers form relationships with brands via social media, so it's also an efficient tool to improve customer loyalty.
Make sure to include the following data on your business profiles:
Photos of your restaurant and menu items
Your address and opening hours
Your contact details
A link to your website
Remember that any information you include on your social media platforms will also be accessible from a Google search, so it's important for your information to always be relevant and updated.
3. Build your online presence
If a customer's first interaction with your restaurant is online, then having a branded website or app will help call their attention. Another perk of having your own website is that it will improve your restaurant's Google ranking. Partnering with UEAT is an easy way for a restaurant to set up a website together with a smart ordering system.
A survey published by MGH Advertising revealed that almost 4 out of 5 customers (77% to be exact) check a restaurant's website before deciding to eat there or not. Moreover, 68% of customers report choosing not to visit a restaurant due to it having a poor online presence.
When building your restaurant's website, the following items should be included:
Your restaurant's contact information
Your full menu updated to its latest iteration
An "About us" section, detailing the history of your restaurant
An online ordering system to bring your dining experience online
Links to your social media pages
Special offers, events, and loyalty programs
An option to sign up for your newsletter
Customer reviews
4. Develop a SEO strategy
Search engine optimization (SEO) is a powerful tool to improve any business's online visibility. Good local SEO can lead to your restaurant ranking higher on organic searches. Even though SEO is complex, you can drastically improve your search ranking by following these tips: 
Perform a keyword analysis: Customers familiar with your brand may be able to find your restaurant by googling its name, but that leaves every other customer behind. If you wish to reach people who don't know about your restaurant, then you can do so by using keywords.
Keywords are special phrases or terms that are relevant to what a customer expects from their eating experience. For instance, someone looking to eat in Mirabel may search "best restaurants in Mirabel" or ''best Asian food in Mirabel''. If you happen to own a restaurant in Mirabel, then it's in your best interest that Google associate those keywords with your business. To choose the right keywords you can use Google's keyword planner.
Create relevant content: The keywords you choose to improve your restaurant's search ranking have to be part of your landing pages or blogs. Keywords must be included in original content designed to inform, educate, and entertain your customers.Successful methods of keyword implementation include blog posts and news pages.
Update your website: Your website will rank higher on search engines if it is constantly updated and modernized. New changes to a website are opportunities to increase its ranking on Google. Your contact information should always be up to date and when you create new content make sure to get Google to index your web pages.
When Google crawls your website, it detects new and updated pages and includes them in the Google index. However, it can take a while for Google to index your web pages if you don't submit indexing requests. If you want your new pages or blogs to be indexed, it's important to use the Google Search Console and submit indexing requests. If you're unsure which pages of your restaurant's website are in the Google index, you can do a Google Web Search for "site:mywebsite.com".
Go mobile: In today's day and age, the whole world is online, and the online world is going mobile. Research by Statista reports that more than 90% of worldwide active Internet users come from mobile devices. Plus, the trends pointing towards that number will get even higher in the future. Creating a white-label mobile app for your restaurant gives it a competitive edge in the mobile market.
5. Add a blog to your website
Creating blog content is an effective way to improve your SEO efforts. Restaurants with few pages of content do not tend to get picked up by Google search results, so the more content you produce, the better it is for your restaurant's ranking. 
Remember to create content that is relevant to your audience. Blog posts can include reviews and testimonials from customers or simple recipes inspired by your menu. If you keep people engaged, they will interact more often with your website, increasing its chances of ranking higher on Google.
8 SEO tips to boost your restaurant website in search results
Your SEO needs will grow as your restaurant's online presence develops, and you will most likely want to partner with online marketing specialists. If you're just getting started, here are some things you can do to kickstart your SEO strategy:
Define your strategy
As the saying goes: "well planned is half done". Developing a viable SEO strategy is better than trying to implement SEO methods at random. A well-planned SEO strategy can help a restaurant understand who it is competing against, fine-tune its buyer persona and determine what steps are needed to increase its online visibility.
Be #1 on local searches
Local search is when a user searches for products, services or businesses or information relevant to a specific location. For example, when a potential customer searches for ''restaurants near me'' to find a great place to eat for dinner. Ranking higher in your neighbourhood will help you attract more targeted traffic to increase conversions.
Here is an example or a local search: 
Here are tips to improve your local SEO efforts:
Optimize your Google My Business (GMB) listing by sharing business updates and new content regularly.
Make your website mobile friendly. According to a study performed by Uberall, 82% of respondents use their mobile phones or devices in order to conduct a "near me" search.
Collect customer feedback and reviews.
Develop a local link building strategy.
Engage with your social media followers
Social media engagement is a great way to attract customers. Engagement with your audience can lead to influencing people exponentially, as customers recommend your pages to their friends and family. Customers appreciate quick and concise answers to their questions, so you may want to consider your social media presence as part of your customer service policy. Use your social media to provide potential customers with promotions and content that leads them to your website.
Customer reviews
Reviews are an essential part of a restaurant's online presence, and indispensable if you wish to improve your restaurant's Google ranking. Reviews are important because people click on higher star ratings. Your online strategy should consider methods to curb negative reviews and incentivize positive ones. If online reviews don't show an accurate portrayal of your restaurant's quality, then search engines will always rank it lower.
Create original content
If your restaurant's website looks bland and generic, then your restaurant is going to look that way in the eyes of online viewers. Not only is creating unique and engaging content a great way to drive visitors to your website, but it also is an effective method to implement keywords and drive online traffic.
Content localization
If you're creating content for your website, then you can use it to strengthen your brand recognition. Telling the story of your restaurant and sharing some information about your motives as a restaurant owner can help engage people. Moreover, you can add all kinds of interesting content to attract people who would otherwise not interact with your restaurant.
For example, content about the area where your premises are located can help catch the attention of tourists and other out-of-town visitors. Likewise, if you run a themed restaurant, such as an Italian or Vietnamese venue, then you can add content appealing to people who look forward to experiencing that kind of cuisine.
Take a mobile-first approach
If people are going to interact with you online, they are most likely going to do it from a mobile device. Since the 1st of July of 2019, Google prioritizes mobile over desktop indexing. This means that websites designed for mobile rank higher!
Reassess your strategies
Once you've got your SEO strategy set up and running, then it is time to evaluate your efforts and find areas of improvement. Maybe some efforts are not working as you wish and changing your approach can help. Make sure to track visibility, engagement, and any other data relevant to the growth of your online presence. Data analysis is the best way to identify patterns in customer behaviour and make more informed decisions.
Don't have a website or app for your restaurant?
While some SEO practices are simple enough to handle on your own, building a website that is up to market standards falls beyond most people's skills. Having a mobile-friendly website together with a state-of-the-art online ordering solution is the best way to enhance a restaurant's visibility and sales.
UEAT can help you build your online presence with AI-powered smart marketing tools, engineered to create the best customer experiences. Not only will UEAT's proven methods revamp your restaurant's ranking on Google, but you will also have access to valuable data insights to understand your customers' behaviour, giving you the tools to improve your future strategies.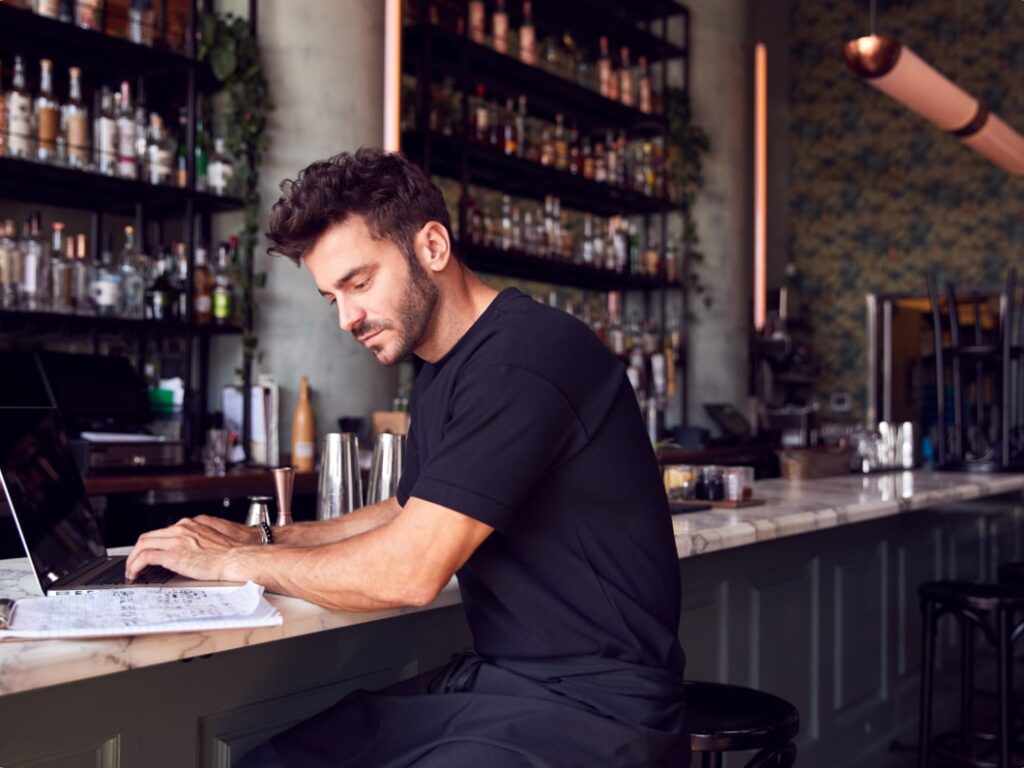 Subscribe to our newsletter for the latest insights in restaurant management
By clicking the button above, you agree that UEAT will use your information to contact you about relevant products, content and events. You can unsubscribe from these communications at any time. For more information, see our Privacy Policy.