Real institution in Val-Bélair, Patates Plus is without a doubt a local champion! The family restaurant specializes in traditional fast food menus.
The dishes, the service and the quality of the products have made the restaurant famous for more than 30 years. Patates Plus has more than 15 car drivers working full time.
The Challenge
Patates Plus has been offering delivery and takeaway orders for several years. These services represent a large volume of orders that were, until the arrival of UEAT, all taken over the phone by several employees. It required a lot of personnel management. Errors abounded in taking orders and Patate Plus would lose orders because all the lines would be busy.
For this purpose, customers often asked the restaurant for online orders.

The Results
Patates Plus has chosen UEAT for its online order solutions because of its convenience for the customer and for the restaurateur.
The latter is not bound by a restrictive contract and does not need to purchase an additional computer or tablet. The solution 100% integrated with the checkout system and on the website.
In addition to allowing the customer to take the time to make his order, this service can reorganize the staff on the floor, to have more employees on the preparation of orders than in order taking.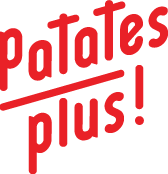 About
The Patates Plus restaurant, is a real institution, run by the same family from father to daughter for more than 31 years.