The advent of the ghost kitchen is highlighting the need for businesses in the restaurant industry to adapt their business models for digital transformation in order to incorporate delivery services. This new business concept consists of a kitchen where all kinds of takeaway dishes are prepared and then delivered to customers through third-party delivery apps or custom integrated delivery solutions.
This emerging gastronomic system was born as a way to adapt to customers' changing needs and habits. Now more than ever, customers are turning to online and mobile ordering in different industries in order to simplify their lives. Restaurants have to adapt to this trend if they want to remain competitive in today's highly saturated food industry. In fact, dark kitchens could be the lifeline for many restaurants who are suffering due to the current health crisis. It's an opportunity many are grasping and for good reason. If we look at the numbers, ''the online food delivery market's worldwide revenue reached $107.4 billion in 2019'' and there is no sign that indicates that this market will stop growing, especially considering the current covid-19 restrictions.
The growth of online delivery
Before we dive into the topic and explain what ghost kitchens are, it's important to understand why they were created in the first place. Delivery platforms and online ordering systems are in full expansion across the international scene. In fact, ''the global online food delivery services market is expected to grow from $107.44 billion in 2019 and to $111.32 billion in 2020 at a growth rate of 3.61%'' (source).
These numbers are very promising given the current worldwide pandemic, which has resulted in negative growth in many industries. Plus, we can only expect this market trend to grow even more in the future. According to the Online Food Delivery Services Global Market Report 2020-30: COVID-19 Growth and Change, the online food delivery market is expected to grow and reach $154.34 billion in 2023 at a CAGR of 11.51%. 
What is a ghost kitchen?
A ghost kitchen, which is also called digital kitchen, is a new business model that has emerged a few years ago and rapidly expanded as a result of the health crisis surrounding the coronavirus. Ghost kitchens don't have seating, tables or waiters because they are exclusively used for delivery purposes. They are basically the e-commerce format of restaurants, which are dedicated to preparing and delivering meals. Dark kitchens can be managed by restaurants, specialized companies or delivery companies. 
The creation of ghost kitchens is an initiative of the collaborative economy. The concept is already well established in places like the United States, the United Kingdom, Austria and Germany where it is experiencing great success. For customers, these delivery-only restaurants are digital companies that satisfy their immediate needs and respond to current trends in the food industry. 
Beyond changing the global economy, home delivery platforms are transforming consumer behavior. These changes are excellent for the restaurant industry but it should be noted that the delivery industry has become extremely competitive. Now the strategy of both restaurants and home delivery platforms consists in implementing aggressive pricing policies and offering discounts, which is achievable with dark kitchens. 
Top 3 benefits of dark kitchens
Lower investment costs: Your costs are much lower than that of a traditional restaurant because you don't have to spend money on tables, chairs, decoration, dishware, napkins, etc. You don't have a dine-in area, so you can forget all about the money you would normally have to disburse on such related costs. Plus, you can save on renting costs so you no longer have to pay the top price to be on a busy street.
Reduced labor costs: A business of this type substantially reduces the number of employees you need on our team. In fact, all of your workers focus on producing. Since you don't have a physical space for customers to eat, you can save a lot of money. You don't have to hire waiters, receptionists or security personnel, which represents huge personnel-related cost savings.
Price competitiveness: Due to the cost savings you are able to achieve (supplies, real estate, labor, equipment, overhead costs, etc.) you can optimize your pricing strategy. Dark kitchens are able to lower the costs of their menu items in order to gain a competitive advantage in the market.
The 4 main types of ghost kitchens
Restaurants who operate their own ghost kitchen
In this model, a brand rents or owns a kitchen space without offering a dine-in area to customers. Since a single restaurant uses this kitchen, businesses generally focus on a particular type of cuisine (Indian, Chinese, American, Peruvian, etc.) and get orders delivered by their own employees or third party delivery apps. 
Takeaway ghost kitchen
This type of dark kitchen is similar to the one listed above. The difference is that in addition to offering delivery, customers can also come to the ghost kitchen to pick up their orders themselves. This way, they can interact with the staff, see how the digital restaurant operates and save on delivery fees. To open this type of dark kitchen you need a larger space and more investment in design seeing as customers will see the space. This set-up makes it easier to connect with customers. 
Kitchens operated by third party delivery apps
Delivery giants such as Uber Eats are rapidly opening digital kitchens around the world. They rent empty kitchen spaces to different types of restaurants that produce food to be delivered to their customers' home or office. Businesses therefore benefit from the delivery company's fleet and online ordering platform. With this model, restaurants just have to cook the food because the logistics are handled by the delivery app. There are often many small kitchen spaces rented to different restaurants within the same space. These spaces are usually located in strategic areas to facilitate transport and reduce travel time. 
Multi-brand digital kitchen
As the title suggests, in this set-up different brands under one company share a kitchen space in order to benefit from reduced operational costs. The brands leverage data and technology to gain valuable insights and determine the most popular menu items based on demand for each type of cuisine at certain times. 
Steps to open a successful ghost restaurant
1.  Find a good location and buy the necessary equipment
Efficiency is key for dark kitchens. You want to find a functional space in a strategic location in order to optimize travel time. It's important that everything be organized in your work environment and that you buy all the necessary equipment so that your team can quickly prepare orders. If you're going to manage multiple brands in your dark kitchen, you don't want your team to be squished in a small space and waste valuable time preparing food with outdated equipment. 
2. Create a solid marketing plan
Your marketing plan will be the backbone of your dark kitchen so you want to make sure that it's on point. As part of your digital strategy, you should have an easy to use and eye-catching website with an integrated online ordering system. You should also take advantage of social networks to connect with customers and communicate offers and promotions. Consider hiring a professional photographer to take mouthwatering pictures of your dishes to compel customers to buy.
Button action: Download your free marketing guide
3. Invest in technological tools
As mentioned earlier, dark kitchens are basically the e-commerce version of restaurants so technology is a big part of their success. Restaurants that wish to open ghost kitchens should have a personalized app and online ordering website to manage their orders. A great strategy is one that combines the use of third party apps with your own online ordering system. This way, you can reach markets that are outside your customer base and benefit from lower commission fees.
4. Obtain all the necessary permits
Before opening your business, you will have to get all the required licenses and permits. On the plus side, you need less permits to open a dark kitchen than a dine-in restaurant. However, considering that this is an emerging business model, health inspections will probably be very strict.
What should we learn from dark kitchens?
Dark kitchens are revolutionizing the food industry. Considering that cloud kitchens don't have a dine-in area, businesses have to double their efforts to make sure that they are providing customers with an exceptional, fast and quality delivery food service. The only direct interaction customers will have with your brand will be through the final product so you have to make sure your deliveries are on time and that food arrives well presented at the right temperature. To achieve this, companies have to invest in technologies that optimize delivery routes, communicate with carriers, track orders in real time during delivery, and receive customer feedback in order to constantly improve their service. 
The future of online delivery
Nowadays, people have less and less free time so they enjoy convenience and flexibility in many aspects of their lives. As a result, innovative technologies are constantly emerging and we are now able to manage just about anything on our mobile devices (banking services, food delivery, etc.) in just a few clicks. Delivery companies were able to identify this trend and recognize its importance, which is why they have been so successful in the last few years. 
However, now that they are well established in the market, they cannot remain stagnant. The next step lies in improving their current systems through big data and analyzing customers' needs in order to provide them with personalized solutions and services. This means that automation and artificial intelligence will increasingly be leveraged in the restaurant industry.
Ready for the digital transformation of your restaurant?
If you're looking for a way to boost your profits or stay afloat during these hard times, the digital transformation of your business is a must. With the current social distancing measures, restaurant owners have to find new ways of interacting with customers and open an online sales channel if they want to stay in business. UEAT offers many innovative solutions to restaurateurs such as an online ordering platform that allows you to customize your customers' experience. Our team helps you get online in no time and provides you with a personalized white-label app so that customers can easily order their food. We also offer you smart marketing tools, integrated delivery, an artificial intelligence module and much more.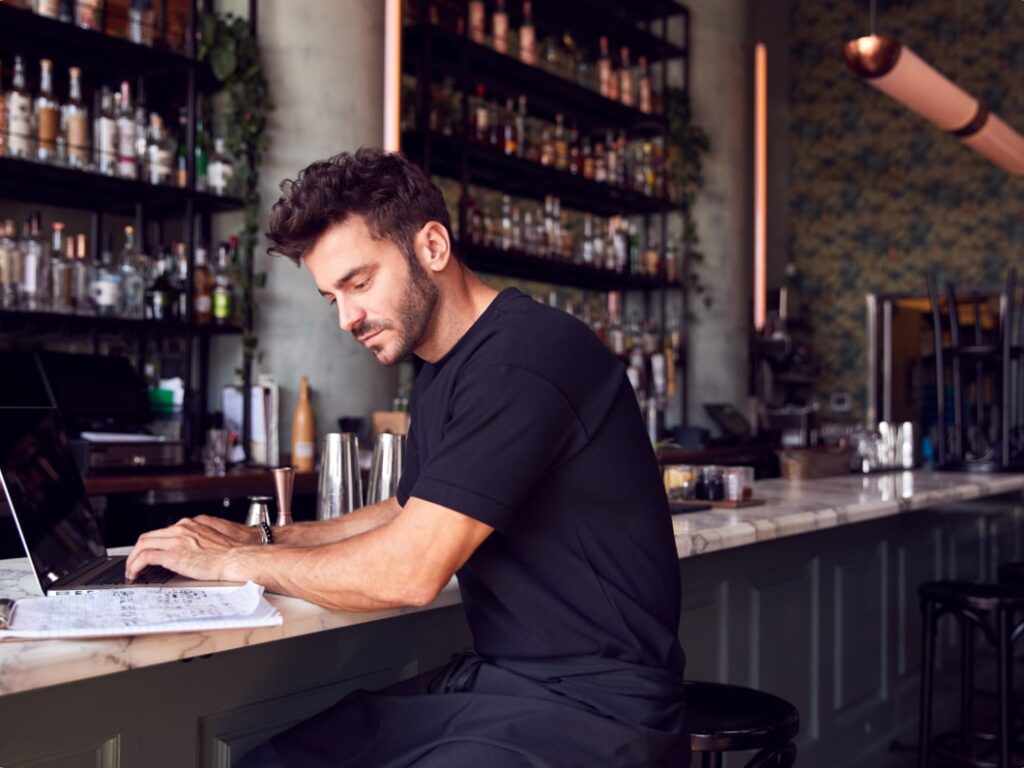 Subscribe to our newsletter for the latest insights in restaurant management
By clicking the button above, you agree that UEAT will use your information to contact you about relevant products, content and events. You can unsubscribe from these communications at any time. For more information, see our Privacy Policy.