The development of technologies based on artificial intelligence (AI) and Big Data has allowed the global food industry to dive deeper and deeper into applications that allow it to take advantage of consumer and market information for the development of innovative products, as well as the identification of trends and potential value-added segments.
Technology not only produces new innovative platforms, but also accelerates the development of new value proposals for the food industry. Like many industries, the food industry will be influenced and transformed by artificial intelligence. In this article, we explain how AI is changing the food industry.
What is AI in the food industry?
Artificial intelligence is useful for the entire food industry and it's currently revolutionizing the way food is manufactured, transported and consumed.
Through more flexible decision-making, efficient production, better adaptation to the environment and a more collaborative value chain, this technology can bring significant benefits to the industry at a strategic and operational level.
Companies in the food industry will find an outstanding ally in artificial intelligence, which will allow them to provide a shopping experience that exceeds the expectations of their consumers, while collecting data for analysis and subsequently implementing strategies that effectively adapt to the environment.
How is artificial intelligence reshaping the restaurant world?
AI is constantly evolving but here are some of the ways in which artificial intelligence is reshaping the restaurant world nowadays:
AI helps predict the sales cycle and perform inventory management
Artificial intelligence-based algorithms can learn from various factors, such as product promotions, social media, market trends, consumer demand, and even the weather. With this historical data, the sales cycle of each product can be predicted within a specific period of time.
Similarly, with the results obtained, the main customers can be identified by the frequency of purchases and the specific needs of each product. This information helps make forecasts more accurate, helping companies manage inventory effectively and improve the supply chain.
AI helps you understand customers
Artificial intelligence can track and classify customers based on their tastes and preferences. One of the mechanisms used is the study of emotions related to the product from the interaction between social networks and other media. Artificial intelligence uses information from customers to classify them as positive, negative or neutral responses.
The data obtained from this information can help create more effective marketing campaigns and design products that meet the needs of consumers. Ready to create the best version of your restaurant? Check out our Smart Marketing Tools and offer the best customer experience!
AI helps maintain quality control
According to quality standards, the classification of agricultural products is one of the most time-consuming processes for any company. With artificial intelligence, classification can be simplified by automating this process using optical classification technology based on sensors that perform machine learning.
As a result, the company spends less time sorting and reduces waste. This technology has been used with products such as potatoes, which have been graded by size, while tomatoes have been graded by color, thus reducing the reject rate from retailers.
8 creative ideas to increase your restaurant revenue using online ordering
Benefits of AI in the food service industry
Some of the benefits of AI in the food industry include:
Accelerate manual tasks
Increase the rate of workers / overtime
Significantly reduce production line downtime
Reduce consumer friction at the point of sale
Simplify processes and compliance issues
Detect and eliminate inefficiency problems
Lower equipment maintenance costs
Improve employee efficiency and human resource management
Revolutionize the entire in-store shopping experience
However, we are going to delve into other more striking benefits:
Helps fight food waste
In Europe alone, around 88 million tons of food is wasted each year. To fight against food waste, we must be aware that all participants in the process can do their part, from the production of the food to the end consumer.
Fortunately, people are becoming more and more aware of this, and technology and artificial intelligence have been introduced at every link in the food chain to reduce this waste. For example, the Dutch company DVNutrition is changing its production process through artificial intelligence.
The company produces around 10,000 tons of whey protein every year. In order to avoid generating a large amount of production surplus and wasting it, it uses the information provided by the data and the predictive analysis function of artificial intelligence to slow or stop production when the tank is full. In this way, production is carried out ethically and sustainably.
Want to ensure your restaurant's success during Covid-19? Check out these useful tips to save your restaurant!
Helps classify packaging and products
The first business challenge faced by food processing companies is the classification of raw materials. Every potato, lettuce, banana and pear is different, so strict classification is required, because every food processing company must maintain a certain level of quality. If AI and other emerging technologies are not automated, this process requires a lot of labor.
Food safety compliance
In the food processing industry, safety is a major issue. Factories have already started to deploy AI-based cameras. These cameras with AI capabilities can help restaurant managers monitor if their staff are wearing appropriate food protection equipment in accordance with food safety regulations. It can help them detect any violations in real time.
Helps maintain standards of cleanliness
Staying clean is a fairly recurring concern in food factories. However, many companies claim to meet the highest standards of cleanliness because all their processes are automated and are not touched by human hands at any time. That being said, it can also happen that machines and equipment are contaminated, so automated processes do not guarantee that the product is 100% safe to eat.
Today, traditional cleaning systems do not contain any sensors that can cause food particles to remain in the equipment container. The system cannot clean small food particles, but the new self-optimizing cleaning system can. How does it work? It uses optical fluorescence imaging and ultrasonic detection technology to pass data to machine learning algorithms. This data helps monitor the equipment for microbial debris and food particles.
Helps translate documents to train employees and verify operational parameters
In addition to advances in speech recognition, computers have also improved the ability to accurately translate written information from one language to another (Google Translate, for example).
In a global industry where English and Spanish, among other languages, are the most popular, translation software can be used to improve communication, save time and increase worker efficiency and productivity.
Online sensors
Combined with sensors and electronic systems based on electromagnetic or ultrasonic technology, automated food safety and quality control systems can be developed. In practice, we can already say that robotic applications based on ultrasound are used to detect air in the mass, or infrared technology to control the extraction efficiency of olive oil from plants.
Compared to traditional measurement systems, the main advantages of all these sensors or systems are low investment, reduced measurement time and easy integration into the production chain.
Want to increase your sales? Learn how to set up restaurant online ordering!
Examples of AI applications in the food and beverage industry
With these examples, we're going to show you how the impact of AI in the food industry is changing the way some restaurants work.
Robotic processes in the food industry
One of the functions of robots in the food industry is to manipulate and produce various highly commercialized products, such as soft drinks, milk and their derivatives. Some robots even master the milking technique through a specific advanced method to achieve the best results.
Meat can also be manipulated by robots in order to reduce its exposure to possible contaminants and provide higher consumer safety. Minimizing human-to-human contact is useful because it makes it almost impossible to spread any type of virus.
In fishing, robots also find their place by processing and cleaning fish and other seafood (such as shellfish, vacuum-packed products, etc.) and choosing the most suitable products for sale and disposal to the public and discarding those that are damaged or unsuitable for human consumption.
Smart drive-thrus
Thanks to artificial intelligence, drive-thrus are getting smarter day by day. Technology is constantly evolving and big chains are leveraging AI-powered digital boards to be able to recognize loyal customers by using facial recognition, car's license plate and geolocation. In the future, AI will be able to greet loyal members by name, display their recent orders and loyalty points and ask them if they want the usual.
This customization makes it possible to boost upsells and make the decision-making process easier for clients. All in all, AI will make it possible to speed up the drive-thru ordering process while increasing customer satisfaction and overall sales.
3D Printed Vegetable Steak of Beef and Pork Skewers
If you thought plant-based burgers were innovative, you haven't heard of this! There's a lot to talk about when it comes to AI in food production. The Spanish company Nova Meat is working with some chefs with the idea of incorporating their 3D-printed vegetable meat fillets into the menus of some of the most innovative restaurants by the end of 2021.
Regarding the progress of the product, Nova Meat has improved the four key parameters of the 3D printed vegetable fillets during the confinement period: texture, appearance, taste and nutritional properties.
Givaudan is one of the many experts Redefine Meat works with. It's one of the leading companies in the ingredients industry and with their help, they were able to successfully digitally map over 70 sensory parameters, ranging from texture and juiciness to flavor nuances.
Spyce, the world's first roboticized health food restaurant
This restaurant is located in California and has been endorsed by Alphabet, Google's parent company. Today, with its advanced robots, they are already automatizing the process of preparing and serving hamburgers.
After adding ingredients and seasonings with exact precision, each burger is delivered to the table in about five minutes. Spyce opened its doors in summer 2018, but you have to make a reservation and wait three weeks to be able to eat there.
Their robots can perform different tasks at the same time: cutting onions, pickling vegetables, grating and melting cheese, grinding and roasting meat, combining technical precision with gourmet skills. The robots also use artificial intelligence to cook each hamburger and can monitor 11 thermal sensors to measure the temperature of the cooking room or surface and adjust it in a personalized way.
Chatbots
You may have already chatted with a chatbot, but maybe you didn't know! Chatbots simulate human contact and it's very common to come across them on the technical support tab of a restaurant website, and even on Facebook. These chatbots can manage reservations, place orders, or answer various customer questions.
They respond to customer inquiries with written information, just as any human would, providing direct feedback, suggestions, and confirmations for reservations. With the growing popularity of voice command technology, chatbots that respond to voices like Siri or Alexa are already being developed.
Through artificial intelligence, chatbots can respond to your customers, thus giving your restaurant a good image and helping you provide excellent customer service.
Want to implement AI in your restaurant?
Imagine that the staff of your favorite restaurant welcomes you and already knows what you want to order. Wouldn't that translate into an exceptional customer experience?
Now, what if the same employee remembers and learns every order you've ever placed, and then suggests a new dish according to your preferences? Then, you decide to trust the employee and accept the advice. Will you go back to that restaurant if you know that this employee who knows you well is working that day?
RAI™ is your new employee of the month. It's the one that creates a personalized customer experience every day and every time. Want to meet him? With our Artificial Intelligence recommendation system, you get:
Higher conversion
More loyal customers
An increase in your average bill
Smart promotions to the right people
And if that wasn't enough, each of your customers get:
A seamless menu customization based on their preferences
Smart recommendations they actually want to eat
Automatic promotions to increase brand loyalty
Also, by combining the customer's order history and cross-referencing local data points (such as weather, holidays or sports events), UEAT's AI upsell module will automatically adjust the menu layout and include personalized modifiers.
UEAT partners with Mila and CRIM to democratize AI – that is to say, make it accessible to any restaurant. If you want to step up your upsell strategy, don't hesitate to contact us for more information.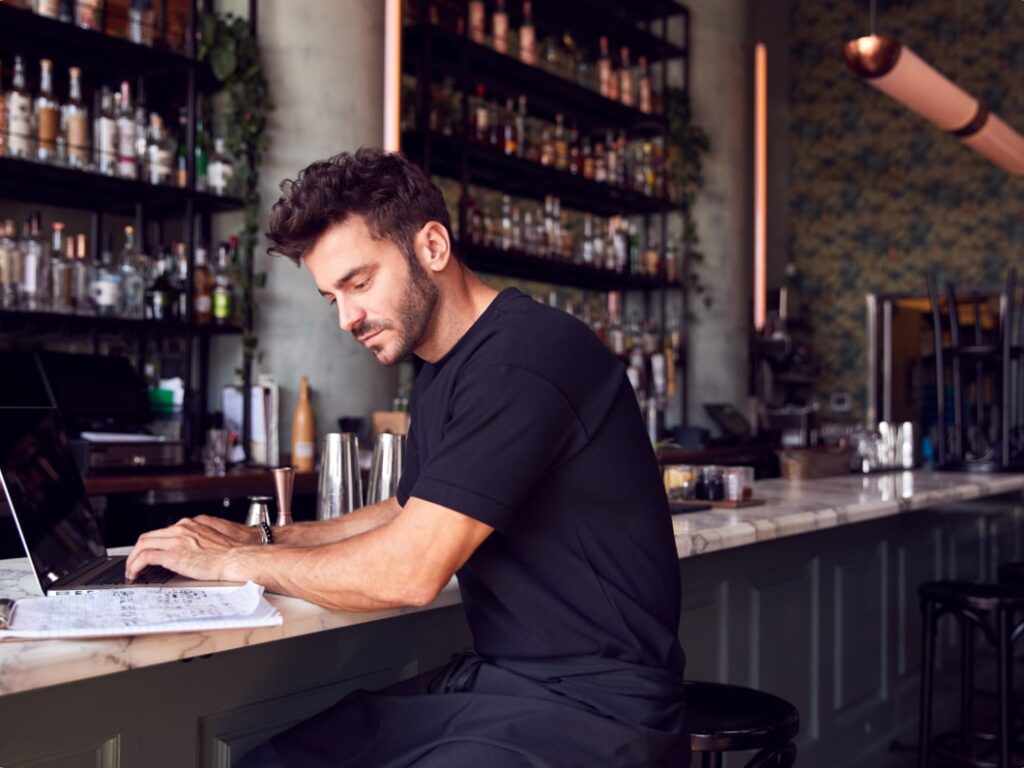 Subscribe to our newsletter for the latest insights in restaurant management
By clicking the button above, you agree that UEAT will use your information to contact you about relevant products, content and events. You can unsubscribe from these communications at any time. For more information, see our Privacy Policy.