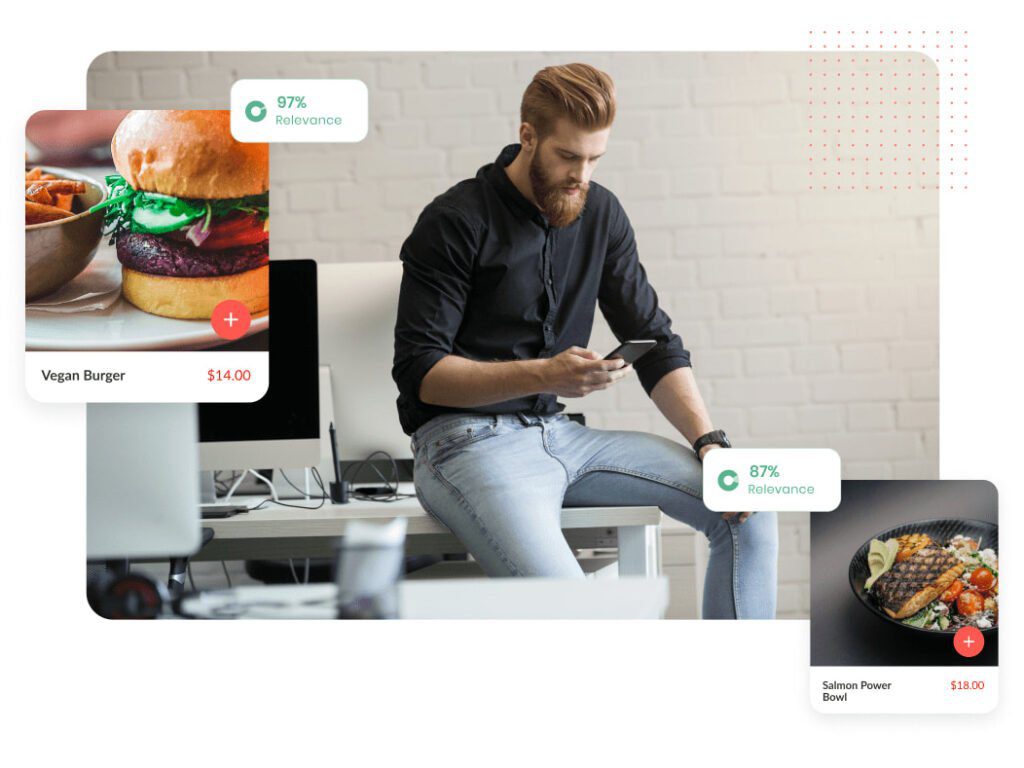 Reach a new level in personalizing your customer experiences
Automatically remember what customers love
RAI™ knows what your returning customers often order to recommend their favourite items.
Upselling made easy and enjoyable
In a non-intrusive and contextual way, RAI™ systematically and automatically recommends additional menu items based on what customers are ordering.
Maximize relevance with dynamic menus
Based on the most popular combinations, meal attributes and flavours preferences, demographics, weather and timing (time of day, days of the week, seasons, and specific holidays or events)., RAI™ adapts your menu accordingly.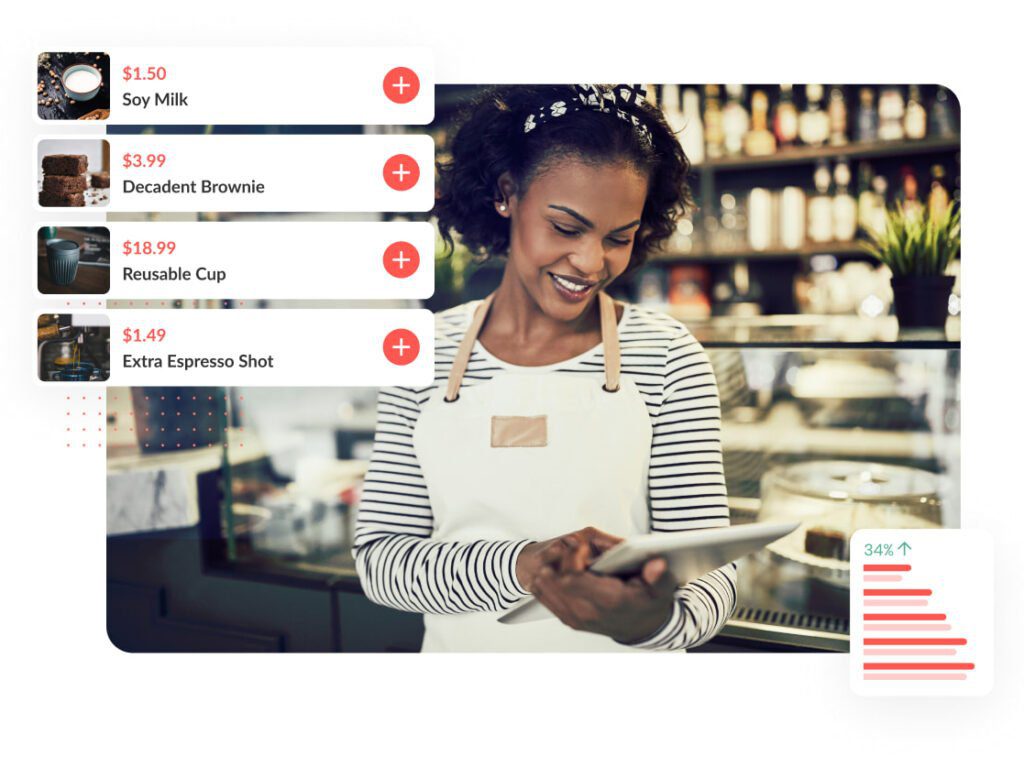 Effortlessly boost your revenues with Ueat Restaurant AI
RAI™ is your revenue generating machine
Based on our sophisticated AI algorithm, RAI™ can successfully predict what customers want based on previous orders, personal preferences and more.
Achieve higher ticket sizes and conversion rates
Thanks to relevant and personalized recommendations, customers will actually add more to their carts, increasing your average ticket sizes and checkouts.
Access data to improve your top and bottom line
Thanks to RAI™, you can get critical information about fast- and slow-moving items on your menus to slash unnecessary costs and keep only highly popular dishes.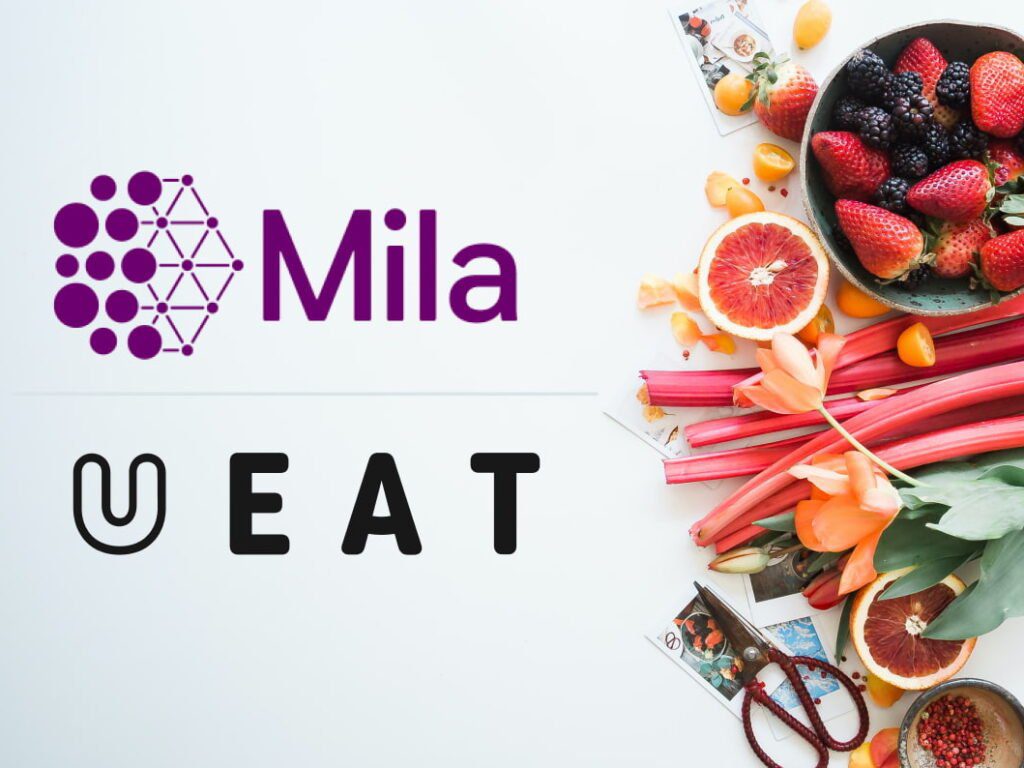 RAI™ is based on patent-pending and proven AI technology
Reap the benefits of years of advanced research
UEAT has partnerned with MILA, a Canadian-based community of more than 500 researchers in artificial intelligence and machine learning to perfect RAI™ 's algorithms. MILA is managed by Yoshua Bengio, who was awarded the Nobel Prize of Computing in 2019.
AI for the greater good
UEAT is a signatory member of the Montréal Declaration for a Responsible Development of Artificial Intelligence.
Reliability you can count on
RAI™'s reliable algorithm, based on robust, patent-pending AI technology, means you have concrete data to make the right marketing and operations decisions.
RAI™ never stops learning
No matter what restaurant volume you have, RAI™ automatically continues to learn about your customers and their preferences to increasingly perfect its recommendations
RAI™ is the employee you always wished you had
As soon as your customers access your online ordering platform, they gain access to top-rated meals that RAI™ is sure they'll love.

RAI™ will recommend the most relevant sides your customers would be inclined to order, increasing your average cart size effortlessly.

Just before your customers check out, the module non-intrusively recommends additional relevant items based on their selection.
Other Features of UEAT's Online Food Ordering Platform
Operations
Marketing
Technology
Eliminate profit-gouging commissions
At UEAT, we don't charge any hefty commissions like third-party delivery suppliers.
Hire the perfect employee
RAI™, our smart upselling module, features relevant menu items to customers to increase the average cart size.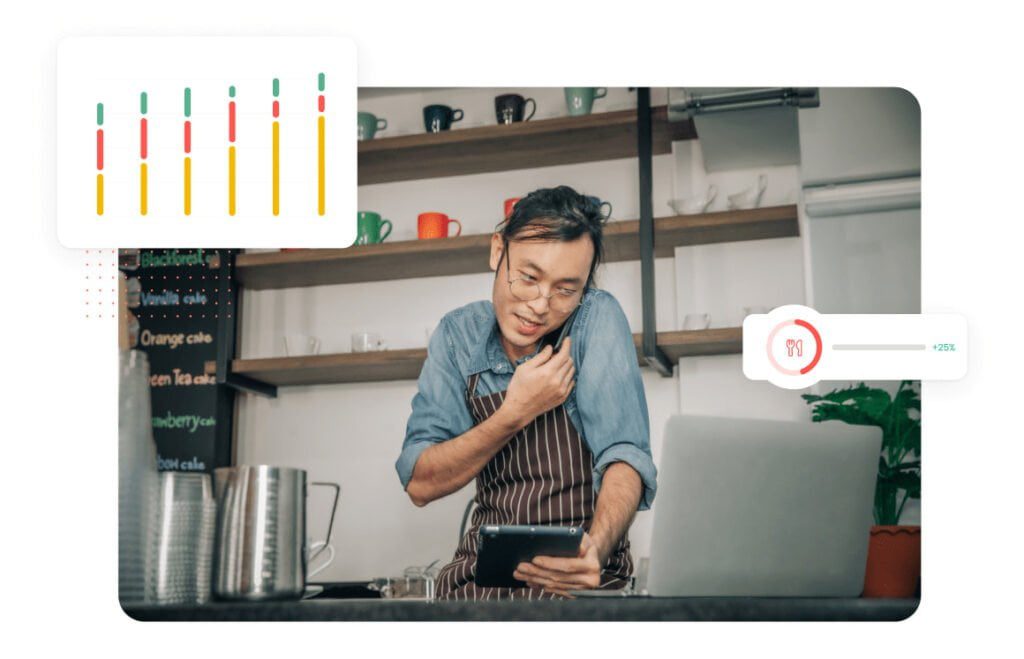 Access critical data to optimize your OPEX
Instantly find out which menu items are selling like hot cakes and which you may need to reconsider to mitigate costs.
Invest in an online ordering platform that converts
UEAT boasts the highest conversion rates in the industry, maximizing the ROI of your online ordering system.
It's all about YOUR brand
Your UEAT online ordering platform is completely customizable to your brand image.
Protect your brand
Contrary to online marketplaces, your brand will always stand out; you'll never compete on your own online ordering platform with other restaurants.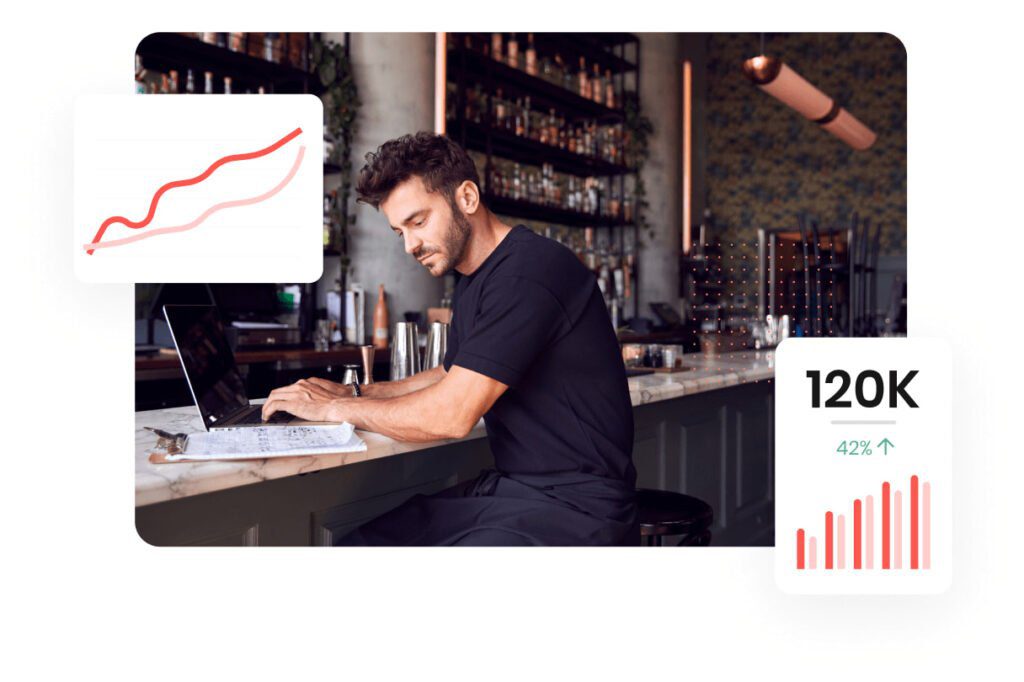 Preserve your customer data
Imagine being able to access your customer data for direct marketing and targeted promotions.
Access comprehensive analytics
Finally, get a crystal-clear picture of the demographics and consumer behaviour of your customers.
A robust online ordering platform
Rely on a online ordering system that has been built on proven technologies renowned for their stability.
Seamless integrations with third-party systems
UEAT integrates with POS, delivery, loyalty and gift card systems already in place.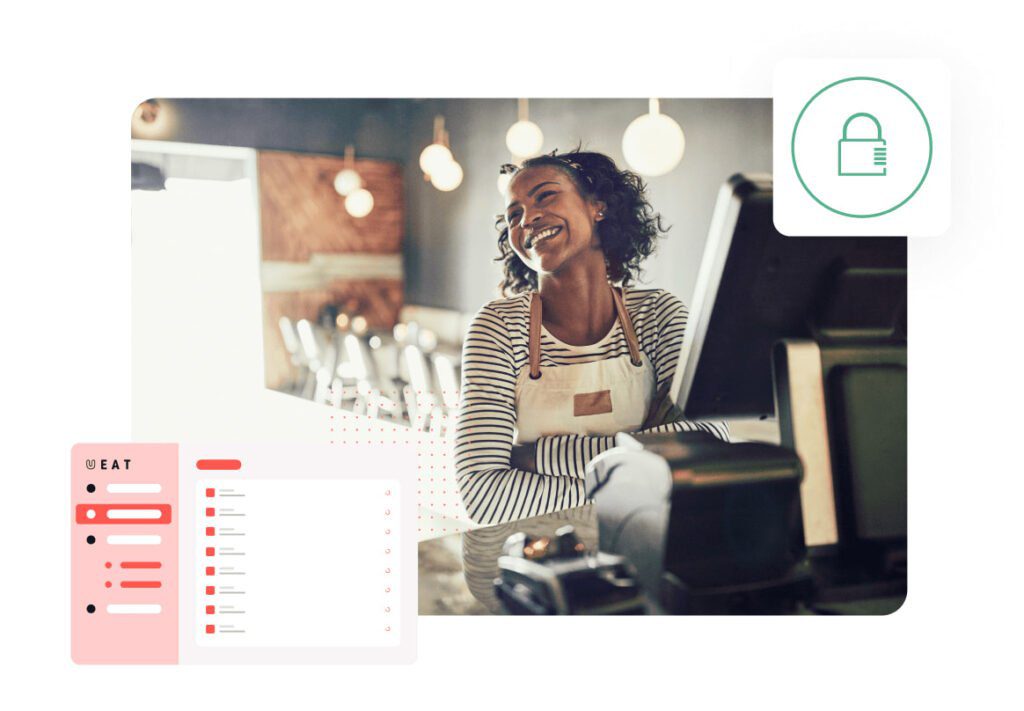 Safeguard restaurant and customer data
Our online ordering platform was designed with the latest best practices in cybersecurity.
A platform that evolves with the times
No legacy systems here! UEAT's features and performance continue to get better and better with our iterative development process.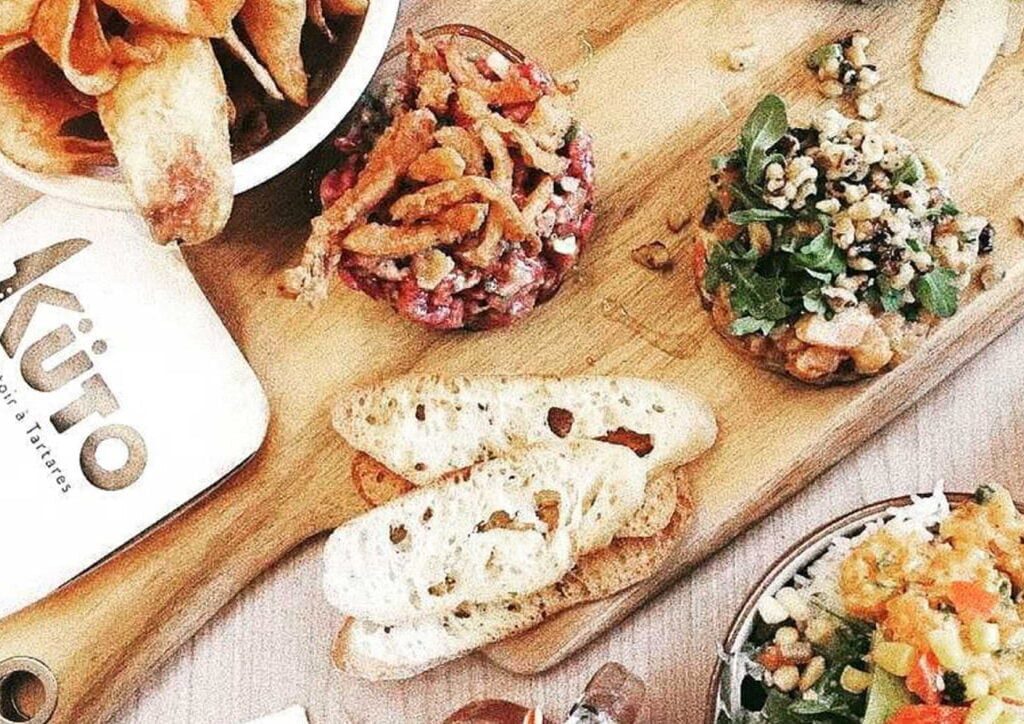 "I can't believe that not all restaurants have embraced UEAT online ordering… this is the future! It's an irreplaceable tool for success."
Discover how Kuto, a 22-locations tartare chain achieved a major success after only two yars of using UEAT's online ordering platform
Read the case study