It has definitely been a tumultuous year and a half for the restaurant and hospitality sector. It would be an understatement to say that COVID-19 has shaken up the industry with stressful lockdown-reopening cycles, strict sanitary measures—and, of course, the inevitable labor shortage. 
Laid-off or furloughed restaurant workers are not coming back
As of this writing, according to the US Labor Department, there were over 9.3 million unfulfilled job openings in April alone, one of the highest records. Canada has fared little better, with thousands of job openings in restaurants that still have no takers. Many former restaurant and hospitality sector employees have found other work or switched industries.
While many areas in Canada and the United States have begun reopening since the spring, the much-anticipated "summer rebound" has been held back, as the Wallstreet Journal has indicated, by a shortage of everything, including labor.
Many restaurants have cut hours, making do with small crews of restaurant workers. Other have gone complete "ghost kitchen." Still others have closed altogether because there are not enough employees to operate at the levels patrons have come to expect.
So what is the best path forward for restaurants still in business?
Reduce front-of-the-house staff with online and contactless ordering/payments
As is the case with restaurateurs looking to automate many processes for back-of-the-house operations, restaurant owners and managers are increasingly turning to online and contactless ordering solutions to decrease the number of front-of-the-house staff required on any given day.
While third-party online third-party apps proved to be an asset for restaurants to pivot during the pandemic and offer delivery services, operators and managers were quick to notice how the huge commission fees took a chunk out of their margins.
However, with a branded online ordering/payment platform, mobile app, and contactless tableside ordering/payments, restaurants were able to cater to take-out, curbside pick-up, and delivery customers in a streamlined fashion that didn't break the bank. Patrons could order in advance, helping restaurants better predict inventory levels as well as required kitchen staff. Restaurants with delivery fleets or local delivery partners, they were able to circumvent the hefty commission fees charged by third-party apps.
But at the end of the day, what was most impressive of all, was how restaurants were able to make better staffing decisions for front-of-the-house employees. Phone calls were reduced, eliminating the time wasted understanding customers' orders, ensuring the order accuracy, explaining the menu, and upselling (when it was remembered), additional high-margin items. The remaining front-of-the-house staff were reassigned to more impactful tasks, such as hospitality, when in-person dining was permitted, or pivotal roles in greeting customers for take-out and curbside pick-up.
According to the many customers UEAT talks to, customers who adopt additional ordering touchpoints, through online ordering, mobile apps and contactless tableside ordering/payments, actually spend more on each order. The reason? They feel less judged than if they place their order with a real person. In addition, with the right online ordering platform with smart—yet non-intrusive—upselling features, guests can receive highly relevant and personalized recommendations to boost the average ticket size. Upselling features, all automated by technology, can replicate the savviness of an employee of the year—without the need of hiring one.
In sum, by eliminating ordering and payment steps, the few front-of-the-house employees that are available can help more customers in less time, all while elevating the guest experience. In fact, a lot of restaurants that have reopened their dining rooms have been able to expand the size of service sections. This means a waiter can serve a bigger section, which reduce the need for extra staff.
Another added bonus? Front-of-the-house thrive on building personal relationships—not on mindlessly tapping a terminal screen for an entire shift. By putting the power of ordering and payments in the hands of restaurant patrons, employees can concentrate on what they do (and like!) best: making sure customers are delighted and come back for more. Imagine being able to recruit front-of-the-house employees by offering them a better employee experience.
Offsetting labor shortages with online and contactless ordering as well as mobile apps may not be the panacea for all staffing needs. Nevertheless, restaurateurs can leverage these new technologies to require less front-of-the-house staff during opening hours.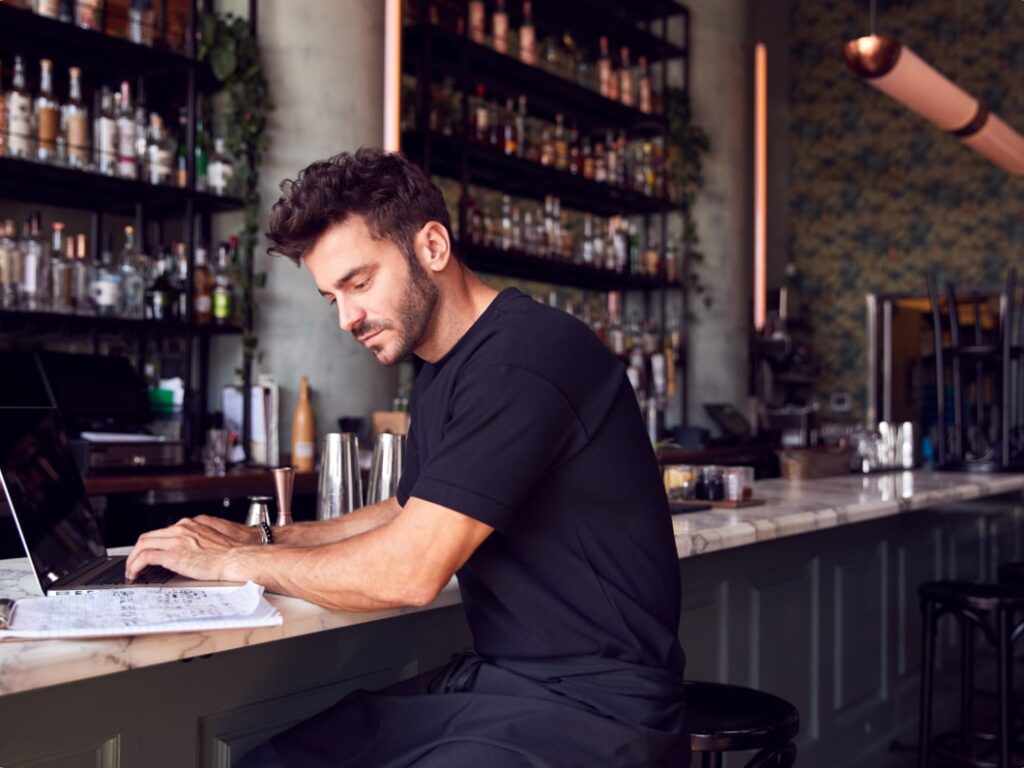 Subscribe to our newsletter for the latest insights in restaurant management
By clicking the button above, you agree that UEAT will use your information to contact you about relevant products, content and events. You can unsubscribe from these communications at any time. For more information, see our Privacy Policy.