At the beginning of quarantine, Hollywood actor and Philadelphia native Adam Shapiro (Steve Jobs, Sense8, Now You See Me) was missing his favorite hometown comfort food: Philly's soft pretzels.
With no official recipes, Adam went on a trial and error journey—in his own kitchen— before he finally cooked the ultimate Philly soft pretzel.  What started out as a pandemic side project in his kitchen quickly evolved into a full-fledged business on August 4, 2020. On that day, Adam's wife, actress Katie Lowes (Scandal, Wreck-It Ralph), who had been filling in for Kelly Ripa on Live with Kelly and Ryan, suggested to co-host Ryan Seacrest to try some of her husband's bonafide soft pretzels.
The next time they went on air, Seacrest was salivating and eating Adam's pretzels on camera. "My beloved Adam! These are so good!"
The rest, as we say, was history. In the next few hours, more than 400 email orders came in. Shappy Pretzel Co was on everyone's radar now.
The Challenge
Adam and Katie quickly realized that accepting hundreds of email orders daily wasn't going to cut it for long. Adam started his search for an online ordering provider that could fit into his unique business model.
His goal was for customers to pre-order online, pick a date and time for curbside pick-up and finally choose from pre-identified pickup locations all over Los Angeles.
Unfortunately for Adam, he quickly realized that online ordering providers don't typically personalize their platform to meet the customer needs. 
"I needed a company that was flexible and could customize their platform to meet our business needs. With every other company, we had to change how we operated to fit their platform."
That's when Adam found UEAT and quickly got in touch with UEAT's team of menu profitability experts and customer success specialists. The team fell in love with Adam's energy and mission. With the help of the development team, UEAT was able to customize the platform to meet Adam's vision. 
"Before we found UEAT, every other company we spoke to, we had to tweak what we were doing to meet the needs of their platform. "
The Results
Shappy Pretzel Co. is now selling more than a thousand soft pretzels per day. Shappy's pretzels are anything but your typical mall variety. Everybody from Hollywood fell in love with the authentic Philly pretzels. Early fans include stars like Bradley Cooper, Jon Hamm, Olivier Munn, Henry Winkler, Busy Philipps and Patrick J. Adams, among others.
Customers in Los Angeles now get to benefit from a lightning-quick and frictionless online ordering process so they can spend more time drooling over the best Philly pretzels in California.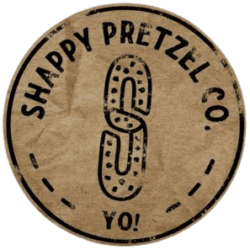 About
Adam Shapiro is obsessed with the Philly soft pretzels he grew up with. After having to stay-at-home during this pandemic and unable to travel to Philly for the summer, Shappy created his own Philly pretzel in his kitchen in Los Angeles, and the rest is history.