Mandy's and the "salad sisters" turned to UEAT to develop an online ordering platform and mobile app to meet the growing demands of their customers. 
In 2004, Mandy and Rebecca Wolfe (a.k.a. the "salad sisters") opened up Montreal's first create-your-own salad bar in the back of a women's clothing store.
With no prior food, business, marketing or advertising experience, the sisters played their strengths: Mandy came up with an original menu while Rebecca designed the interior of the restaurant. 
Fast forward to 2020, Mandy's has 8 locations in Montreal and more on the way.
The Challenge
When the Wolfe sisters opened up their largest location right in downtown Montreal, they made a major shift. 
Unsatisfied with their current online ordering provider, they started their search for a new digital partner. Customers were requesting a more intuitive way to order ahead and skip the line. That's when they were introduced to UEAT.
For customers ordering a salad, taking into account all the different ingredients and combo possibilities can quickly become overwhelming.  Plus, coming up with a simplified and natural process when ordering said salad online is not an easy task.
The Mandy's marketing team and UEAT's experts worked together designing a fully-fledged application with an optimal ordering workflow. It was crucial for the Wolfe sisters that the future branded App represent the little nuances that make their brand unique.
After working hand in hand for many weeks, the online ordering platform and mobile app was officially launched.

The Results
It's simple: when you give customers what they want (in this case, an optimal ordering experience), everybody wins. 
"When we opened up downtown, we needed a lot of help technologically. We were so happy to work with UEAT to create a mobile app to meet the growing demand of our customers." said Mandy Wolfe, Mandy's co-founder.
The Mandy's Online Ordering platform has also seen tremendous results. The feedback from consumers has been overwhelming positive.
The average basket size went up by 19% and the number of online ordering went up by 44%. An immediate success!
With UEAT's complete multi-restaurant support, they have the best collaborators to support their exponential growth.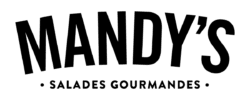 About
Mandy's has 8 locations in Montreal, a best-selling cookbook, 4 delicious dressings in grocery stores across Canada and have more restaurants on the way – locally and internationally.