Stéphanie Laurin's family has been in the maple syrup business for four generations. Her grandfather started the business in 1948. She co-owns Chalet des Erables in Ste-Anne-des-Plaines, Quebec. She is one of the roughly 200 sugar shacks that operate across the province of Quebec, Canada.
Sugar shacks and sugaring-off season are extremely popular in Quebec. Their history stems from French settlers who were shown by First Nations how to tap maple trees and boil down the sap to become maple syrup. Over time, production evolved to take place in sugar shacks, commercial cabins that collect sap from sugar maple trees convert it into world-renowned Canadian maple syrup. Nowadays, most sugar shacks are family-run businesses and account for 70% of the global maple syrup supply.
The sugaring-off season takes place between March and April; that is the ideal period to tap maple trees for their sap. It is also the time many Quebecers and tourists visit sugar shacks for a traditional hearty meal and indoor dining experience. On the menu: pea soup, baked beans, meat pie, deep-friend pork jowls, eggs, and a smorgasbord of other dishes that pay tribute to Quebec culture.
The challenge
When the pandemic hit, sugar shacks were forced to close their doors to visitors. Prior to COVID-19 restrictions, Ms. Laurin's business received thousands of visitors a day. That literally changed overnight with the closures. As restrictions continued, 60 sugar shacks closed for good, overwhelmed with bills—and little revenue. Ms. Laurin's sugar shack alone lost 90% of its annual income in 2020 alone.
In December 2020, 70 sugar shacks held a virtual meeting, along with UEAT and a team from Metro, a large grocery chain in Quebec. "It's a bit cliché, but competitors decided to band together to face the challenge head-on and help save Quebec's maple syrup heritage," Ms. Laurin explained. The sugar shacks joined forces to brainstorm on how to give Quebecers the opportunity to experience the sugaring-off season in the comfort of their own homes. When other partners heard about the concept, they also jumped on board.
And Ma cabane à la maison was born.
Ma cabane à la maison, or Home Sweet Home, is an innovative meal-to-go campaign. Gourmet boxes, which can vary from one sugar shack to another, feature ready-to-cook and reheatable dishes that are typical of sugar shacks. Some even offer the means to enjoy maple taffy outside in their own backyards. Others offered vegetarian, vegan, and gluten-free options. 
The Ma cabane à la maison team decided to partner with UEAT for its online ordering platform. Users would simply enter their addresses and were able to discover 70 aggregated online stores from participating sugar shacks. Customers were given the option of home delivery or pick-up at a nearby sugar shack or Metro grocery store. In fact, Metro offered its 200 drop-off points for the Ma cabane à la maison initiative. The team even partnered with Quebec musicians to offer a virtual outdoor show of Quebec music and performances.
"With only eight weeks to implement the concept before the 2021 sugaring-off season, we had to rely on a technology partner with a quick turnaround time and robust platform. That partner was UEAT."
The results
Ma cabane à la maison launched on February 22, 2021, and was to extend until April 18. According to Ms. Laurin, there were around 6000 people on the online ordering platform at any given time. In total, the platform handled over 2 million visits—no small feat.
"We recorded between $250,000 and $300,000 thousand dollars of regular sales per day on the platform," she said. "There were times when we were afraid of running out of wood or we were afraid of running out of containers, it was quite a challenge to get enough raw materials to create the meal boxes; but altogether, we managed to overcome every little glitch that occurred along our way."
After the 2021 campaign, 110 000 boxes were delivered, representing 500 000 meals served. Ms. Laurin and the entire Ma cabane à la maison were thrilled with the results and the response from Quebecers. Even Quebec Premier, François Legault, and Canadian Prime Minister, Justin Trudeau, got Ma cabane à la maison boxes!
Some sugar shacks decided to continue offering meals year-round, giving the industry hope that there are means to develop the market, diversify their business models, and extend sales periods beyond the sugaring-off season. "Who knows, maybe we will be able to increase sales to $25,000 a day, which would be great considering that normally we would be closed after April," she added. "We're going to develop themed menus according to the season, which will greatly help our business. We are very happy."
Ms. Laurin hopes that sugar shacks will reopen for 2022. However, one thing is for sure: sugar shacks will continue to wow customers with meal boxes. She also dares to hope that they will be able to expand the concept across Canada as well as cater to customers, like ex-pats and die-hard maple syrup fans from around the world. "Knock on wood," she laughed!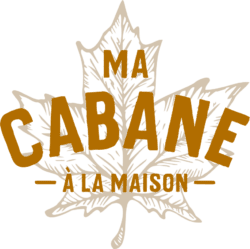 About
Ma cabane à la maison is an initiative of 70 maple syrup producers in Quebec, Canada, that used UEAT's platform to sell gourmet meal boxes to customers during the sugaring-off season. Thanks to this annual campaign, many businesses were able to remain afloat and diversify their revenues during the pandemic.