What was once a small burger shack located out of strip mall in Arlington, Virginia, has become an international fast-casual juggernaut—and a never-frozen burger brand that is beloved by fans around the world.
Founded in 1986, Five Guys was a family business run by Janie and Jerry Murrell as well as their four sons. Jerry and his sons were coined the "original Five Guys." The Murrels had a fifth son and to this day, all five sons still run the business. Today, Five Guys has locations across North America, Europe, the Middle East, and Asia. It is rated number 46 in FranchiseTime's top 400 franchises for 2021.
The Challenge
Always looking to enhance their customers' experience, Five Guys in Canada was looking for a more advanced online ordering system that was specifically tailored to the needs of restaurants. Their end goal was to offer patrons a fast and easy way for their fans to order takeout and curbside pick-up—and upsell menu items in a non-intrusive way.
The online ordering solution also had to be fully integrated with its Lightspeed POS system, ensuring bi-directional communications, as well as support different languages.
Five Guys was also working with Radius Networks, the developers of Flybuy, a location BOPIS platform that includes Flybuy Pickup. Flybuy Pickup enables restaurants to properly time the preparation of each order so that when customers arrive on premise, their orders are fresh and ready to be served to takeout and curbside pick-up customers. Five Guys wanted to create a seamless experience using both UEAT and Flybuy Pickup.
The Results
"UEAT has been very adaptable with our many integrations," says Aubert Prevost, President of Koeppel Industries, which operates Five Guys in many locations across Canada. "We continue to work with UEAT to find ways to improve our customer service and help us grow a fantastic business."
Aubert is equally as pleased with UEAT's integration with Flybuy Pickup. "We know exactly where the customer is located and when they are on the way to the store," he explains. "[The solution] helps get the order ready on time and ready for the customer when they show up to the door."
As Aubert enthuses, just like burgers and fries, UEAT and Five Guys make a great combination!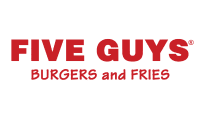 About
Founded in 1986 and now close 1,700 locations worldwide, Five Guys has developed a cult-like following among burger. Fun fact: there are no freezers at Five Guys.