Is your restaurant ready for some football?
Super Bowl LVI, which will take place on February 13, 2022, in Los Angeles, will nevertheless be one of the most-watched television broadcasts around the world; in 2021, 96.4 million viewers tuned in to watch the Tampa Bay Buccaneers take on the Kansas City Chiefs.
In the past, unless you operated a pizza joint or sports bar, the Super Bowl was known as one of the slowest days in the restaurant industry.
With the growing popularity of delivery, whether you serve up much-coveted dishes for football fans—or not—you can seize this potentially lucrative opportunity for your business. In fact, you don't need to dish out wings or pizza to score big on the big day.
According to the National Retail Federation, American adults are predicted to spend an average of $88.65 on food, drinks and other products as they watch Sunday's game. The same study forecasts that over $120 will be forked over by the biggest-spending demographic — American adults aged between 35 and 44. The lowest demographic payout is expected from people 65 and older, who are projected nevertheless to spend $40.97 on the game.
With some creativity and careful preparation in the weeks ahead Super Bowl, restaurateurs can churn some much-needed additional sales with take-out, curb-side pickup and delivery. Here are our tips to prepare your restaurant and online promotions for the Super Bowl.
Top tips for restaurateurs to get ready for Superbowl sales and promotions
Adapt your restaurant's menu for game time
We hear you. Everyone talks about how chicken wings and pizza are the top Super Bowl snacks. However, that doesn't mean you cannot develop a mouth-watering menu to delight customers. Think of a themed menu, DIY meal kit, or meal in a box based on the fare you already offer or a unique spin on other popular Super Bowl foods. Tap into your imagination to develop menu items that pay tribute to the teams playing, star athletes or even the location of Super Bowl.
You can also create party packs and larger meal deals for families or small groups, depending on current health and safety measures in your city. Consider "side menus" for customers' children so that they can get in on the fun—and you can increase your ticket size. Finally, keep non-football fans in mind: pre-pandemic, many restaurants were very successful by providing menus that were everything BUT the Super Bowl (cue in healthier meals!).
One word of caution. If you offer a delivery service, or rely on a third-party delivery service or online marketplace, make sure whatever menu you offer, it can withstand potentially longer lead times to get food to your customers' doors.
Make sure that your upselling game is on
Boosting your average online order cart size can be a breeze with the Super Bowl. By configuring your online ordering platform's artificial intelligence capabilities, you can effortlessly recommend high-ticket items for customers to add to their game-time orders, such as alcohol, appetizers, desserts, super-sized items, and extras to complement their meals.
For example, if you operate a sushi restaurant, upsell additional servings of wakame salad or tempura shrimp as a side. Own a rotisserie or rib house? Recommend a beer bucket to wash down their finger-lickin'-good order. Manage a fine dining restaurant? Showcase your carefully curated wines. Switch customers from "just a meal" to a table d'hôte you designed specifically for the game.
Get your head in the promotional game
Did you know that one of the biggest search terms on social media and search engines on the days ramping up to Super Bowl is "online restaurant promotions for Super Bowl"? Don't miss out on the trend! Super Bowl promos are just as popular as the game itself.
The only limit to promotions is your imagination and, of course, the profit you can still make on them. Game-day deals, BOGOs, half-time and post-game specials and food freebies, and giveaways from vendors are all great ways to lure customers into your restaurant's game plan. You can even partner with other local businesses to double down on your cross promotional power. A case in point? A restauranteur could team up with a nearby grocery store and jointly offer coupons to drive sales in both businesses.
Encourage pre-orders to ease game-day production
Highly popular events, like the Super Bowl, can cause spikes in the work for both your front and back of house. Online orders start coming in around 7 hours before kickoff. If you don't have enough staff or food on hand, that could mean 7 hours of craziness if you effectively advertise your Super Bowl menu and promos.
How can you mitigate the chaos? Offer discounts or extras for customers who pre-order a few days in advance or don't mind opting for curb-side pickup at specific time slots. These "rewards" for ordering early will help you to manage inventory and production as well as take-outs, curb-side pickups and deliveries.
Always be marketing
The importance of marketing is no secret to restaurant owners and managers. Regardless of the Super Bowl menu and promotion(s) you have concocted, make sure everybody knows about it! If not, existing and potential patrons will choose a competitor over your establishment.
There are several simple and low-cost ways to raise awareness of your Super Bowl specials. First, you can advertise your menu and promos by adding coupons or a flyer in orders made during the weeks leading up to game day. Hold a contest among patrons who order online or follow your restaurant on social media to generate hype. Regularly post updates and pictures about your Super Bowl specials.
If you already have your customers' info, you can carry out email or text marketing campaigns to stoke your loyal customers. If you leverage specialized online marketplaces and review sites, update your Super Bowl info to expand reach to new customers.  
Keep your eye on the ball for repeat business after the Super Bowl
Just because the Super Bowl is "only" an annual event, it doesn't mean it cannot also be a part of a longer-term strategy to bolster patron loyalty and acquire new customers. With every Super Bowl order, you can provide different types of promotions and bounce-back offers to encourage repeat business after the big day. Encourage customers to provide their email and text as well as follow you on social media to keep them up-to-date on what's coming up next at your restaurant.
Using social media, email/text marketing, and advertising in packaging of your customers' orders, ask for reviews. Some restaurateurs feel awkward or shy about asking for online reviews; however, the power of digital word-of-mouth is undeniable. According to research, 90% of diners research a restaurant online—more than any other type of business—before deciding where to spend their dollars. And a whopping 33% of restaurant-goers won't eat at a restaurant with a lackluster review on review sites, such as Google, Facebook and Yelp.
Set the stage for the next big event
Depending on your patron personas and target demographic, you may want to consider "rinsing and repeating" your Super Bowl menu and promos for other major sports games, high-profile events, or celebrations.
If your patrons are less conducive to being glued to a TV to watch sports, plan upcoming deals around other celebrations, such as uber-popular Easter and Mother's Day, or add something special for more "niche" occasions, like St. Patrick's Day and Mardi Gras, or a myriad of other fun dates (National Popcorn Day, National Happy Hour Day, etc., to name a few.
Restaurants can win at the Super Bowl
The Super Bowl is a one-of-a-kind event that brings together sports fans and non-fans. Whether they're in it for the game, or the halftime show, one thing is set in stone with regards to your customers: their craving for food. Game-day menus and promos are sure-fire means to expand your loyal customer base and welcome repeat patrons. Game on!
Need more information on how to choose the right online ordering platform?
Download our no-fail Super Bowl Party checklist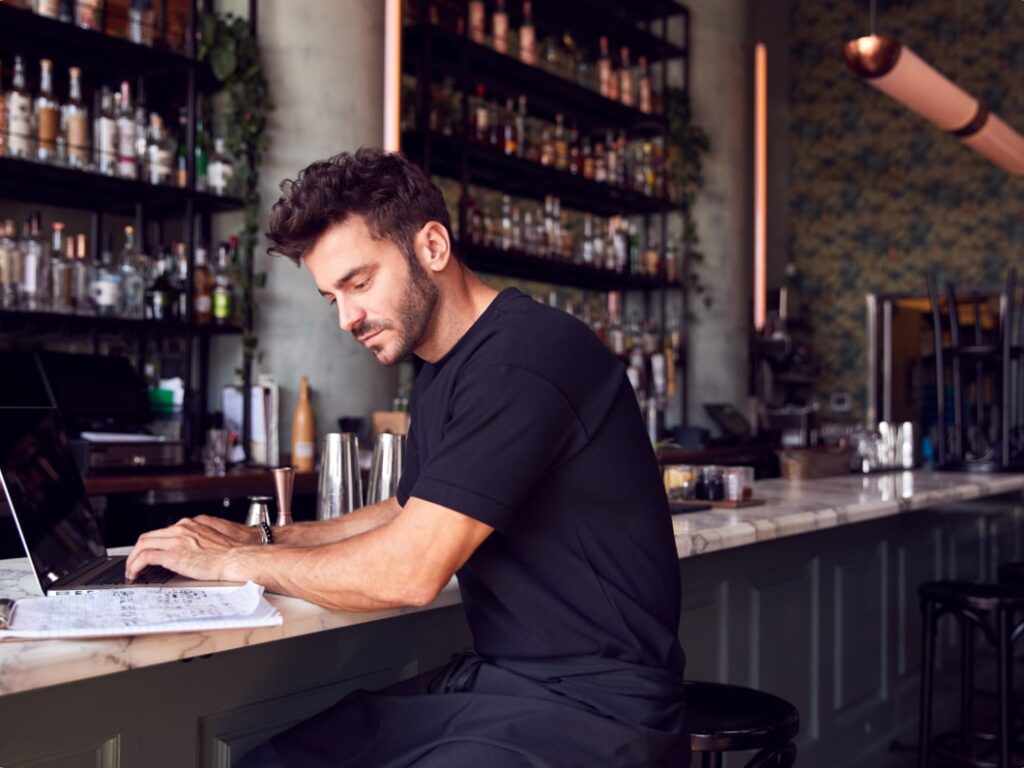 Subscribe to our newsletter for the latest insights in restaurant management
By clicking the button above, you agree that UEAT will use your information to contact you about relevant products, content and events. You can unsubscribe from these communications at any time. For more information, see our Privacy Policy.