What is contactless ordering?
As the name suggests, contactless ordering allows users to order without having to have any kind of social interaction. Everything is done online using a mobile device.
As you can imagine, contactless ordering has really boomed during the pandemic where limited social interaction and social distancing was imperative. However, it's safe to assume that this contactless trend is going to stay with us. It's a different guest experience than the traditional dining experience which will inevitably change how restaurants operate.
How does contactless ordering and payment work?
Despite the fact that contactless ordering is likely to become the norm, it's going to be a learning process for many. Thankfully, this learning curve is nothing to worry about as contactless ordering and payment is actually a very simple process.
Contactless dining usually begins with scanning a QR code on your mobile device. This is a code that will likely be displayed on your table and which will direct you to a website or a mobile app that will contain everything you need to order your favorite food.
Once you've reached this app or website, you will be presented with an online menu. From this digital menu, you simply have to choose what you want to order.
Thanks to an inbuilt POS system, once you have chosen and placed your digital order, the ordering system sends all the relevant information directly to the kitchen. After this, customers simply have to complete the contactless payment by adding their debit or credit card details into their mobile phones. Online ordering really is that easy!
Tips to implement contactless ordering in your restaurant
If you're considering implementing contactless ordering at your restaurant, here are some expert tips to help you seamlessly integrate online ordering:
1. Invest in an integrated POS system
Before you can begin integrating contactless dining into your restaurant, you need to make sure you have the correct systems in place. A POS system is what allows the mobile devices of your customers to speak to the kitchen. Without it, they won't be able to actually place their orders, and will only be able to see the menu.
There are multiple different POS options, at varying price points and with varying features, so choosing one is simply down to what is going to be the right pick for your company. However, you need it if you want your guests to be able to order and pay online.
Click here to explore one of the best POS systems on the market
2. Create a contactless menu
Creating a fully functioning contactless menu with all the needed features is integral. You can translate your regular physical menu into an online menu with all the same aesthetics and menu items but there are some key things to keep in mind.
When you initially switch to an online menu, you may need to adjust it slightly to accommodate a short trial period to allow your staff to adjust to your new system. You therefore might want to use a limited menu for a small period of time.
Once your team is fully accustomed to the new contactless system, you may want to consider including the following features:
Have options to customize your order online
Group your item menus together to make it easier to navigate (e.g., chicken dishes, Mexican dishes, starters, etc.)
Add images and descriptions to your menu items
Include allergen information
3. Set up contactless payment
In order to ensure your entire dining experience can be contactless, you also need to set up contactless payment. The kind of contactless payment you will need is known as card-not-present transactions and differs from the contactless payment present in shops. This form doesn't require a card reader.
In order to completely stay on top of your orders, make sure your payment system is linked to your POS system. This will ensure your entire payment system is contactless, from customers to staff.
Benefits of offering a contactless dining experience
If you're still not convinced that contactless ordering is the right thing for your restaurant, let us talk you through some of the best benefits of offering a contactless dining experience. Although there are clear health benefits to contactless dining as highlighted by the pandemic, there are also logistical and profitable benefits to contactless dining which should not be overlooked.
Increases safety
First things first, in the current pandemic climate, the need to minimize the transferral of germs has been highlighted. Although this is symptomatic of our current situation, it's likely to remain something people are conscious about once the pandemic is over.
The fact that contactless dining eliminates the need for face-to-face contact, it also reduces the amount of times surfaces are being touched and contaminated. In addition, the lack of social interaction limits the airborne transmission of germs, thereby creating an all-around safer and cleaner environment.
Improves order accuracy
One of the key benefits to implementing a contactless ordering system is the fact that it limits human error. Even the most professional restaurant staff make mistakes sometimes and customers end up receiving the wrong order. This simply doesn't happen with an online ordering system.
When everything is done online, you don't have to worry about registering the wrong order or your staff misreading the handwriting of your servers. You're in complete control of orders and it's electronically delivered to the kitchen in a fast and efficient manner. This improves time management and profitability!
Boosts productivity
With an online ordering system, there's no need for your staff to be going back and forth from the tables to the kitchen as often as they do when they're taking orders manually. This means that they can focus on value-added tasks in the restaurant.
Moreover, in some cases, you may not need to employ as many front-of-house staff because there's simply no need for them. This can lower your labor costs and boost the overall profitability of your business.
Increases sales
One of the most attractive prospects of online ordering is the fact that it can ultimately boost your sales. You can manipulate an online menu far easier than you can manipulate a physical menu.
You can make your high-margin items more appealing to customers and can encourage customizing orders which encourages upsells. Moreover, if you want to change your menu to stay up to date with the latest trends or if you have noticed certain menu items are performing well, you can easily do this with online ordering interfaces.
Eases your customers' worries
The pandemic has undoubtedly increased anxieties around health and cleanliness but people also harbor social anxieties, all of which can be alleviated through contactless dining experiences.
If you offer an online ordering system and contactless dining, you can say with confidence that your restaurant is safe and inclusive. This will give your customers peace of mind and ensure they are fully comfortable eating at your establishment.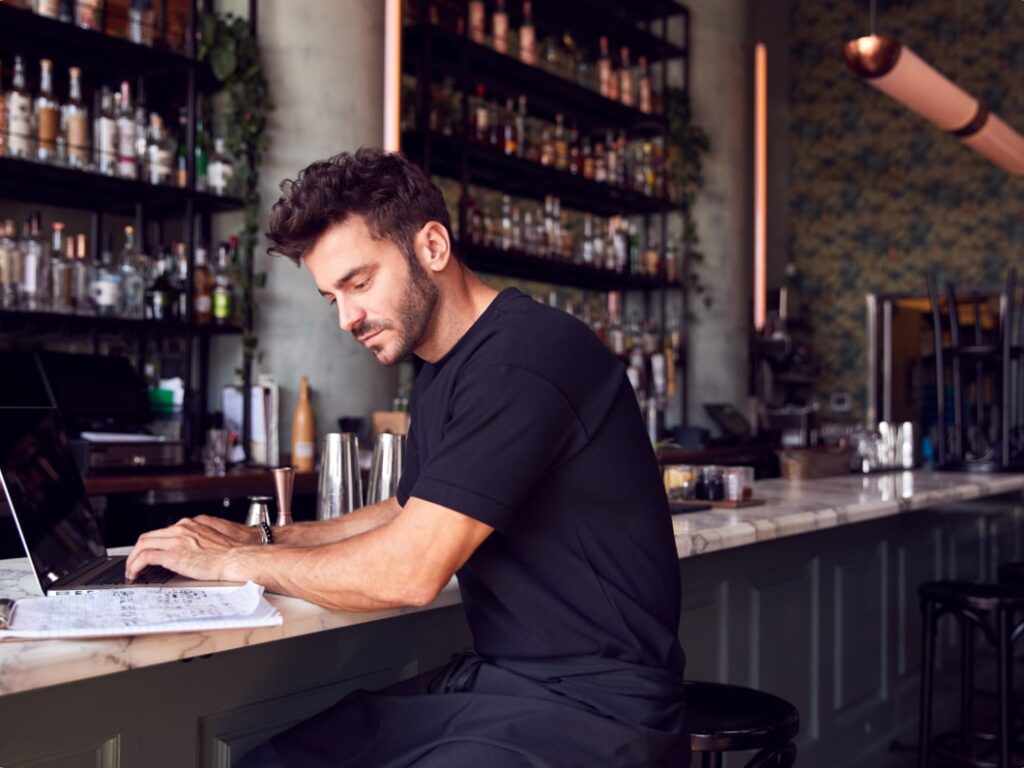 Subscribe to our newsletter for the latest insights in restaurant management
By clicking the button above, you agree that UEAT will use your information to contact you about relevant products, content and events. You can unsubscribe from these communications at any time. For more information, see our Privacy Policy.