People often mistaken UEAT with marketplaces for restaurants, like Uber Eats for example.  
In fact UEAT and a marketplace are fundamentally like apples and oranges. While they offer similar instant-gratification to hungry customers craving food, they provide vastly distinct solutions to restaurant owners.
Before we dig into the nitty gritty of each type of platform, let's take it from the top to explain the overarching differences between the two. 
Marketplaces and e-commerce platforms
Uber Eats is what is known as an online marketplace. A marketplace where products are offered from multiple sellers. As a brick-and-mortar comparison, a marketplace is like a shopping mall. Online examples of a marketplace in the hospitality industry are Expedia.com, Hotels.com or Booking.com. The juggernaut of all online marketplaces for consumer goods, for example, is Amazon.com.
Uber Eats, much like Skip the Dishes or Door Dash, is an online food ordering and delivery platform—also known as a food delivery app. If restaurant owners don't have their own online ordering platform or food delivery service, Uber Eats can be an option to provide customers with a convenient means to order in and get their food delivered by a Uber Eats driver.
On the flip side, UEAT is an e-commerce platform that enables restaurant owners to integrate online ordering features right on their websites and seamlessly operate with their POS systems.
UEAT is an entirely white-label and customizable solution, which means restaurants can give the impression that they built the platform themselves as it features their brand image, their different menu types, their unique promotions, etc. In addition, they can keep their invaluable data on customer information and online behaviour.
Restaurants that use UEAT can offer a wide range of contactless order types, including delivery, take-out and curbside pick-up, table ordering, room delivery, office delivery, in-seat delivering and skipping the line.
Now that you understand the fundamental difference between Uber Eats and UEAT, let's look at how restaurant owners can determine if they want one platform versus another—or leverage the potential of both.
Top 4 things to keep in mind when deciding to use UEAT with or without a marketplace
1. Investment and margins
Even before the recent pandemic and lockdowns, restaurant owners were looking for ways to generate additional revenues from take-out and delivery.
A marketplace is a quick means to offer these services to customers without investing in cars, delivery staff, insurance and the likes. Sounds great, right?
However, the costs of using marketplace services can really ramp up. Did you know that food apps charge commission rates of between 20-35%. For restaurants that barely make net profit margins of 2-10%, those commissions can really eat into their bottom lines.
Inevitably, the costs will have to be passed on to customers. A marketplace does not permit restaurants to charge a premium solely to cover the platform's commissions, which means overall menu prices have to be increased to keep profitability in check. What's more: customers are also charged a "booking fee" for their deliveries.
With UEAT, you pay a small monthly fee based on the level of food offering services you integrate within your website. As mentioned before, you can give your customers various delivery and self-serve options.
It is important for owners to calculate whether a marketplace's commissions outweigh the additional percentage of sales generated from delivery-only orders. Then, evaluate the costs of UEAT and the sales generated from multiple channels.
Note that UEAT offers DoorDash Drive, an online white-label solution, offered at a fixed rate, integrated within the platform that gives restaurant owners the opportunity to offer customers on-demand delivery options. Alternately, restaurants can operate their own fleet of delivery cars too.
2. Discoverability and differentiation
Partnering with a marketplace is a great way to drum up additional business. After all, it's a distribution channel that can drive new customers to your restaurant—customers who may have never heard of your restaurant.
But there is a caveat to marketplace marketing: for example, Uber Eats markets for Uber Eats. As a restaurant, you are on exactly the same playing field as a myriad of other restaurants, whether they are your direct or indirect competitors. Marketplaces are designed to provide somewhat of a smorgasbord of food choices and alternatives.
Discoverability of your business is therefore more challenging. 
Let's say you are operating a pizza joint. With a marketplace, you will be vying for the attention with all other pizza places on the platform. A marketplace initially displays its picks for each customer, based on the platform's own business strategy. Then, listing are shown by location (default) and based on who pays more for an exclusive ranking. Already, customers are faced with alternatives to their first urge for pizza, potentially driving loyal customers and sales elsewhere.
If customers are highly motivated for pizza, they'll choose "Pizza," and out comes a list—ad nauseum—of all restaurants that can whip up a delicious pizza. Still no restaurant branding. Still no differentiation, except for a price range and prep/delivery times.
Only when customers click on your exact listing will they see your restaurant's brand and standard menu with a limited number of items.
Thanks to UEAT, restaurant owners can truly promote their brand and control the customer experience. Existing, loyal patrons proactively search for online ordering options directly on restaurants' websites. With some additional investment in savvy marketing through other channels, such as social media, incentives through referrals and radio ads, restaurants can acquire new customers with unique messaging and mouth-watering promotions. 
3. Customization and upselling
A marketplace gives restaurants the ability to upload a standard menu. Many owners elect to display specialized "delivery" menus that have different pricing to offset the commission the platform charges. These menus also tend to feature dishes that can be easily delivered without ruining the food experience.
A marketplace also provides customers with promo codes and coupons for "instant savings," "free delivery" and other promotions. Restaurants don't pay any additional fees for marketplace promotions or redemption per se; however, on top of the costs of goods sold for the promotion, restaurants are still paying the commission fee.
Upselling features are also quite limited with a marketplace. The platform does not have an array of features to help restaurants increase their average bills.
UEAT is, again, all about your customers' experience and how you want to promote your upsell items to increase your profits. Restaurant owners can showcase different menus, such as an à la carte menu, static menu, du jour menu, cycle menu, seasonal menu, themed menu, etc. This is a fantastic opportunity to test out new ingredients and fare to potentially add to your fixed menu
With the UEAT platform, you can also offer customized discounts and promo codes. UEAT supports loyalty cards, which are renowned for inciting customers to come back and spend more, especially when they are close to reaching their next loyalty reward.
UEAT's non-intrusive, step-by-step upselling features display questions and suggestions to help increase the average bill size. Leveraging the power of artificial intelligence, past ordered items or even new items customers are most likely to order based on their preferences can be "featured" to entice purchases. UEAT's artificial intelligence recommends the right menu items based on the weather, a specific event, time of day, etc.
4. Customer data and accountability
A question that begs to be asked: with a marketplace like Uber Eats, who "owns" the customer? Who "owns" the data? The answer? The marketplace. A marketplace benefits from customers' email addresses (and subsequent marketing potential) as well as extensive customer profiling and analytics to improve its future marketing campaigns, search engine optimization, the gamut.
In a nutshell, unless restaurants on a marketplace have other means to capture customer information, they agree to having that said marketplace promote whatever it wants to their customers.
As a white-label online ordering platform, UEAT keeps restaurant owners in the driver's seat when it comes to customer information. Therefore, restaurants can build mailing or email lists, for example, to send out newsletters, targeted promotions, and custom offers to their loyal clientele based on needs, preferences and past order history. Ultimately, UEAT contributes to keep loyal patrons…loyal to their preferred restaurants.
Another factor to be wary of is accountability. If restaurants only use Uber
Eats for delivery, they have zero control over the delivery experience: professionalism of the driver, timeliness of the delivery, how well or mishandled an order is, etc. In the minds of customers, the restaurants are to be held accountable. With systematic issues, a lack of control on the delivery experience can wreak havoc on a restaurant's brand and long-term delivery success.
UEAT gives restauranteurs the flexibility to provide more than one means for contactless service; if a restaurant prefers offering its own delivery, it can better monitor the performance, efficiency and polish of drivers.
As you can see, UEAT can be either an alternative to a marketplace, such as Uber
Eats, or a complement to any popular marketplace. We've noticed a lot of restaurants starting off with a marketplace reach more customers in the short-term and then adding UEAT for a more personalized customer experience. Others prefer circumventing third-party marketplaces altogether to maintain close contact with their clienteles.
Above all, it's important to do the math and take into consideration the importance of and risks to brand awareness, customer experience and profitability to pick a marketplace, UEAT, or a combination of both platforms.
For more creative ideas on how to promote your brand without breaking the bank, download our marketing guide.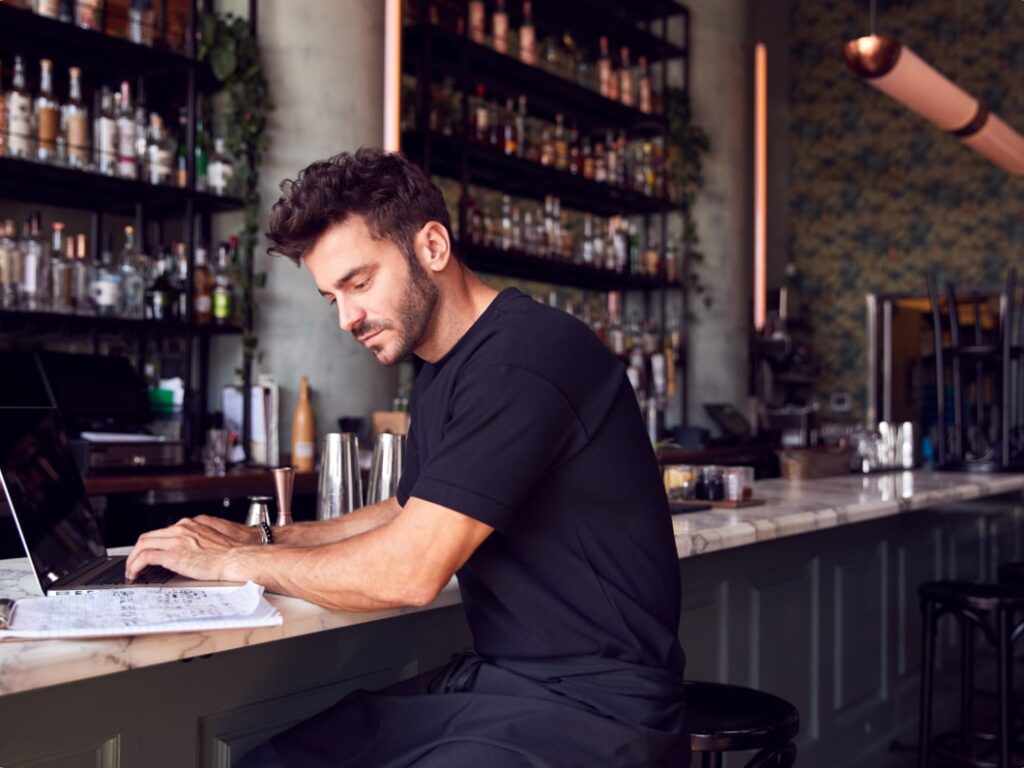 Subscribe to our newsletter for the latest insights in restaurant management
By clicking the button above, you agree that UEAT will use your information to contact you about relevant products, content and events. You can unsubscribe from these communications at any time. For more information, see our Privacy Policy.