Apart from resilience and grit, if there is one thing the global pandemic taught restaurateurs, its: be prepared for anything.
During the first couple of waves of COVID-19 in 2020 and beginning of 2021, restaurants around the world grappled with the yo-yo of opening and closing, opening and closing. To mitigate declining sales and fight to stay in business, restaurants turned to online third-party apps and white-label online ordering platforms. 
For online third-party apps, it was a bittersweet choice as many charged up to 35% in commissions, based on order size. For online ordering platforms, restaurateurs saw a gleam of hope to protect their brand, customer data, margins, and overall profitability. Yet, the restaurant's industry's far-west landscape continued, with many confused between the pros and cons of the various online ordering and delivery options that were available. 
A new ray of hope for restaurateurs in 2021
As spring turned into summer 2021—with more and more people vaccinated—restaurateurs  hesitantly breathed a sigh of collective relief. Maybe they were done with lockdowns for good. Maybe they could return to normal and focus primarily on dining room customers. 
Some went so far as deciding to prevent customers from ordering take-out and enjoying curbside pick-up. Still others opted to forego delivery, deeming that the pandemic was a (difficult) blip in the road. Many industry pundits even alluded to the restaurant sector experiencing a "renaissance," akin to the Roaring Twenties.
Why restaurants shouldn't put all eggs in one revenue basket
As of this writing, many areas in the US and Canada are easing lockdown measures. This is wonderful news for restaurateurs and patrons alike who are eager to benefit from in-dining experiences. However, putting all their eggs into one revenue basket may prove to be fatal.
However, there are two factors at play that restaurant owners need to keep in mind before saying goodbye to online ordering. 
For one, even before the pandemic, off-premise ordering, according to the National Restaurant Association, made up for "nearly 60% of foodservice occasions." Ever-evolving habits from digital-first generations, the increase in need for speed and convenience, and experience with ordering via websites and mobile apps in other industries are fueling restaurant patrons' desire for off-premise dining. Restaurants are not only facing competition from their peers—but also from grocery and convenience stores, meal delivery services, and a growing number of amateur "chefs" (aka foodies) that simply prefer cooking from home thanks to inspo from Instagram, Facebook, TikTok, and influencer blogs. In fact, consumer market research firm Hunter found, in January 2021, up to 71% of US consumers are likely to continue to cook from home after the pandemic ends. 
Another case in point? Without being all doom-and-gloom, the pandemic is not over. Again, as of July 2021 (when this post was written) many countries around the world are actually experience new lockdowns this summer, such as Japan, Australia, South Korea, among others. In order to slow the spread of variants, many public spaces, including restaurants, are either limited or closed altogether. Even the UK and US are seeing a 4th wave of COVID-19. This is not fearmongering; this is the reality with the ebbs and flows of a global pandemic.
While what happens elsewhere in the world is not a completely accurate bellwether for the US and Canada, it nevertheless points to one important fact: restaurateurs need to be prepared for everything. 
Top reasons why restaurateurs should maintain or adopt in-house online ordering services—pandemic or not
1. Additional revenue streams
In-house (or white-label) online ordering systems can provide a somewhat effortless way to increase sales through new revenue streams. Of course, the in-person experience is what delights many experienced restaurateurs. However, why would any restaurant pass up on additional revenues from delivery, take-out and curbside pick-up in an already tough market pre-pandemic?
2. Better margins
3rd party third-party apps definitely provide a means for restaurants to cast a wider net for new customers. However, the discoverability and delivery convenience comes at a price—up to 30% in commission fees based on order size. This can mean a huge chunk of a restaurant's thin margins. In addition, with the right online ordering platform that has a sophisticated, non-intrusive upselling module, restaurants can actually increase their average ticket size with zero efforts from on-premise employees inundated with calls or waiters taking additional time to offer extras—and turn tables more slowly.
3. Customer loyalty 
When using online third-party apps for delivery, for example, restaurants are literally encouraging their customers to weigh their options. Most 3rd party delivery apps present a sea of dining options, which allow customers to discover other restaurants and specials. In addition, online third-party apps are not conducive to enticing customers to use a restaurant's loyalty program, which can be a huge marketing advantage when "selling" directly to patrons. Did you know restaurant customers are demonstrating an increased demand for loyalty programs since the outset of COVID-19? 
4. Customer data
Customer data. The holy grail of any business—including restaurateurs. While in-person relationships are paramount for dining room sales, restaurants can never underestimate the power of collecting customer data for digital marketing initiatives to drive foot-traffic (both physical and digital). With online ordering platforms, which often provide deeper analytics than POS systems, restaurateurs can also monitor customer trends, determine best-selling/slow-selling menu items, as well as better predict inventory needs based on periods of the week, month and year. Knowing what your customers want is a tremendous advantage for both your top and bottom line.
5. Operational efficiency
The restaurant industry is facing an unprecedented labor challenge, whether due to socio-demographic and economic trends or pandemic-relief packages. While in-house online ordering solutions cannot mitigate all labor issues, they can nevertheless provide operational efficiency to decrease the number of required front-of-the-house staff. Paying employees to take calls and ensure the accuracy of take-out/delivery/curbside pick-up orders means less time elevating the customer experience for guests in your dining rooms. Moreover, how profitable are employees as they rush to answer these off-premise orders without keeping in mind upselling and cross-selling customers to beef up each bill?
Online ordering using a platform tailored to a restaurant's brand should not be relegated to a "nice to have" when a pandemic arises. As the restaurant industry continues to evolve, restaurateurs need to make the most out of every order—offline or online. Digital will soon become the primary order channel for restaurants worldwide. There are sustainable gains for restaurants to leverage off-premise ordering. That is why restaurants should never compromise on short-term boons to the detriment of long-term viability.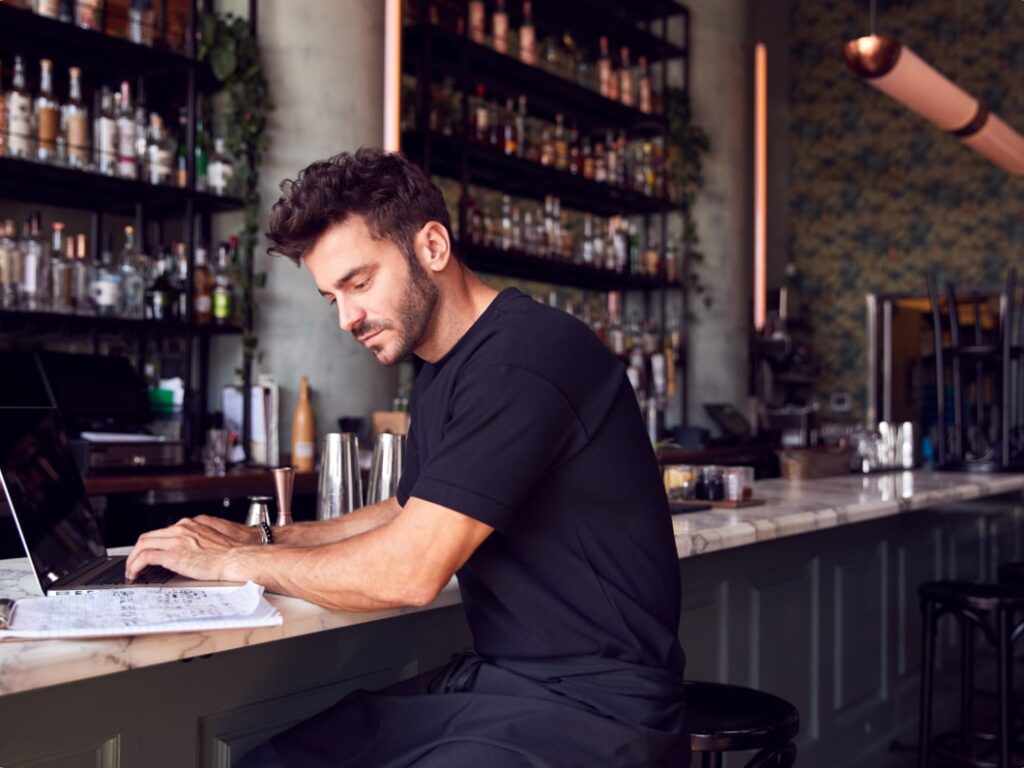 Subscribe to our newsletter for the latest insights in restaurant management
By clicking the button above, you agree that UEAT will use your information to contact you about relevant products, content and events. You can unsubscribe from these communications at any time. For more information, see our Privacy Policy.