What is restaurant digitalization?
Restaurant digitalization is all about bringing the in-person restaurant experience into the digital realm and merging the digital and physical world. It opens up a new sales channel, improves the customer experience and optimizes your restaurant's operations. Ultimately, if you want your restaurant to succeed in the long run, you need to embrace technology. 
How technology is changing the restaurant industry
Below are some of the most common uses of technology in restaurants to highlight just how it is shaping the food and beverage industry. 
Contactless payment and ordering 
Contactless payment is one way in which technology is used in the restaurant industry. It has been seamlessly integrated into the customer experience. It makes life much easier for customers and it is a safer payment option during these unprecedented pandemic times. 
Restaurants can also take it a step further and offer guests contactless ordering on their premises. This offers them a fast and safe way to order food wherever they are. This can be done by using mobile kiosks or through a custom mobile app so that customers can order directly from their phones. 
Apart from allowing you to avoid continuously having to disinfect menus or payment terminals, contactless ordering optimizes your operations, increases the speed and precision of each order and… it can be used anywhere (table side and in-seat ordering, priority ordering, drive thru or curbside pickup).
Get your own branded on-premise contactless solution
Online ordering 
Without a doubt, online ordering technology has shaped the restaurant industry in the past decade and it was a safety line during the coronavirus pandemic for many. In today's competitive landscape, restaurants need an online revenue stream if they want to stay in business. Apart from boosting your revenues and increasing your visibility, an online ordering system offers you the following benefits: 
It allows you to upsell in non-intrusive way 

It offers a personalized online ordering experience

It makes it easy to change or update menus, menu items and products depending on the time of day, days of the week, seasons, as well as specific holidays or events

It can be

customized

to reflect your brand's image 

It helps you keep control over your customer data 

It increases customer loyalty and satisfaction 

It helps you avoid high commissions from third-party apps 

It boosts your conversion rate and maximizes your ROI 
Online marketing
Customer data is a gold mine for companies in the 21st century. After all, data makes it possible to personalize the customer experience and drive more revenues. Online marketing tools can help you collect this valuable information and use it to your advantage. 
Thanks to UEAT's online ordering platform, restaurants have access to smart marketing tools that allow you to: 
Preserve your customer data for direct marketing and targeted promotions

Access comprehensive analytics to determine the demographics and consumer behavior of your customers

Supersize your business intelligence by accessing reports to detect online ordering trends, changes in consumer behavior, and fast or slow-moving menu items/promotions

Sync with your rewards, loyalty and gift card management systems to make redeeming as easy as can be!

Beef up your marketing back-end by tying into your Google Analytics and Google Tag Manager for conversion tracking
4 reasons why restaurants should have both an online ordering system and a mobile app
Running an online order system alongside a mobile app instantly doubles the benefits and rewards you can reap. 
1. Convenient 
Having a restaurant mobile app is convenient for the user as they can easily order from anywhere with their mobile phone. Statistics show that a majority of consumers use their mobile devices when making restaurant dining decisions: find a restaurant nearby, order a meal online, etc. (source). 
Mobile-first customers are definitely here to stay. The advantage of having both a mobile app and online website is that they sync together to streamline your operations, gather customer data and maximize your profits. They work together to personalize the customer journey and sync loyalty programs so that customers can easily redeem benefits. 
2. Customizable 
At the end of the day, the customer should be at the heart of your business. Being able to customize your app and website to reflect your brand image (logos, colours, etc.) allows you to foster customer loyalty. Apart from customizing your restaurant mobile app and online ordering system, companies like UEAT have an artificial intelligence module that allows you to personalize the customer experience and make upselling effortless thanks to access to past orders and customer data. 
3. Marketing campaigns 
Digital marketing campaigns are changing the landscape of the restaurant industry. With a mobile app and online ordering system, you can personalize your marketing campaigns to make them more effective and drive user action. Although it is important to advertise on social media to attract new customers, it is equally as important to keep your loyal customers engaged. When customers register on your restaurant app or branded website, they agree to share their personal information with you so you can advertise loyalty programs, deals and new menu items to keep them coming back for more. 
4. More efficient 
Employees are essential to the running of a restaurant, no questions.  By leveraging technological tools, you can make their lives easier and help them focus on value-added tasks that cannot be automated. Allowing customers to order online reduces the risk of human errors in orders and speeds up the ordering process as the information goes directly to the kitchen.  Moreover, when the order is placed, the mobile app and online ordering system allows customers to track the entire process, from cooking to delivery, which improves the customer experience. 
Hidden costs and challenges that come with developing your own mobile app and online ordering system 
Although a mobile app and ordering system will boost your restaurant's revenue at an impressive rate, there is a right and a wrong way of going about it. Mobile app development is complex and requires programming skills. To highlight the possible challenges you might encounter, we have prepared a list of issues that can accompany app designing and software development. 
Functional services 
In order for your app to succeed and reach its full potential, you are going to want to include as many functional services as possible. Functional services are essentially all the components that make up the features of an app. Think push notification, upselling modules, integrated loyalty programs, SMS messaging, and linking emails to your app. 
However, each one of these features comes with a hefty price tag to incorporate it into your app. For example, push notifications could set you back a whole extra $ 2,400 a year, a big sum when you consider the already narrow profit margins of the restaurant industry. Functional services are one of the biggest hidden costs of mobile app development. Thankfully, you can benefit from an array of functional services and features thanks to UEAT's custom mobile app development service. 
Support  costs
Support costs related to app development represent little upfront cost but it is an ongoing cost that will keep popping up. As with all technology, things might not work as they should, systems can go down, all of which need to be solved as quickly as possible. In fact, support costs can ramp up to 20% of your initial mobile app development cost
The good news is that if you get your app developed and designed by a reputable business such a UEAT, they take care of all the maintenance so that you can focus on the key aspects of your business. 
Streamline your customer support
Feature development 
When thinking about the app development process and hidden costs, many people don't realize just how many mobile app development services they will need to pay for, and feature development is one of them. Many restaurant owners are used to only having a website which they might have set up 10 years ago and not updated since. 
However, that is not the way things are done anymore. Today, if you are not generating regular features, users and customers are going to lose interest and be drawn to other companies who provide that value. It's also important that you organize the information properly and that you are able to update your menu, menu items and products easily. If you develop your restaurant's app or website yourself, this may be complex as you will have to learn all the ins and outs of your content management system. 
Offer your clients the native experience they deserve
Security 
Data security is extremely important when it comes to using mobile apps or websites as they generally store banking information and other sensitive data. You therefore need to ensure the security on your app is airtight to make sure you respect your customer's privacy and the laws of the country you are operating in. The best way to do this is to get professionals to design your app and website. UEAT takes care of your restaurant's website creation and hosting as well as app development.
Get your own custom white label app and branded online ordering platform 
Since around 80 % of consumers prefer to order food through an online ordering system on their smartphone, it's essential that you have a digital presence in order to tap into this opportunity and boost your sales.
However, as you can imagine developing an app is not easy… this is where UEAT comes in. Our team can create a custom branded mobile app for your business and get you online in no time. We also personalize your online ordering system so that you can streamline your operations, maximize your profits and enjoy an ecosystem of delivery options.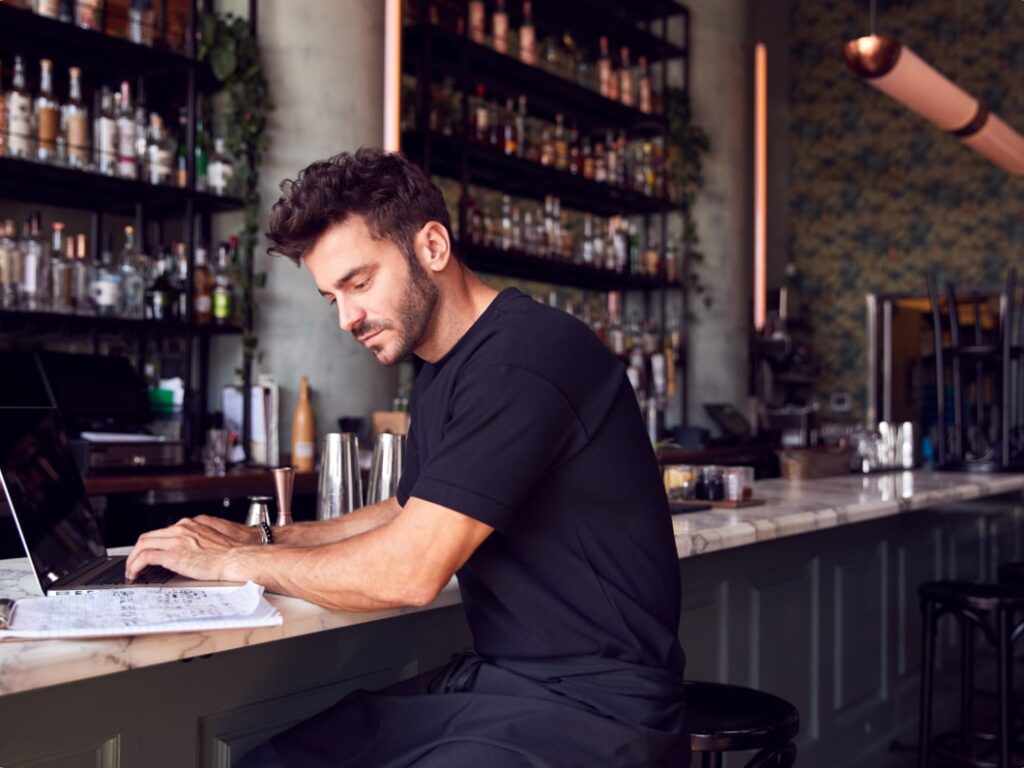 Subscribe to our newsletter for the latest insights in restaurant management
By clicking the button above, you agree that UEAT will use your information to contact you about relevant products, content and events. You can unsubscribe from these communications at any time. For more information, see our Privacy Policy.