Consumer habits are constantly changing. The social distancing procedures surrounding the coronavirus pandemic have highlighted the importance of opening new sales channels for business owners. This reality is especially true for restaurateurs, who rely heavily on in-person interactions to generate sales and serve customers. As social distancing deadlines continue to extend, many restaurant owners are offering curbside pickup and delivery services to their customers to maintain their competitive edge and prepare for the months to come. 
What is curbside pickup?
Curbside pickup is a service that is offered by many businesses, which allows customers to place orders ahead and pick them up safely. It's becoming increasingly popular in different industries, especially for restaurants, as it provides a safe way for people to pick up their orders during the coronavirus pandemic and it helps boost business growth. Not to mention it's fast and convenient! 
How does curbside pickup work for restaurants? 
Customers simply have to drive to the restaurant and wait in their cars for the staff to bring them their favorite food. Curbside pickup promotes social distancing because customers and employees don't have to interact. The concept is simple and straightforward: the client calls or places his order online on your ordering app, drives to your restaurant, parks his vehicle outside and waits in his car and pops the trunk so that the employee can place the order in his vehicle.
 Contactless payment & ordering options
Best tips for restaurants that offer curbside pickup
Curbside pickup is a win-win solution for customers and restaurant owners. Customers enjoy the convenience of curbside pickup because they don't have to get out of the car and restaurants benefit from increased profits without having to change their price structure or increase their seating capacity. Here are some tips to consider to help you reap all the benefits of this solution:
1. Leverage the right online ordering system
To offer a curbside pickup service to your customers, it's important that you choose your technological ally carefully so that you get the most value for your money. Whether you have a big or small business, UEAT's online ordering system adapts to restaurants and bars of all sizes. With our digital solution, you benefit from a personalized app, contactless ordering, smart marketing tools, an artificial intelligence module to offer upsells, integrated delivery options, integrated loyalty, direct integration with your POS, a smooth onboarding process and much more.
2. Train your staff 
The level of quality should be the same for dine-in service, online ordering and curbside pickup, that is, outstanding. After all, great service is the key to repeat business and loyal customers. It's important to train your staff so that service is as efficient as possible. To do so, we recommend that you select members of your team for each shift so that when clients arrive to pick up their orders, they get the food delivered to their cars quickly. The great thing about UEAT's app is that online orders give you detailed information about the order such as the model and color of the customer's car. This way your selected staff can identify the client's car quickly and ensure customer satisfaction.
3. Optimize parking space
If you have a parking lot at your restaurant, make sure to reserve the spots that are close to the front door of your business for curbside pickup so that you can optimize wait time and make it easy for your employees to find the customers. It's also a great way to advertise your new curbside service to existing and new clients.
Quick tip: add numbers to your parking spots so it's even easier for you to find your customers.
If you can't allocate parking space, you should make a curbside station outside and consider buying a security camera so that your staff can go hand out the orders upon a customer's arrival. 
4. Carefully select your packaging
When it comes to online orders and curbside pickup, packaging is key. If you want your online sales to grow, you have to make sure the customer experience is on point. To do so, you have to make sure your takeaway packaging suits the food you serve – hot meals should stay hot, cold means should stay cold, liquids should be kept in a closed container, etc. Packaging should also reflect your company's and your customer's values (recyclable, compostable, etc.). 
Another essential point of quality packaging is the design. Takeaway packaging is a great opportunity to advertise your restaurant and your online ordering service. Printing is a small price to pay for all the exposure and brand awareness you will generate beyond your restaurant. 
5. Make sure curbside pickup is efficient
Customers don't want to be waiting in their cars forever so service has to be efficient. An online ordering system speeds up this process with contactless payment and ordering because customers are able to complete the transaction on their mobile phone before arriving on-site. This way, your staff doesn't have to carry cash around and you increase everyone's safety by limiting interactions. With UEAT's ordering system you minimize wait time, optimize operations and increase your profits. 
What are the benefits of offering curbside pickup for restaurants? 
Offering delivery and curbside pickup solutions is nothing new in the restaurant industry. Innovative restaurants and big chains have been leveraging these options for many years in order to open up new revenue streams and respond to their customers' needs. However, we are now seeing a rising trend in curbside pickup for smaller businesses. This is mainly due to the  fact that the costs associated with packaging have decreased and there are new all-in-one online ordering systems that facilitate the set-up of this solution. Here are some ways in which curbside pickup can add value to your restaurant or bar:
1. Convenience and safety
Curbside pickup is convenient for customers because it saves them time and money (no delivery costs). Not to mention that with today's COVID-19 public concerns, it provides a safe option to protect customers and employees. Restaurants can accept orders placed online and via mobile apps for quick curbside pickup, while eliminating exposure and health risks.  
Restaurants can also keep current employees working, promote inventory turns, and show loyal customers that they value their well-being. Implementing health-conscious alternatives, such as curbside pickup, can generate revenue while increasing employee and customer satisfaction.
2. New Sales Channel 
Opening a new sales channel reduces your dependency on other channels such as dine in, which can increase your revenues and minimize risk in the current COVID-19 context. If restaurants have to shut their doors due to government regulations, you will still be able to generate sales and keep your business afloat with curbside pickup, online orders and delivery.
How to increase your restaurant profit margins
3. Cost optimization 
Curbside pickup helps customers and business owners save on costs. It's cheaper for customers because they don't have to pay delivery fees. As for restaurant owners, they are able to save on commission fees from third-party apps. 
4.  Stronger Brand Image
Restaurants that adopt an omnichannel strategy are able to cater to customers' different needs and thus reach a larger portion of their target market. You are showing your customers that you care by giving them what they want and offering them different purchasing options so that they can choose their preferred way of purchasing (dine in, delivery, curbside pickup, etc.). Click and collect gives them more options and shows them that you are more flexible than your competitors. The overall result is a stronger brand image!
Want to offer curbside pickup at your restaurant to increase your profits?
UEAT's online ordering system helps thousands of business owners increase their profit margins, promote public health safety and increase customer satisfaction by offering different contactless order types. If you are ready to boost the growth of your business and take the first step towards your future, don't hesitate to contact us.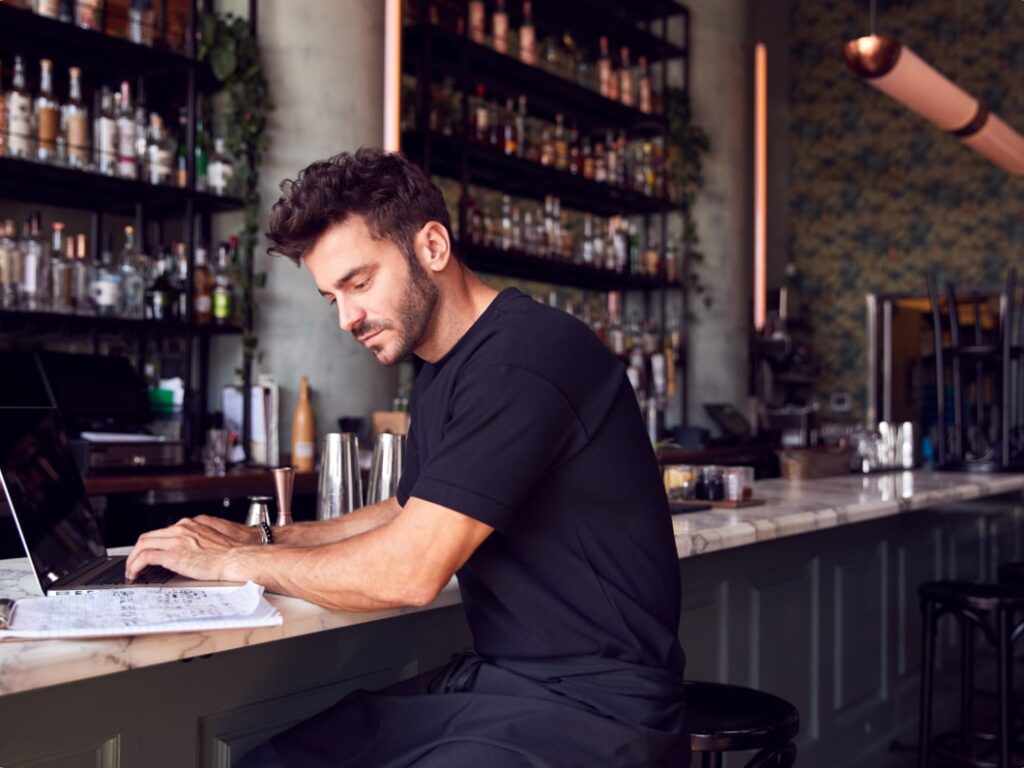 Subscribe to our newsletter for the latest insights in restaurant management
By clicking the button above, you agree that UEAT will use your information to contact you about relevant products, content and events. You can unsubscribe from these communications at any time. For more information, see our Privacy Policy.