An omnichannel experience is very valuable for businesses, as it not only puts consumers at the center, but also provides an interconnected system between all points of contact with them. Its success is based on a deep knowledge of the client, so that a personalized customer experience can be offered. In this article, we explain why an omnichannel experience is specifically important for restaurants.
What is an omnichannel strategy?
The term omnichannel refers to the ability of a company to manage all points of contact with a centralized approach, not losing sight of aspects that could be essential to guide clients on the right track.
This is done through online and offline touchpoints. The goal of the omnichannel strategy is to understand customers' decision-making habits and guide them towards a personalized user journey.
Not sure what is the difference between multichannel and omnichannel? The first consists of  developing individual contact points between the company and the public independently, without the ability to integrate the different contact points. Omnichannel, on the other hand, consists of integrating the various activities. Only with an omnichannel restaurant marketing strategy can you work in an interconnected system between the different points of contact.
Why should restaurants embrace omnichannel marketing?
The restaurant industry is constantly evolving. In our day and age, customers want to receive their food as quickly as possible, regardless of where they are. For this reason, it is essential to have an efficient and connected user experience, as customers want the ease of being able to pay, order and collect food as they wish. This can be achieved through an omnichannel approach.
In addition, customers are increasingly demanding and difficult to please, as they expect a flawless experience across channels. Whether it is an online, telephone or QR code order, restaurants must have an effective strategy that allows them to satisfy the customer's need for personalization, speed and convenience. All in all, restaurants should embrace omnichannel marketing to reach more customers and boost their profits.
Open a new revenue stream for your restaurant
Benefits of the omnichannel strategy for restaurants 
More potential customers
The more channels a restaurant marketing strategy includes, the bigger the audience it can reach. This is particularly true if you work with external apps, for example, since each of them has its own audience. If you are on different platforms such as Uber Eats, Just Eat or Deliveroo, you can reach more people. However, managing logistics with each of these partners can also have certain drawbacks such as high commission fees (up to 30%).
Better customer experience
The omnichannel strategy consists of creating a user experience without interruptions in all your interaction channels. This means that customers will receive the same treatment, whether they go to the store to pick up their order, eat on the premises or place an order for delivery. The result of a good omnichannel strategy is a seamless experience that effectively meets the increasing demand for customer convenience.
Better data flow
When you make the integrations between the different platforms you use, you will notice that the data you have will be much more accurate. If you have more than one channel aligned, you can collect accurate data at your point of sale and use it in many ways to improve your marketing operations and strategies.
Here are some reasons why having more and better data can help your business better understand customers and offer a better service in general:
Offer a personalized treatment: with the data collected, you will be able to treat each client in a personalized way by taking into account their tastes and customs.

You can target customers with personalized offers to increase their average tickets and their frequency of consumption.

The collection and interpretation of data will allow you to continuously improve your service, the

menus

and the processes you follow to offer a better experience to both customers and employees. Consequently, you can also reduce unnecessary expenses.
Happy employees
Your employees will be happier, more productive and work more efficiently if you make your systems effective thanks to the collection of insightful data. Having happy and efficient employees will have a positive impact on the satisfaction of your customers, and therefore, on the profit you generate.
Tips to develop a successful omnichannel strategy for your restaurant 
Do not neglect the post-sales phase
This phase is as important as the entire process in which a lead becomes a customer. It consists of delighting those people who have already consumed in your restaurant so that they do it repeatedly. Even if they do not visit or consume again, they will serve as spokespersons, giving a good image of the brand to their close circles.
As you can see, omnichannel encompasses all contact channels and simultaneous action in this phase. If a customer placed an order online and is not entirely satisfied with their order, receiving this feedback will help you improve the customer experience. All the channels of the brand must be useful to help customers, that's what good service is all about.
Support and customer service are an essential part of the post-sale phase. In most cases, it is the mainstay of interaction between the brand and consumers when a sale has already been closed. If your restaurant adopts an omnichannel strategy, it will be perceived as one that is willing to solve problems. This positively influences your customer interactions because it inspires trust.
Implement an online ordering platform
There's online food ordering and then there's UEAT. Our next-generation online ordering platform removes friction points, increases your average ticket size, and jumpstarts your conversion rates. With UEAT's platform you can:
Offer a highly personalized ordering and payment experience via your website or app.

Access

RAI™

, your perfect employee that automatically and systematically offers a personalized online ordering experience based on each customer.

Upsell the non-intrusive way. Contrary to conventional online ordering systems, RAI™ doesn't bombard your customers with pop-ups and cheesy online marketing tactics.

Effortlessly configure RAI™ to present menus, menu items and products based on time of day, days of the week, seasons, and specific holidays or events.

Ditch the account creation. Customers don't need to set up an account to order, which increases conversion rates.

Keep customers loyal to YOU. Our online ordering platform and mobile app are tailored to your brand—and no one else's.

Bring your dining experience online by recreating the one-on-one relationships you and your staff create with guests.

Keep control over your customer data by capturing the names and contact info of customers who order using your branded platform. This is ideal for marketing and loyalty programs!
Request a quote and unlock the true potential of online ordering!
Create a strong relationship between offline and online
Customers must find consistency between the premises and what the brand shows on the Internet. Customers may go to the restaurant and then buy online through mobile ordering or vice versa. It is also a good idea that you dispose of tablets in your restaurant so that visitors subscribe to a newsletter that shows them the latest offers and promotions, for example. Communicating both the offline and online world is a multi-channel experience, but making them work in sync is omnichannel.
Pros and Cons of Food Delivery Apps
Omnichannel marketing actions
There are restaurants that not only implement rewards programs through a marketing channel but use the excuse of rewards to collect more relevant data about their customers.
This marketing action consists of rewarding customers for their purchases, but also for their interactions on social media. 
To publicize this type of offers and promotions, an omnichannel marketing strategy must be used, since it allows users to find out about them in stores, websites and social networks. A good tip is to do omnichannel marketing actions such as reward programs since they will not only allow you to earn money but will also make it easier for you to obtain demographic and consumption data practically. Consequently, you will be able to create other personalized offers for these users!
Integrate delivery solutions
UEAT's online ordering platform connects to your delivery systems, whether you own a fleet, use fixed-rate marketplaces, or local delivery providers. No matter how you deliver, UEAT's restaurant online ordering can adapt. Our delivery solutions let you: 
Foster customer loyalty and regain control of your customer relationships by integrating UEAT's online ordering with your own fleet management system.

Enjoy fixed-rates with delivery companies, including marketplaces and local providers, that already have a fleet of drivers. You'll never have to worry about huge commissions based on the order size you deliver. 

Offer on-foot delivery to nearby businesses with UEAT's dispatch app.
Book a demo and boost your profits!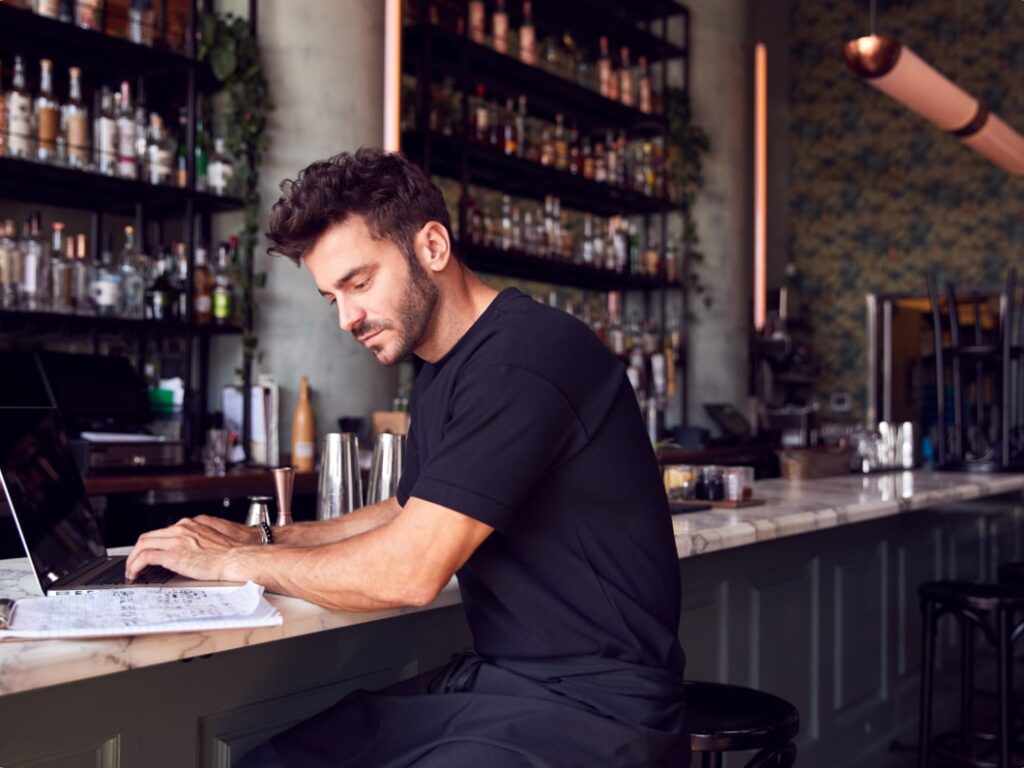 Subscribe to our newsletter for the latest insights in restaurant management
By clicking the button above, you agree that UEAT will use your information to contact you about relevant products, content and events. You can unsubscribe from these communications at any time. For more information, see our Privacy Policy.