Christmas is just around the corner—with many cities grappling with the ripple effects of the pandemic's second wave and renewed lockdown measures, including closing restaurant dining rooms yet again. Many restaurants are seeing corporate and family events being cancelled as the future of the Holidays in 2020 remains uncertain.

As much as the news does paint a doom-and-gloom picture, resilient restaurateurs can tap into their creativity to generate revenues during one of the biggest sales periods for the foodservice industry. 
Naturally, restaurant patrons have no idea how they will plan to celebrate the Holidays this year as it is too early to tell where COVID-19 restrictions and their general sentiment will be.
And this is precisely the opportunity restaurants need to capitalize on: maintaining the Christmas spirit and encouraging new approaches to socializing and entertainment in the run-up to the Christmas and New Year.
Let's check out some unique ways restaurants can use to maximize sales during the Holidays and pull through the pandemic's resurgence.
1. Revamp your menu
While many restaurant owners have already simplified their menus, the Holidays are the perfect time to whip up new menu options. For example, why not put together a festive take-out feast or themed combo for families of 2, 4 or 6? Think about how your cooking specialities could be transformed into unique appetizers, main dishes and desserts your loyalty customers have never had before. While you will want to give these table d'hôte options a unique Holiday twist, you can nevertheless test out some new ideas to add to a future menu.
Meal kits are also highly popular menu items that enable customers to assemble and cook delicious food from the comfort of their own kitchens. Traditionally, the Holidays have often been a stressful period for party hosts. This year, give families who cannot see each other stress-free and simple alternatives for enjoying Christmas around a video conference call!
A lot of restaurants bank on promoting scarcity with meals-in-a-box that are limited in number. Despite the pandemic, people are still hardwired for FOMO—the fear of missing out. Imagine challenging your chef to whip up the ultimate Christmas feast and offering only a small number to your clientele. Now, imagine whipping up several of these one-of-kind feasts throughout December. This strategy is a sure-fire way to stir up a buying frenzy!
2. Add new revenue streams
Many restaurant owners have yet to add new services to their arsenal. For example, adding special beverages and alcohol to your Christmas menu for takeout, curb-side pick-up or delivery not only facilitates your customers' shopping (say goodbye to long line-ups at the liquor store!) but also ramps up your average bill.
Another service that is highly appreciated? Sell grocery items! You could opt for a themed grocery box for Christmas. Provide quick-turn food staples on par with your restaurant's brand (for example, an Italian restaurant could sell bread and olive oil). Feature high-margin and highly unique products customers cannot find anywhere else; for example, special ingredients that cannot be found in run-of-the-mill grocery stores.
Keep in mind that it is Christmastime. Despite COVID-19, people will still be shopping for gifts. There are several great gift ideas restauranteurs can promote, such as gift cards or even your meal kits and grocery boxes. Don't assume your customers have these ideas top of mind: it is important to promote them through your normal marketing channels. What's more: always be upselling. If a family orders a meal, offer your new products and services via a pop-up on your ordering platform or when you take the call. Give incentives to add a second meal kit for grandparents or family friends. The only limit is your imagination!
3. Team up with local businesses
In tough times, solidarity is key. That is why it is important to partner with local businesses around you to stoke stales. How? Find ways to develop cross-promotions with other entrepreneurs. For the Holidays, a restaurant could join forces with a local bakery or delicatessen. On the one hand, the restaurant could add products from these businesses in its dishes or grocery boxes. On the other hand, the bakery or delicatessen could offer a rebate when ordering from the restaurant.
And don't limit cross-promotions to simply other businesses in the food industry. Ingenious cross-promotions can be carried out with arts and crafts and Christmas stores, flower shops, or other retail stores that sell products for the Holidays. With the right online ordering platform, you could even put together Christmas packages and incentives that benefit both your bottom lines!
4. Give a new spin to entertaining
If current lockdown measures extend into the Holidays, it goes without saying that people will be bummed out. However, that doesn't mean families can't have fun at home. While they may not entertain other family members or friends, they can entertain themselves—with the help of their preferred local restaurant! 
As mentioned above, restaurants are cashing in on meal kits. But what if you could create a meal or dessert kit that caters to kids? For example, could you add a Christmas cookie dough mixture to your meal kit for children to prepare and offer Santa (with the supervision of their parents, of course!)? How about a themed meal kit for families with young children that includes a tribute to beloved Christmas characters or stories?
5. Don't give up on corporate customers
We hear you: companies cancelling Christmas parties is a devastating ripple effect on many restaurants. We are hearing of several restaurants offering Christmas lunch or cocktail boxes so that colleagues can enjoy in front of their computers—but together. These virtual Holiday events obviously don't beat in-person celebrations; however, they do bring some magic to teams.
Also, if you do have a roster of corporate customers, be sure to promote your extended menus and products for the Holidays. Companies are always looking for Christmas gift ideas for employees. Now, more than ever before, a way to employees' hearts could be through their stomachs!
Perhaps more so now than in living memory, the Holidays this year will be hugely important for households and families. While this year's celebrations may be different, restaurants can overcome new challenges with new innovations—and keep both the Christmas spirit and their businesses alive.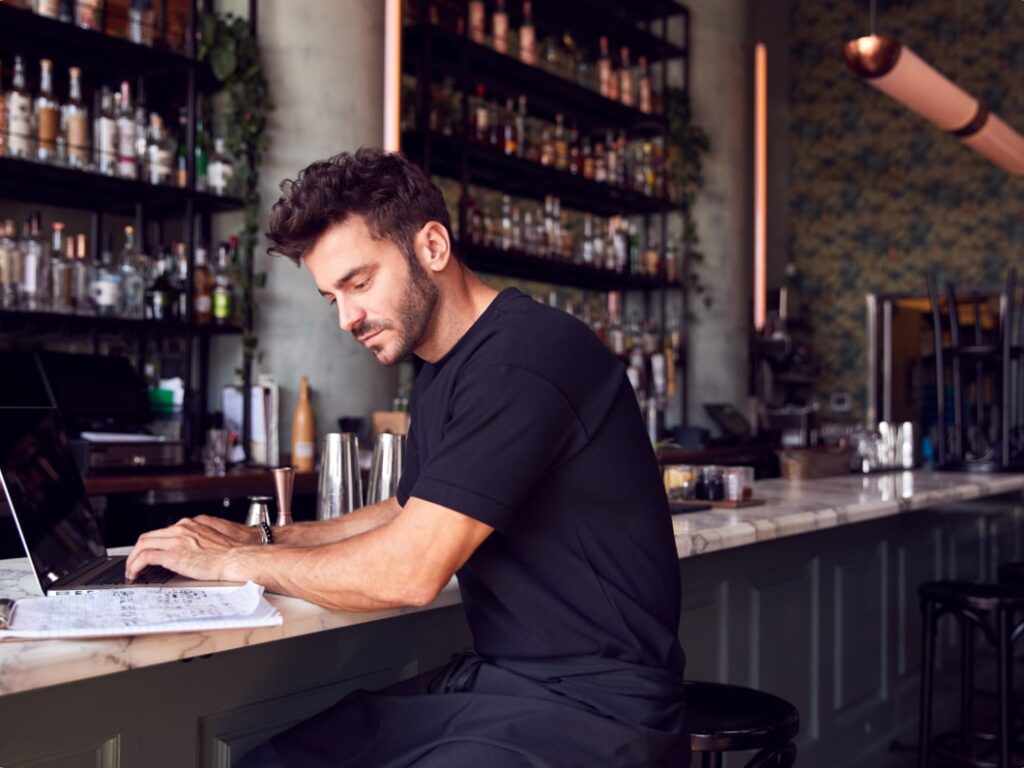 Subscribe to our newsletter for the latest insights in restaurant management
By clicking the button above, you agree that UEAT will use your information to contact you about relevant products, content and events. You can unsubscribe from these communications at any time. For more information, see our Privacy Policy.