You've most probably come across customer loyalty programs. Offering incentives to recapture people and build a loyal customer base is a tried-and-true marketing strategy. However, it often happens that memberships remain inactive and benefits that could have been acquired through them are wasted.
This inactivity is produced by several causes. It is possible that consumers grow frustrated as they see themselves slowly accumulating points to reap rewards that are not worth the effort in their eyes. On the other hand, the window of opportunity to claim a reward or discount may expire so soon that customers don't have the time to consider their purchase.
What is the importance of customer loyalty for restaurants?
Loyal customers can make the difference between a business growing at a steady pace or it tumbling down. Not only is having to constantly renew customers a very costly endeavor but your brand image will also be hindered without a loyal customer base.
Research performed by Bain & Company (source) shows that customer retention strategies can be incredibly profitable. In some cases, a 5% increase in customer retention can increase profits by more than 25%. After all, return customers tend to spend more.
By using data, loyalty programs can better understand consumers. Research, analysis, customer insights, and all kinds of information are extremely useful when setting up your customer rewards programs.
Learn how restaurants are leveraging AI
How do you create data-driven customer loyalty experiences?
Data solutions for customer loyalty programs consist of state-of-the-art smart marketing tools that can be used to implement a rewards program and much more. All kinds of restaurants and bars can benefit from implementing online ordering in their daily operations.
Customer loyalty programs, gift card management systems, rewards, and many other treats for loyal customers can be synced with UEAT's online ordering platform, making redeeming rewards easier than it has ever been.
Tips to improve your loyalty program with customer data
Invest in an online ordering platform
There's no doubt that the future of business is digital. In today's data economy, data has surpassed oil and gold as the world's most sought-after, and valuable, commodity. In the current market, having an online platform to grow your business is not only logical, it is also becoming a necessity. Data has the potential to increase profits and create a more efficient restaurant workflow. 
One of the main advantages of working with data is the ability to gather key insights to show how your business is doing and how customers behave when interacting with it. This information can then be used by artificial intelligence (AI). Users of the UEAT ordering platform have access to ​​RAI™, a smart recommendation module based on AI that creates personalized customer experiences. Thanks to the use of smart marketing tools, restaurant owners have access to software that will let them create, modify, and improve their customer loyalty programs, in conjunction with many other areas of their business.
Offer an attractive rewards program
Many customers may become frustrated by rewards that take too long to obtain. The ideal customer rewards program should feel like a gift that keeps on giving, making your customers eager to interact with your business regularly. The more often they receive discounts or other perks, the more they will think of your restaurant as a good place to spend their money.
Remember that a successful customer loyalty program is an investment. Having a loyal customer base has the potential of increasing your profits exponentially. If, for example, Joe Smith goes to your place one hour after the office for something quick and gets a coupon on his next purchase, he's more likely to mention your place to his friends and family next time they eat take-out. Before you know it, you will be calling them "the regulars".
Offer relevant rewards
Do not offer rewards just for the sake of doing it. Think of your rewards program as a way to introduce your customers to the different things your establishment has to offer. 
Have you ever noticed how when you're looking at a particular item on Amazon, you get the chance to also view what other items it is frequently bought together with, and what other similar items were viewed by other users? These options are put there so users keep on browsing and potentially increasing their purchase size.
If you consider what items from your menu go well together, or which ones are frequently bought together, you can create rewards that cater to what your customers want most. You can also try a rotating schedule of possible rewards that can take loyal customers through a tour of everything you have to offer.
Personalize your customer experience with artificial intelligence
The future that once existed only in films and television is here now, and your next employee might not even be made of flesh and bone. By using technology based on an exclusive recommendation module, artificial intelligence embedded in UEAT's online ordering system can revolutionize the food ordering experience for both customers and restaurant owners.
Your customers will have their own AI butler, capable of recommending the items they're algorithmically proven to enjoy the most and without the interruption of pop-ups or other intrusive, cheesy marketing tactics used by other apps. This sophisticated piece of technology can change the offers it presents by analyzing user data.
Some of the parameters that can affect the recommendations made to customers include:
Most popular menu item combinations
Meal attributes
Flavor preferences of the customer
Demographics
Current weather
Time of the day
Day of the week
Season
Specific holidays and public events
Learn more about AI restaurant solutions
What are the benefits of launching a loyalty program for your restaurant?
Save money while making money
Acquiring new customers is much more expensive than retaining a loyal customer base. Properly implemented customer retention strategies are a great way to keep costs down while creating a steady turnover rate. Repeat customers will often spend more, and more often, at your restaurant. Your profits exponentially increase when you have more loyal customers.
Increase profitability
Even if customers are paying less for your menu items through discounts, they are still consuming your products and interacting with your brand. Discounts also have the advantage of giving customers the urge to spend more, as they feel like they're getting a better worth for their money. Just by catching their attention with a nice discount you're improving the chances of making a sale.
H3: Improve customer lifetime value
Customer lifetime value (CLV) is the measurement of the net profit acquired from the relation with customers. By acquiring data through loyalty programs, the measurement of a customer's lifetime value becomes substantially more accurate. Mixing these measurements of success with behavioral data collected with the help of AI, you can create new customer retention strategies.
Remain profitable all year long
Unfortunately, many establishments have periods of "slow season", where there is not much business going on and profits suffer because of it. Customer loyalty programs can guarantee that, come rain or shine, there will be people who see you as their first option when considering where to eat. Special season rewards and other perks can minimize profit loss from slow seasons.
Improve the reputation of your brand
Your brand's reputation will be positively impacted by a successful customer loyalty program. Consumers think more favorably of businesses that offer them great value, and those looking to save will choose your establishment whenever they want to treat themselves if they can have an enjoyable meal at an affordable price. Creating connections with your customers is a surefire way for them to consider your restaurant more often.
Get an edge on the competition
Successful loyalty programs can put you ahead of other restaurants in your area when it comes to attracting customers. Having a better rewards program than your competitors will make a higher percentage of customers eager to do business with you rather than with them.
Build a connection with your customers
The main advantage of customer loyalty programs is that you get to know your customers better. Gathering data can help you tailor your services to the preferences of your customer base, and is the best way of knowing what perks to give them to let them know how much you value them.
Customers who feel a connection with your brand will become brand advocates. This means that they will be the type of customer who not only buys regularly at your restaurant, but who also recommends it to their friends and family, and talks about it on social media.  Word of mouth is more convincing to customers than any other form of advertisement!
Take advantage of smart marketing tools
UEAT's online ordering platform uses artificial intelligence solutions to make managing your restaurant easier. It is capable of performing tasks like removing an item from the menu when it notices a supplier is late with delivery or keeping a highly secure database of your users, which it can then analyze to give you a detailed report on current trends.
By using UEAT's smart marketing tools, you can personalize every feature of your online ordering platform. The software can integrate with your customer loyalty programs, so you can show customers how much you appreciate them with rewards, gift cards, and other loyalty perks, all managed by AI. UEAT's entire business model works on the premise of giving all parties the best value, so don't expect to pay the commission fees that other ordering apps in the market ask for. Our clients are partnered with an expert on menu profitability and have access to support all around-the-clock.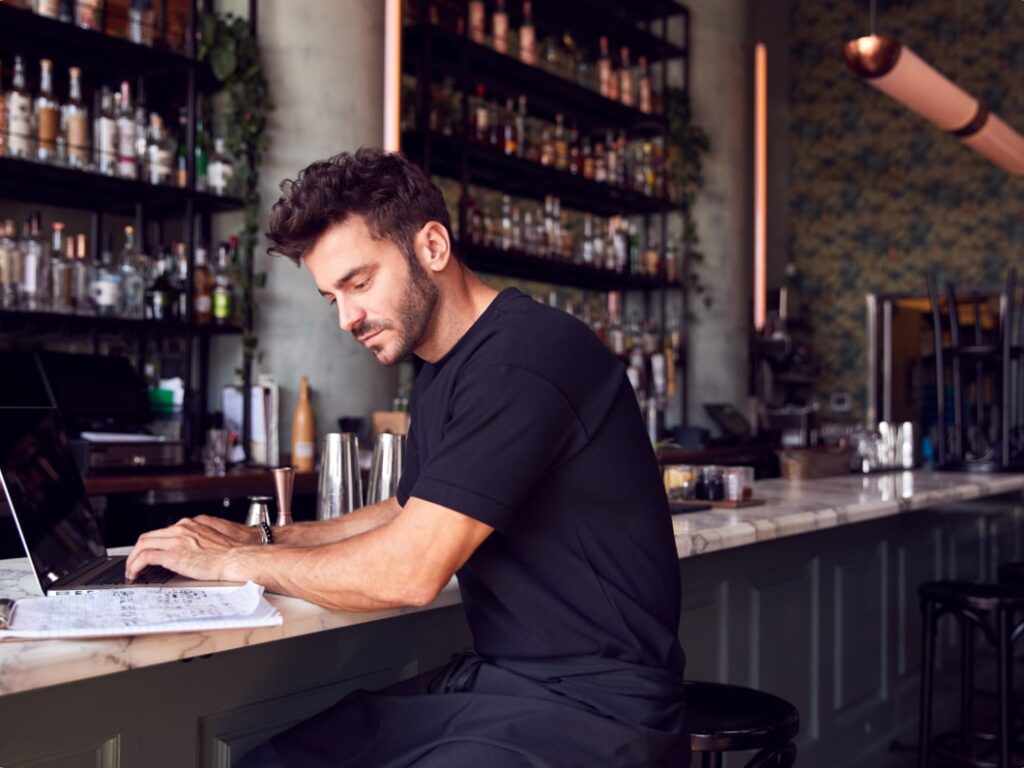 Subscribe to our newsletter for the latest insights in restaurant management
By clicking the button above, you agree that UEAT will use your information to contact you about relevant products, content and events. You can unsubscribe from these communications at any time. For more information, see our Privacy Policy.