Why set up a Facebook page for your restaurant?
It is virtually impossible for a business to thrive these days without utilizing the digital and technological sphere. The internet is the space in which most customers and consumers get their information and recommendations. It's the place where their interests get piqued.
Amongst this vast technological landscape is Facebook. Since its inception, Facebook has proven to be one of the best social media platforms to connect businesses with customers. In the same way a Facebook page can connect you with your friends, if a business has a Facebook profile, it affords them the opportunity to connect with potential customers.
There are specific features that Facebook offers which offer great benefits to restaurant businesses. A business Facebook page is a logistical dream as it allows you to easily organize and highlight all the information about your business that customers might need to know. For example, it allows you to set your opening times, clearly display your address, add your menu, share events and post pictures of your dishes.
In addition to the logistical benefits of setting up a Facebook business page, if you know how to use it correctly, there is an array of extra benefits that your business can reap. Facebook is like a free marketing tool and should be utilised as such. If you create a fun and creative social media presence, you will get the attention of potential customers with little effort. Moreover, you can run Facebook ads for a fairly low cost which will allow you to get your business name out to potential customers on the platform.
Another reason to set up a Facebook account for your restaurant business is because it lets you review your insights. You can assess and adjust aspects of your business based on what Facebook users are resonating with in regards to your business. When running promotions, you can see how many people have specifically engaged with these promotions on your page. This will subsequently allow you to assess which promotions are doing well and are worth returning to and which are a waste of time and marketing resources.
At the end of the day, social networks and having a social media presence is integral to the success of your restaurant business. Social media marketing is quickly becoming one of the most successful forms of marketing, and with all the big brands utilizing the internet, with Facebook pages, Instagram accounts and even Twitter accounts, if you are an entrepreneur who wants your restaurant business to thrive, you too need to be active on social media.
Is a Facebook business page free?
Yes! Creating a Facebook business account is free. Facebook is one of the best platforms for small restaurants and local businesses due to the relatively low cost it requires to successfully market your business.
Although creating the account is free, you will be charged if you want to start running Facebook ads. They are not essential but they might help you gain recognition and draw in customers. The cost of running ads on Facebook varies but you can control it by setting a campaign spending limit or account spending limit.
The most important thing to consider here is that setting up a Facebook business page is free. Therefore, you have absolutely nothing to lose by doing so. You should definitely set up a Facebook page for your restaurant even if it is just to test out the waters and see what benefits your business can reap from the social media platform.
Personalize your customer experience 
How to create a Facebook business page for your restaurant in 5 simple steps
Hopefully by now we have convinced you that creating a Facebook page for your business is more than worth it. To make the process as easy as possible for you, here is a simple step-by-step list of instructions that will talk you through how to create your restaurant's Facebook page.
1. Click 'Create a Page'
The first step in creating your Facebook page for your business is getting you to the correct place. We're going to start at the very beginning as you are going to want to open up your web browser and get onto the Facebook website.
Once on the page, you will need to set up a personal page if you do not already have one. You create a business page through your personal page, so this needs to be done first. If you already have a personal account, you can skip over the registry step and use your existing account.
Now that you have a personal Facebook page, you can create your business page. Simply click on the button that says pages of the left-hand side of your dashboard and from there, click on the create a page button.
2. Enter your information
You are now in the correct place to start creating your business page, so this is where you need to begin to input all relevant information. The most important thing to do first is to register your business name. You put your business name in the page name section.
You then have to choose from the list of categories which category best describes your business. There is a restaurant option, so if you're creating a page for your restaurant, pick this option. There are also some more specific eatery options, so for example, if you consider your business more of a cafe, you could choose that option.
If you are a small local business whose name might get confused with other similar restaurants across the country, you might want to include your location in your page name. Although there is a section to put in your exact location and address, putting this extra information in the page name will ensure there is no room for confusion and you attract customers in your area.
Then proceed to go on to fill in your restaurant details. This will include things such as a description of your business, your address, your contact details and your opening hours.
The call to action button under the cover picture can and should be changed. You can modify the button so that it says "Order food" and add a direct link to your restaurant's online ordering platform.
3. Add images
Once all your restaurant information has been inputted for the page to display, you now have to choose what images you want to display. The most important image to consider is the profile picture as this is the image that people will see when searching your business on Facebook. One of the best options here is to set your business logo as the profile picture if you have one.
The second most important image to include on your Facebook page is the cover photo. Cover images are the largest images at the top of your page once it has been clicked on. One of the most popular options for cover photos is a picture of your establishment, from either the inside or the outside, so the customer knows what to expect.
4. Get followers
After you have completed these first three steps, you can begin to start attracting followers to your page. This can be the most daunting part of creating your Facebook business page, but Facebook makes it easy. Facebook has a feature that allows you to invite your friends, family and contacts to like and follow your page, meaning you can kickstart your page with some guaranteed follows and likes on your business page.
5. Start Posting
Now that your business page has successfully been created and you've got a few followers and likes under your belt, you need to start creating engaging and creative content to keep those already invested interested whilst also attracting more potential customers to build up your following.
Tips on what to post on your restaurant Facebook page
Your page is created, your followers are invested, now you need to start creating regular content to keep your followers hooked and interested in visiting your restaurant. But what exactly should you be posting?
Here is a list of things that you could post on your restaurant's Facebook business page:
Menu
Posting a picture of your menu is one of the first things you should do as it is what people will be most interested in. Once you have done the initial marketing work to get people to engage with your Facebook page and they are intrigued about your business, you need to let them know what you offer. The best way to do this is to post a picture of your menu.
Your menu gives the customer an insight into your restaurant, the food you offer and the experience they will have when visiting. Moreover, your menu is likely the place where your dietary accommodations are listed which can help people know if your restaurant is suitable to them and their needs.
Moreover, it is extremely important that you continue to update your Facebook page with new menus when you upgrade it. If a person is making a decision about visiting you based on the menu you show on your Facebook page and they turn up and the menu is completely different, they might be disappointed. To avoid this, you must always update your Facebook page to remain in line with your restaurant.
Events
Posting events to your Facebook business page is a great way to generate buzz around your restaurant. Whether you are hosting a live music event, have a cocktail happy hour or are simply running a special promotion, make sure your followers know about it. Advertising your events on Facebook is a way for you to get your marketing directly into the home and hands of your customers.
Images
Posting images is an important tool to show your customers online what you have to offer. You can easily take aesthetically pleasing and Instagram-worthy pictures and videos of your food to entice people in. If your customers see appetizing photos of your food, it will make them want to visit you.
In addition to posting images of your food, you should also continuously post pictures of your restaurant. When you first set the page up, include basic pictures of the interior and exterior and as you get more confident on your page, begin to fill your feed with pictures of your restaurant when it's at full capacity. When people see pictures of your restaurant filled with people all having fun, they will start to feel like they are missing out on something and will want to visit as soon as possible.
Run contests
Running contests on your Facebook page is a great way to increase your reach and heighten your engagement. Creating a post that offers a free meal for two to one lucky winner if they share and tag their friends will improve your exposure.
The more people that share your content, the more people will know about your restaurant. Posting shareable content is like free marketing, so if you cannot afford to pay for Facebook ads but still want to get your business onto other people's pages, run competitions and post shareable content, you'll be guaranteed to make that happen!
How to build your restaurant brand online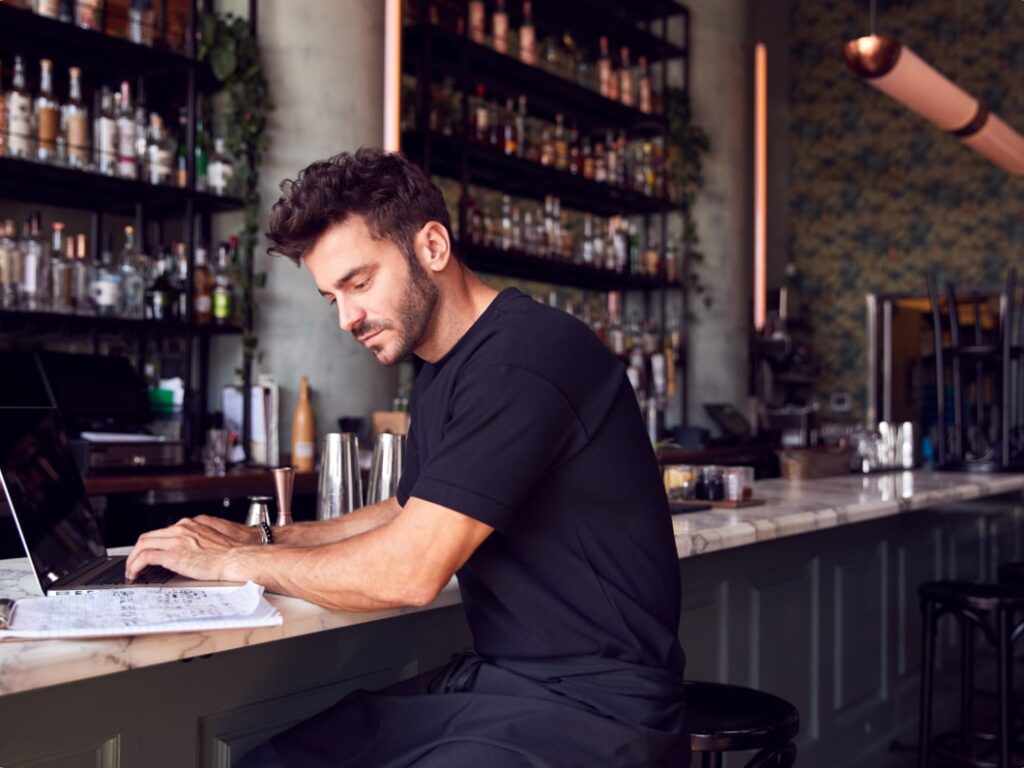 Subscribe to our newsletter for the latest insights in restaurant management
By clicking the button above, you agree that UEAT will use your information to contact you about relevant products, content and events. You can unsubscribe from these communications at any time. For more information, see our Privacy Policy.