Are you running a restaurant business? Do you wish to make it successful? Restaurant marketing is an indispensable part of the success of your restaurant business in the modern era. Let us help you know more about the essence of restaurant marketing through digital platforms for maximum engagement and increased revenues. 
How can I increase my online food sales?
Online ordering is not a luxury anymore, it is now a necessity for restaurants who seek to grow their operations and respond to their customers' needs. The number of orders placed via online food delivery systems has been rising exponentially for the past few years and even more so now with the coronavirus.  
Restaurant owners should grab this opportunity and leverage an online ordering tool to complete their digital transformation. This will help you open new revenue streams and avoid falling behind your competitors. A few years ago online platforms were mostly used to check the restaurants' location but times have changed. Nowadays, restaurant owners can run a food business without setting up a physical restaurant. That's right, have you heard of ghost kitchens? 
Besides offering quality food and services, it's important to optimize your restaurant's ordering system to increase restaurant sales. Even though the restaurant industry is highly profitable, many similar businesses struggle to drive sales. If you want to beat the competition out there and sustain your growth in the long-term, you need to know a few tricks. To increase the ROI of your restaurant, start investing your efforts and resources in the following proven marketing strategies:
1. Start accepting online orders
If you are still yet to implement an online ordering system in your food business, then don't waste another second. Foodies have many restaurant options to order from to binge eat at their convenience. If you are not offering online ordering, you are missing a huge opportunity that your competitors are taking advantage of… And this translates into thousands of dollars each month. 
If your restaurant lacks space and customers have to queue outside to wait for their turn, then why not resolve their hassle by enabling them to enjoy your delicious meals from the comfort of their homes?Your job is to ease this process so that you can improve the customer experience, foster customer loyalty and increase sales. 
11 Advantages of online ordering for restaurants
2. Turn your loyal customers into brand ambassadors
If you value your existing customers, pay attention to their reviews and remember their orders. Imagine that you're a customer walking into a restaurant and that an employee welcomes you with a ''the usual''? Well, this is possible with the right technological tools. One of the advantages of an online ordering system is that some platforms such as UEAT's come with smart marketing tools and an artificial intelligence module, which make it possible to create these individualized customer experiences, every single time, every day.
To encourage customers to advocate for your brand, you should also offer them coupon codes, discounts, freebies, etc. If you serve them right, they will spread kind words about your business across their social media platforms. Similarly, they can also generate more sales for your restaurants via word-of-mouth referrals, so don't lose any opportunity to improve your customer service! 
3. Upsell menu items
Upselling is a marketing and sales technique that consists of offering a customer or potential  customer a product or service similar to the one they want to buy in order to drive sales. Arguments are provided in a sales process to offer a higher quality product. In case of success, a greater benefit is achieved. Although upselling might sound easy, you must train your servers to pitch the right product at the right moment, preferably after building a connection with the customer… or you can leave it in the hands of technology! 
Learn about UEAT's upsell module
4. Leverage the power of email marketing
Don't listen to the ones who say that email marketing is a marketing resource of the past. If you manage to implement it the right way, your restaurant will soon be expecting increased footfalls. With the help of email marketing, you can deliver custom messages to your customers and inform them about new product launches, discounts, contests and much more. 
You simply have to collect your customers' email addresses (this is much easier with an online ordering system) when they order from you and then build a permission-based email list. You will then be able to send them coupon codes, freebies or encourage them to share their reviews on your social media business pages! 
5. Connect your online ordering system to your POS system 
If your restaurant is equipped with an online ordering system, it is time to sync it to your POS system. This will help you target the right customers at the right time with the right offerings. When installed and integrated, a POS system can offer you useful metrics about your business, including your top sellers, the day of the week that you sell the most, etc. Additionally, you can determine which food items are selling the most and which ones are not. This valuable information will help you review your menu and marketing strategy.
6. Optimize your menu
Here are 8 tips to improve your menu and take it to the next level: 
Organize your menu in a logical way: Make it easy for them to find what they want by organizing your menu in a way that makes sense, appetizers first, desserts last, etc. You can even have a separate dessert menu!

Highlight your star dishes: This may seem obvious, but don't hide your star dishes. Put them where they are easy to find! Customers' eyes are drawn to the top right corner or the center of the page, so consider placing your best dishes in those places.

Make it creative:

You have a burger on your menu?

Add different ingredients or a new secret sauce and you will have a completely different option on your menu! 

Create a special dish: Many restaurants offer pizza, sandwiches, or salads, so make your dish stand out. Try to change a classic in your own way that fits your brand. You can make it stand out with the presentation or simply focus on bringing those flavors out! 

Keep language simple: Use a cordial and friendly language in the description of your dishes without losing the identity of your restaurant.

Keep it simple: A restaurant cannot stand out in today's market with a ten-page menu. It is better to keep your menu as short as possible and highlight your strengths. Customers prefer to choose between 10 surprising dishes than between 100 average options.

Update it when necessary: Food prices and the availability of ingredients are always changing. Feel free to remove dishes that have become too expensive or add a few seasonal vegetables! 

Review it:

What's less palatable than a misspelling?

You definitely don't want your customers to notice your mistakes instead of your food so make sure you have several pairs of eyes looking for errors before printing your menu.
7. Improve the table-turnover rate
Let's be real, some customers really like to take their time to enjoy their meals, which sometimes lead to long queues of customers waiting for their turn. If those guests take too long to finish their meals, some of your customers will lose patience and visit nearby restaurants instead. To avoid this and increase your restaurant's sales, not only will you have to offer high-quality food but also improve the table turnover rate. 
To achieve this, you will have to ensure that orders reach the kitchen as soon as customers place them. If you feel that things are too slow in the kitchen, you might want to consider hiring or training your existing staff to optimize this process. You should also consider these tips to increase table turnover: 
Train your servers so that they greet customers as soon as they come in the restaurant 

Assign multiple waiters to larger tables 

Leave the check at the customer's table before the end of the meal 

Consider investing in a mobile POS system to optimize orders and payment 

Use seating software 

Offer high-quality customer service 
8. Introduce a loyalty program
To start increasing your sales, you should look for ways to satisfy your existing customers. Investing in loyalty is a way to increase the visibility of your brand, reduce expenses to attract new sales, increase the value of the average ticket and much more.
9. Offer a top-notch delivery service
When you start accepting orders online for your restaurant, you have to make sure that delivery is smooth and efficient, whether you deliver the meals yourself or through third party delivery services such as Uber Eats. Pay extra attention to the taste and quality of the food as well as the packaging. Your packaging should be attractive and your brand logo should be visible. Before your customers place their orders, you should inform them about the estimated arrival time to avoid any disappointment. 
(CTA : How to Integrate Delivery on Your Own Website)
10. Create a Google My Business account 
Google has introduced a free service for business owners to promote their restaurants online. Open a GMB account to increase local online visibility. With the massive volume of Google searches happening every day, make sure customers that are searching for restaurants in your area find you in just a few clicks. Customers will have your contact information handy and be able to give reviews. You can even link your GMB account to your website so that they can see your menu and book a table!
How do restaurants generate more revenue? 
Here are 3 marketing tips that restaurants should leverage to increase their revenues:
Be active on social media
If your restaurant is not yet on social networks or if you're not active on them, you're losing a great opportunity to attract other people apart from those who pass in front of your business. Social networks like Instagram and Google My Business are especially effective for the restaurant industry. They have millions of users who browse every day in search of places to eat. If you are active in these networks, you will attract the attention of your potential clients and increase your brand visibility!
Create special offers
To increase billing on a specific day or time of the week, you can make special offers to drive traffic or orders in your restaurant. This can be a happy hour or you can make custom special offers like ''Tuesday Sushi Mania''. The idea is to drive sales in moments where you usually experience a drop in revenue. Plus, it's a great way to attract customers that might not otherwise go out for lunch or dinner on weekdays.
Promote your business through influencers or bloggers
Bloggers and influencers have thousands if not millions of loyal followers. This is an amazing opportunity for restaurants that want to increase their visibility and reach customers that they might otherwise not be able to. Make sure to reach out to individuals that share the same values of your brand and invite them over to your restaurant for a free meal and drinks.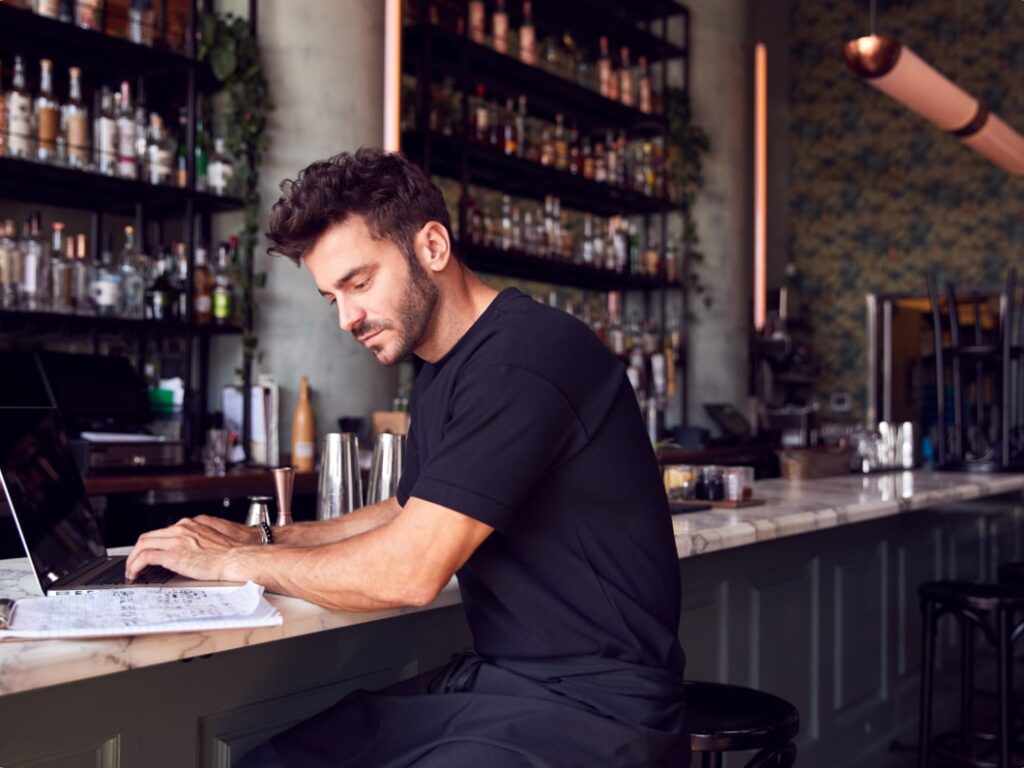 Subscribe to our newsletter for the latest insights in restaurant management
By clicking the button above, you agree that UEAT will use your information to contact you about relevant products, content and events. You can unsubscribe from these communications at any time. For more information, see our Privacy Policy.