The effects of the COVID-19 pandemic on restaurants' already tight margins continue, with capacity restrictions, vaccine passport requirements, and, inevitably, the labor shortage. Staffing challenges are being observed across the board, with front- and back-of-the-house as well as management. In this article we will tell you everything you need to know about to hire the right staff for your business in a post-pandemic world. 
How many people do you need to run your restaurant? 
The restaurant staff needed to run a restaurant depends on the type of restaurant (ghost kitchen, fine dining restaurant, fast food chain, etc.), the service and the location. 
However, it helps to know some statistics in order to get a better idea of the number of professionals you will need to run your restaurant: 
Self-serving restaurant:

You will generally need 1 server for every 12 tables as well as 4 back of the house staff per 50 customers.

Fine dining restaurant:

Service is key here so you will need one server for every 3 or 4 tables as well as 7 back of house staff per 50 customers. 

Casual dining restaurant:

You will need 1 server for every 5 to 6 tables per shift and 4 back of house staff per 50 tables.
It's important to note that apart from service staff, you will also need to hire a sommelier, chefs, etc.
Restaurant positions and what to look for in candidates 
For customers to have an optimal experience in your restaurant, it's necessary to clarify the functions of each member of the staff in order to standardize the service and improve its effectiveness. It's essential to pay attention to the restaurant's staff, because each of them plays a very important role in the success of the business.
Hostess or receptionist
They are usually located at the entrance of a restaurant or bar and are the first point of contact with customers, they are in charge of receiving them and assigning them a table. Their role is crucial in creating a good first impression with clients so it's important for restaurant owners to hire charismatic and highly educated people. For restaurants located in areas that are frequented by tourists, choosing a hostess who speaks a second or third language is a plus.
General Manager
It's the person responsible for planning, organizing, directing, coordinating and controlling all activities in the provision of services. His responsibility is to supervise the different resources to optimize processes and manage the restaurant effectively.
Executive Chef
The linchpin of every restaurant! He is in charge of the kitchen management, and his duty is to make each dish a work of art in order to attract as many diners as possible. His responsibility is to make customers so fascinated by the restaurant's dishes that they want to return.
Waiter
This person is the touch point with customers because he/she makes sure they have everything they need during their visit at the restaurant and that the quality of service is up to standard. His responsibility is not only to provide food, drinks or bills, he must also be very attentive to details and aware of his surroundings. 
In addition to being polite, he must also have a spirit of service, compassion, and personality. Here the basics of customer service come into play, such as: restaurant and bar service and basic knowledge of food and drinks. By knowing the menu by heart, waiters can give recommendations to customers based on their preferences and upsell to increase the restaurant's profit margins.
Sommelier
He is an expert in the wine industry, capable of identifying the characteristics and subtleties of different wines and recommending food and wine pairings to enhance the customer experience. He suggests wines to restaurant diners according to what they are going to order.
Attendant / Busser
The attendant or busser is responsible for picking up empty drinks, finished dishes, and usually provides assistance to diners. Although he does not require technical knowledge, he must be a proactive and efficient person, since the speed of service allows more clients to be served.
Marketing 
Today, having a solid marketing strategy is what stands you apart from competitors and ensures the sustainable growth of your business. It is the best way to make a restaurant known and get new customers interested in what you have to offer. 
UEAT's smart marketing tools will help you out-order the competition by integrating loyalty programs, beefing up your back-end marketing, supersizing your business intelligence and more! 
IT staff 
By having a qualified IT team, you can personalize the customer experience and effortlessly increase your revenues. Our recommendation artificial intelligence powered platform automatically remembers what customers love, makes upselling easy and maximizes relevance with dynamic menus.
Meet RAI ™ (Recommendation AI), your new employee of the year!
What are the 5 key characteristics to look for in candidates? 
Attention to detail
In restaurants, it's very important to take care of all the details, from the cutlery on the table, to customer service, to plate presentation and so on. All these details count and make the difference between you and the competition. A staff member with this attitude will enhance customer satisfaction. Plus, there's nothing quite like word-of-mouth to advertise your business. After all, it's free and super effective! 
Curiosity
By curiosity we mean a person who is interested in the success of the business, because they see it as their own success. This is a person who cares about her work, someone with great integrity and who is always eager to learn. They are a great team player and will go beyond what is asked of them to enhance the customer experience and increase the efficiency of your operations. 
 Punctuality
We all know someone who is almost always late but when this person is someone that works at your establishment, lack of punctuality can affect the quality of your service. Arriving late or not showing up to work can wreak havoc on the restaurant organization and transmit a bad image to co-workers and clients. Punctuality is an essential quality in the restaurant sector. A trial period will serve to protect you from hiring this type of worker profile.
Respect
Respect is one of those things that cannot be taught and that is a result of the education received by each person. By respect we mean respect for the rules, the owner and the team. Don't trust someone who is disrespectful, especially if they work closely with clients, as your business reputation is on the line.
Honesty
Honesty is needed both with regard to the money in the cashier, the hours worked, and the food that is cooked. For generations, managers have been taught to ask for a resume and to choose candidates based on skills and experience. However, it's important to assess different candidates' personalities during the hiring and selection process in order to pinpoint qualities that you will not find on paper and that will make a big difference in the quality of your service.  
How to efficiently manage your restaurant's labor costs 
If you have been working in a restaurant, be it for many years or just a few months, you know that to be successful in this industry it's not enough to just equip the premises, hire some employees and start cooking. You have many other tasks to tackle such as cost management.
Your restaurant's labor costs do not only refer to the purchase of raw materials and the cost of labor. You should also consider what is spent on the rental of the premises, public services, staff and any maintenance work. Management costs are generally divided into direct and indirect costs: rental, utility and staff costs are included in direct costs, while everything else must be considered in indirect costs.
In general, the total costs should be divided into:
35% for raw materials

50% for labor

15% for expenses
Now let's see if it's possible to reduce some of these costs and how to do it.
How to reduce your restaurant running costs
The first thing you have to do to understand if it's possible to cut expenses and where it's possible is to make a scrupulous analysis of all the costs listed above to understand what their proportion really is. This way it will be possible to establish if some of these areas have excessive costs. 
A great way to analyze and reduce your costs is to invest in technology. An online ordering platform can give you key insights into what your customers order, when they order and what the best-selling menu items are. Plus, it opens up a new sales channel which can greatly help you increase your revenues. 
Seasonal availability of products and food waste
One of the areas in which it's easy to spend too much is usually the purchase of raw materials: offering dishes that are out of season and not being clear about their billing costs a restaurant a lot. The first step to cut costs is to minimize waste, perhaps by eliminating some dishes from your menu in order to reduce the number of menu items to a reasonable amount and create seasonal menus. This allows you to offer dishes to customers that are cooked with fresh products, a more genuine, eco-friendly and above all cheaper option.
Another aspect to pay close attention to is the final cost of the dishes: if on one hand, offering low prices allows you to remain competitive in the market and attract a greater number of customers, you also have to be careful not to neglect the quality of the offer. Some customers do not mind paying a little more if they are satisfied with the quality of the food.
​​How to calculate food cost and price your menu 
Restaurant Staffing Guide | Tips to hire the best staff for your restaurant 
The selection of personnel must be carried out by the right people
It's very common for companies to hire staff without being fully aware of what they are looking for. A good resource that is helpful for this is seeking outside advice. Head hunters are competent figures specialized in looking for the best professional profiles in the market. Their job is not only to select the right candidates, but to advise companies to define a specific professional profile appropriate to the needs of their business.
Consult references
It's important to reach out directly with some former superiors and colleagues. The information that will be obtained will be much more insightful, valuable and useful than the one you find on Linkedin or in a candidate's resume. It will give you 
Digital presence
It's always recommended to use Google, social networks, etc. to find as much information as possible about the candidate. Digital presence can reveal a lot about a person, so it is useful to keep this in mind during the selection process.
Referrals
"Tell me who you hang out with and I'll tell you who you are." Does this saying sound familiar? Asking your trusted employees to refer you to candidates is a good way to reach out to people with similar values and work ethic. Keep in mind that your employees will refer you to people who they trust, so this will minimize the risk of hiring people who are not up for the job.
How to retain restaurant staff 
Retaining your staff is equivalent to having less turnover, so the quality of service you offer will surely be better. Here are some tips to retain your staff:
Offer a good working environment

Offer a competitive salary

Offers growth plans within the company

Always recognize a job well done and reward it

Make your employees feel part of the company's success and show them how important they are

Offer incentives and discounts

Offer food vouchers

Organize team building activities

Invest in technology

to make automate certain tasks and increase productivity

Provide regular training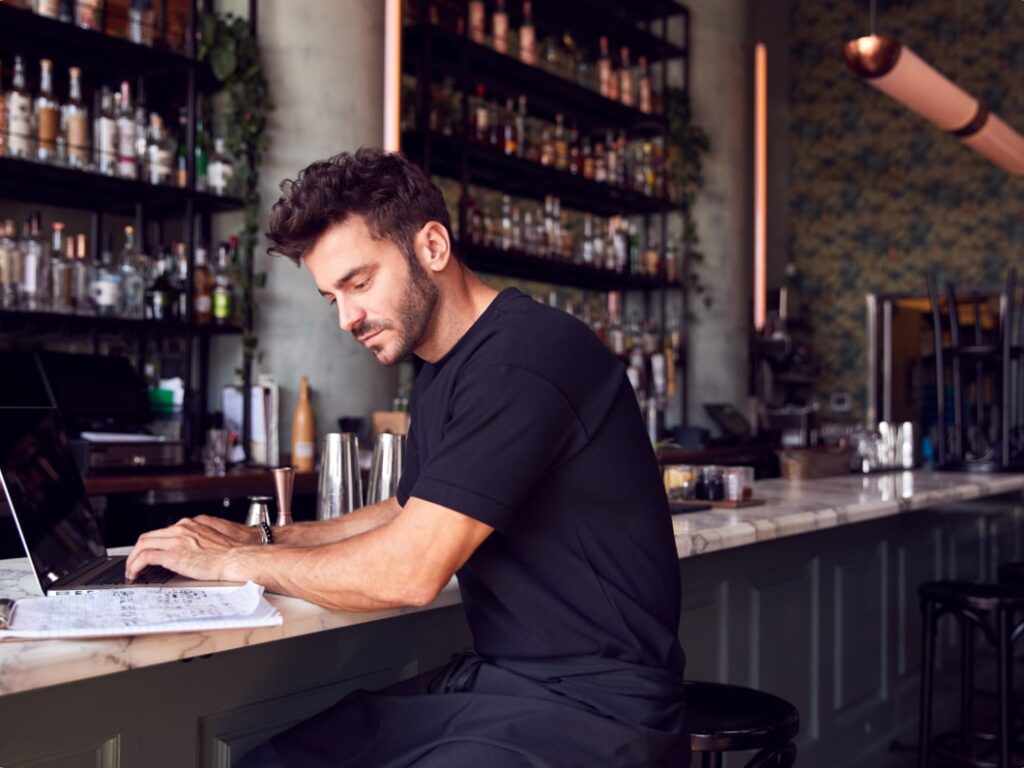 Subscribe to our newsletter for the latest insights in restaurant management
By clicking the button above, you agree that UEAT will use your information to contact you about relevant products, content and events. You can unsubscribe from these communications at any time. For more information, see our Privacy Policy.