Launched long before the sanitary crisis and the covid-19 measures, the idea of the ghost kitchen has everything to appeal to any restaurateur looking for diversification. This new concept consists of a kitchen set up near an ideal delivery area. This kitchen is small (usually less than 100 square meters), equipped with a cold room and… it doesn't have a dining room. This means that the food that comes out of the kitchen is exclusively for delivery.
The ghost kitchen: an anti-crisis weapon and a new business model
Ghost kitchens (also called dark kitchens, digital kitchens or cloud kitchens) are starting to open all over the world, especially as an anti-COVID-19 crisis solution. According to a recent study, the size of the ghost kitchen market has risen to $3.4 billion in 2020, which is 20% higher than the past years.
The ghost kitchen represents a radical change from the classic brick and mortar restaurants, with no chairs, tables or storefronts, but with a variety of takeout and delivery options. It is a solution that enables business owners in the restaurant industry to remain fully operational and serve customers during this Covid-19 pandemic.
A virtual kitchen is an online kitchen that enables clients to order food through delivery services, such as DoorDash or UberEats, and receive their food in a contactless way. This trendy concept consists of opening a restaurant whose business model completely gets rid of the room service, to focus on one thing: cooking food and having it delivered (or, in some cases, offering a takeout option at the point of sale).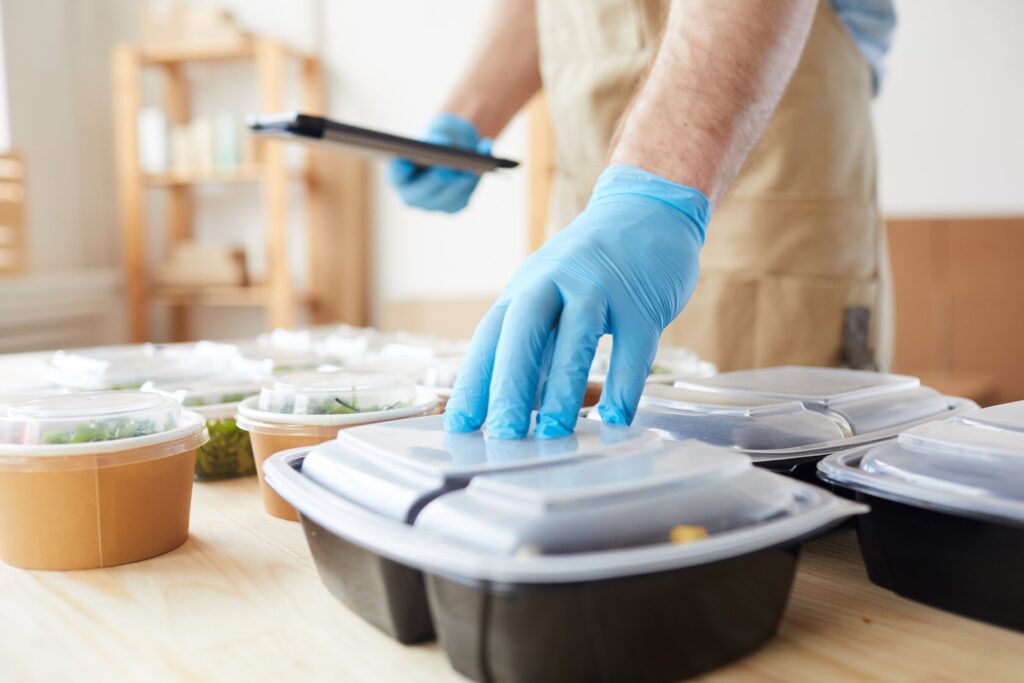 1. Kitchen location, space and equipment
Your business should not be located in a busy street because unlike traditional restaurants, your priority is not to attract foot traffic. You want to find a space in a strategic location close to your target market, ideally in a low-traffic street at a more moderate rent.
For the kitchen space, you have two options: you can either leverage the extra space in your current premises to create a ghost kitchen within your restaurant or rent and operate a dedicated shared kitchen from established brands like Kitchen United or Cloud Kitchens.
Once you find your space, you will have to invest in time-saving equipment. For example, if you own a pizzeria and you would like to transform it into a ghost kitchen, you should buy a stove for cooking, a multifunctional deep fryer and a freezer for storage. In short, opt for  high-performance equipment for your new kitchen so that your team can prepare orders quickly and efficiently. After all, in the digital food service and the online restaurant industry, the faster the delivery, the more satisfied the customer.
2. Hire the right team
A business is only as good as its employees so it's important to hire motivated and passionate individuals before you embark on this journey. You want to find individuals who are able to perform repetitive tasks and work under pressure so give preference to people who have worked in the fast food industry.
If you're going to be working with your regular staff, make sure to train them so that they fully understand the new pace and responsibilities of this job. You also have to hire a manager that will be in charge of motivating your team, supervising food prep and cooking, managing the kitchen inventory and complying with safety and cleanliness standards.
3. Develop a food delivery strategy
The classic ghost restaurant model outsources delivery to third-party delivery apps like Ubereats, Deliveroo or Grubhub. This reduces profit margins, but simplifies logistics and makes it possible to reach a part of their well-established customer base. There's no denying the visibility that restaurants get from delivery platforms but you should also take into account the high commission fees of these apps, which can be as high as 30%.
At UEAT, we believe restaurants should have their own online delivery system and use food delivery platforms (to a certain extent). This is the best food delivery strategy because you get online visibility and also get to cut down on commission fees. Your loyal customers will order from your online website or app to take advantage of lower costs and discounts while third party delivery services will help you reach new customers and potentially widen your customer base.
For more effectiveness, you should establish the locations where the delivery service will be performed and the routes you will take to reach your destination as quickly as possible. If you have your own internal fleet, you can also entrust the delivery to your employees.
4. Reduce food preparation time and food costs
Time is of the essence for food delivery. That's why it's important that you make sure your kitchen is always organized and every tool is in its place at the beginning of every shift. Thankfully, online ordering platforms like UEAT allow 24/7 ordering so that you know beforehand how much food you need to prepare when starting your shift.
Your employees should not be looking around to find ingredients, knives or anything they need. You should make sure that everything is labeled and within reaching distance of your chefs and employees to speed up cooking time and offer quality service. To reduce food preparation time, consider chopping fruits and vegetables ahead of time, measuring and combining seasonings and preparing meat in bulk.
In order for your ghost kitchen to be profitable in the long term, you have to control a whole series of factors that, if not given due attention, can end up costing you thousands of dollars a year. One of these elements is food costs. Here are some tips to help you save on food costs: 
Limit the number of dishes on your menu
Optimize portion sizes
Negotiate with your suppliers to ensure adjusted prices
Pay attention to your food inventory (conduct daily inventory checks!)
Track food prices to predict future drops or rise in the price of ingredients
Manage waste
Shop seasonally and locally (reduce delivery costs!)
Offer daily specials
Use software to increase efficiency
5. Invest in quality packaging
The quality of your packaging and containers can make or break your success in the food delivery industry. Some restaurant owners make the mistake of buying poor quality packaging in order to reduce costs. However, if you convert your restaurant in a ghost kitchen, you have to know that your entire brand revolves around your food and your packaging. So if your dishes arrive at your customer's doorstep in poor condition and at the wrong temperature, you will have to deal with unsatisfied customers and complaints.
Packaging plays a fundamental role in ensuring that food reaches the consumer's table in optimal condition:
It makes sure that the food arrives at the right temperature
It protects ingredients from outside contamination
It serves as a brand ambassador
6. Digitize your kitchen
Establish a strong online presence 
To boost online orders, it is inevitable to promote your new delivery service. To do so you should create a webpage for your restaurant and promote your ghost kitchen on social networks such as Instagram, Facebook and Twitter. Your restaurant website is your first point of contact with your customers, so make sure that it's attractive, easy to use, SEO-friendly and offers a smooth online ordering experience to your clients.
Nowadays you don't need to be an expert to create a website. UEAT can set you up online in no time and even create a white-label personalized app for your business so that your customers can place their orders online. Alternatively, you can also create a webpage yourself by using platforms such as Wix or Squarespace.
You should leverage the power of social networks and share the health and safety measures that you implement in your business as well as stories showing the process of food preparation, packaging and delivery. Transparency is key nowadays to develop a close-knit relationship with customers.
Download your free marketing guide 
To stand out from your competition, your digital kitchen needs to get excellent customer reviews so that people who don't know your business yet trust it enough to give it a try. Here are some tips to help you get reviews for your virtual restaurant:
Social media: Ask your followers to leave you reviews in a creative way (ex: leave a review and get 5% your next order)
Email campaigns: Make sure to put a call to action at the end of every email you send to your customers. You can also send surveys in order to get insights and feedback.
Website: You can put a call to action on your website or set up a landing page where customers can go leave a review.
Once you start getting reviews, it's important that you answer both positive and negative in a proactive manner.
Boost your sales by offering several brands or a small, but well-targeted menu
One of the main advantages of digitizing your ghost kitchen is that you can simultaneously target different market segments with unbeatable precision. The virtual restaurant business is based on data analysis. It is therefore able to identify the needs of customers in a specific area and respond to each of them by offering multiple brands. For example, you can run a pizzeria, a burger restaurant, and a salad bar from the same kitchen and serve different types of customers at the same time while generating economies of scale between your different brands.
You can also decide to offer a small menu and well-targeted menu items to improve the efficiency of your kitchen production and delivery processes. You can use the data you collect to anticipate fluctuations in demand and organize your business and the work of your kitchen team optimally.
Ghost kitchens are here to stay
Ghost kitchens have a bright future ahead of them. As long as you take the time to develop an effective strategy, equip yourself with the right technology, and actively promote your brand, you can be confident that there will be a place for your new digital kitchen on the market. In a rapidly changing environment where digital is gaining more and more ground, ghost kitchens could become one of many shapes of restaurant 2.0. Want to turbocharge your digital kitchen but don't know where to start? Get in touch with one of our menu profitability experts at UEAT – we'd be happy to accompany you in your digital transformation.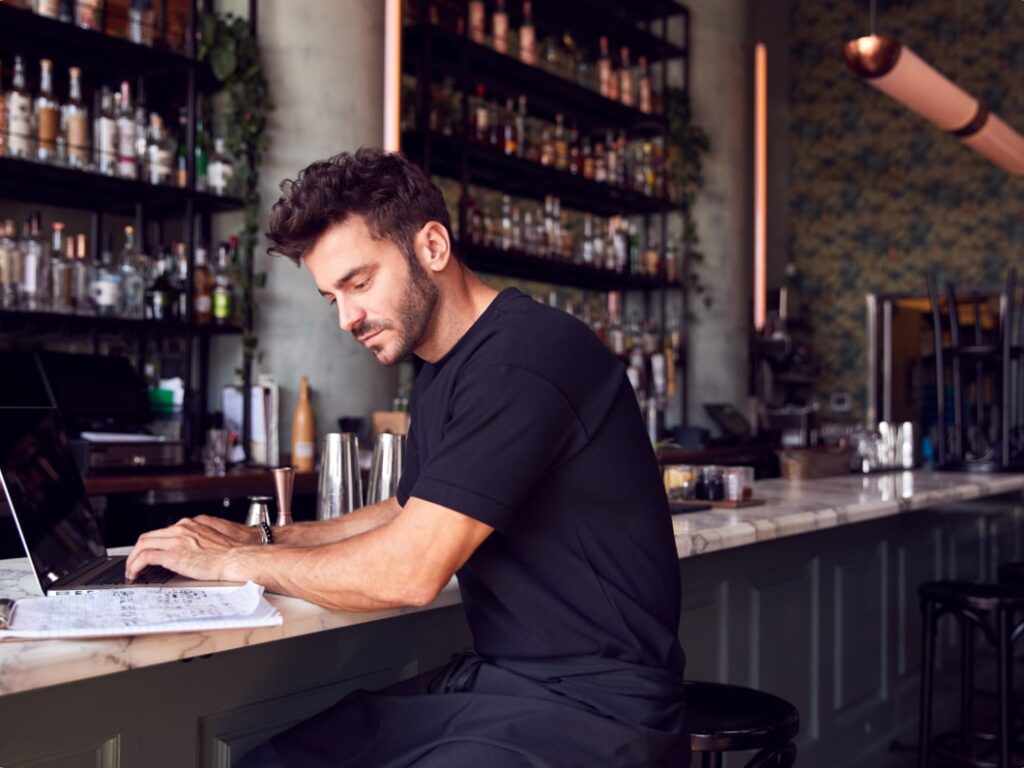 Subscribe to our newsletter for the latest insights in restaurant management
By clicking the button above, you agree that UEAT will use your information to contact you about relevant products, content and events. You can unsubscribe from these communications at any time. For more information, see our Privacy Policy.