The menu is perhaps the most important element of any restaurant. Not only does it list all the dishes and drinks offered in the establishment, it is also an opportunity to highlight the personality of the place to attract and captivate consumers and even increase profitability. There is probably no better sales tool than a well-engineered menu.
In this article we share expert tips on how to optimize the menu of your restaurant to be able to make the most of it, whether you are looking to renew it or make it more effective to achieve your goals.
What is restaurant menu optimization?
Restaurant menu optimization aims to reduce costs and get more out of the ingredients the chefs use by mixing them and using them in the most creative way possible. Thanks to menu reengineering, customers have a better experience and restaurant owners can increase profit margins. 
How to price your restaurant menu 
What menu items optimize profits?
Infusions and coffee
Infusions (tea, chamomile, etc.) usually cost more than a dollar in any restaurant or bar. However, it is an inexpensive product that requires no time or effort to prepare. Coffee also has similar characteristics but the product is a bit more expensive, you need to have the right machinery and its preparation requires more effort. Infusions and coffee drinks have an average margin of 15%–20%.
Natural orange juice
Natural orange juice does not usually go below 3 dollars in any cafeteria. Taking into account that a kilo of oranges can be bought for less than 1 dollar and that its preparation is not complex or tedious, it is the star product of many cafeterias that serve breakfast and brunch. However, the cost of oranges rises considerably in summer so take into account that when it is not the orange season, your profit margin will be lower. All in all, restaurant owners that sell orange juice can expect a gross margin of 50% to 70%.
Bottled water
It may be surprising to you but bottled water is the product with which you obtain a greater profit margin in the hospitality industry. It is a great source of income for upper and middle-level restaurants, but not so much for bars, where water is asked for very little compared to other drinks (a no-brainer!). 
Chicken
Even if it is free-range, chicken is still very cheap meat if we compare it with veal or lamb. However, it can be sold at a similar price if prepared properly. With an average profit margin of 65%, chicken is a great item for restaurants to have on their menu. 
Eggs
Another product that is very cheap and that some restaurants try to sell as if it were a 'delicatessen'. When you get an egg dish in a food establishment, you're basically paying for labor costs. Considering that you can make an omelette for 5$, there is an opportunity for huge restaurant markups. 
Wine
This is one of the most overpriced items in all restaurants. There is no doubt that many establishments have become accustomed to charging their customers more than triple the value of the bottles, it is not strange to find bottles that are worth 30 dollars in the restaurant that in the supermarket are sold for 10 dollars. Wine is, in fact, one of the reasons many restaurants subsist.
Fried food
Fried food is one of the things that people ask for the most in North America. When you go out with your friends, you probably order a lot of fries, fried shrimps or deep-fried chicken to share. Dishes that, in the cheapest establishments, cost no less than five dollars and whose profit margin is still very high. Potatoes in particular are very cheap and their preparation is not laborious or requires a lot of care, so it is a very profitable option for any restaurant.
Salads
It is very common to order a salad at the restaurant but the cost is rarely less than 10 dollars. The price of the raw material of a common mixed salad is ridiculously cheap and to prepare it you do not have to be a master chef so this is a great menu item for restaurants who want to increase their profit margins. 
Discover how to get a 35% increase in sales
Expert tips to optimize your restaurant menu
1. Highlight the most profitable dishes
Good photographs not only make your menu more attractive and colorful, they can also help you sell the most profitable dishes. There are many ways to direct your customers' attention to the dishes you want to highlight: you can use drawings, symbols or lines, for example. To ensure that it is as effective as possible, it is advisable to categorize menu items and highlight one or two dishes per category.
2. Write compelling descriptions
All diners are excited to read product descriptions on a menu. To make it more exciting, do not just list the ingredients, but include brief explanations of each dish that appeal to emotion and whet the appetite of those who are reading it. If you opt for something more creative, you could add the history of each dish, so that they are presented as something more special and unique. 
However, don't overdo the amount of text, no one will want to read a paragraph that is too long to describe some French fries. Apply this advice for the most profitable or special dishes on your menu. 
3. Simplify your menu
Having fewer items on the menu means that you have more control over it. It is not necessary to fill all the space on your sheets, sometimes less is more. The empty parts will improve the readability of the menu and allow the graphics and images to look cleaner. Here, the best advice is to compile small lists of each category and place the most profitable dishes at the beginning and the end of each one.
4. Optimize your menu by integrating delivery solutions
Due to covid and safety reasons, delivery has become a key alternative to dining out for many customers. Many restaurants have therefore digitized their operations and opened an online sales channel to take advantage of this opportunity and generate revenue despite the drop in foot traffic. 
When it comes to delivery, restaurant owners have different options they can choose from. With UEAT's online ordering system, you have the flexibility to choose whether you want to develop your own delivery fleet, use fixed-rate marketplaces, local delivery providers or leverage a strategy that combines a mix of these options.
Here are key ways to optimize your menu for takeout: 
Use eye-catching food pictures. 

Use food categories (starters, mains, desserts, sides, drinks, vegetarian, fish, etc.) to help customers navigate your menu. 

Write compelling descriptions of your dishes and don't forget to include allergy warnings, list ingredients and detail food restrictions. 

Make your menu mobile-friendly. UEAT can create a

white-label app

tailored to your restaurant's brand as well as create a mobile-friendly website for your business so that you can focus on the key aspects of your business! 

Don't overlook packaging. Choose quality packaging that protects your food and keeps it fresh. 

Share the food safety measures that your restaurant uses to ease customer concerns related to safety and health (ex: delivery drivers use gloves and a mask). 

Include dishes that travel well in your menu. Customers that

order online

expect that the food arrives as it is presented on the pictures of the restaurant's website. 

Allow menu personalization. Customers like to be able to select add-ons or make variations to dishes. 

Consider creating

prix fixe menus

or custom menus around themes,

holidays

or special events. 

Give customers freebies from time to time. Customers love them and they will come back for more! 

Give your customers options by offering both delivery AND

pickup

.

Offer promotions and discounts. You can do this by offering your customers a

loyalty program

!  

Leverage

artificial intelligence

to increase your profit margins thanks to upselling. 
5. Menu of the day and fixed price menu
Associating a menu of the day and a fixed-price menu a la carte from your restaurant can guarantee you various advantages that you may not have considered… yet! Having a daily or weekly menu will allow you to differentiate generic dishes from seasonal main dishes.
In addition, the menu of the day is highly appreciated by customers because it is usually made from fresh, quality ingredients, which respect seasonality and local producers. Most people prefer places that operate sustainably, so opting for ingredients that are in season can be a huge advantage for your restaurant.
The prix fixe menu can also play an important role in optimizing your menu, especially during the lunch break. Customers who come to a restaurant for lunch are usually workers looking for quality food but that have limited time. In this case, the fixed menu helps diners who are short on time due to orient themselves in their choice and not waste time.
6. Optimize your menu for online ordering
With UEAT's online ordering platform, you can offer a highly personalized ordering and payment experience via your website or app. Our platform removes friction points, increases your average ticket size and jump-starts your conversion rates. How? 
Our smart recommendation module automatically and systematically offers a

personalized online ordering experience based on each customer.

 

Non-intrusive upselling.

Contrary to conventional online ordering systems, RAI™ doesn't bombard your customers with pop-ups and cheesy online marketing tactics.

RAI™ knows

what menu items to feature and when to showcase them.

You can effortlessly configure it to present menus, menu items and products based on time of day, days of the week, seasons, and specific holidays or events. 
Overview
According to the Culinary Institute of America, reading a menu takes 109 seconds on average. Customers don't like scrolling through pages and pages of dishes, so it is better to opt for a less complex menu. Everything should fit on two pages, which diners see at the same time, one on the right and one on the left. The dessert menu can be separate, as can the wine list.
Keep it simple and brief. Words that are complex or too articulate make it difficult to read the menu and, consequently, make it difficult for customers to choose. It is important to be concise, but never boring or wordy. Each category (starters, first courses, main courses, etc.) should not contain more than 7 dishes to avoid that the options available to diners are too many.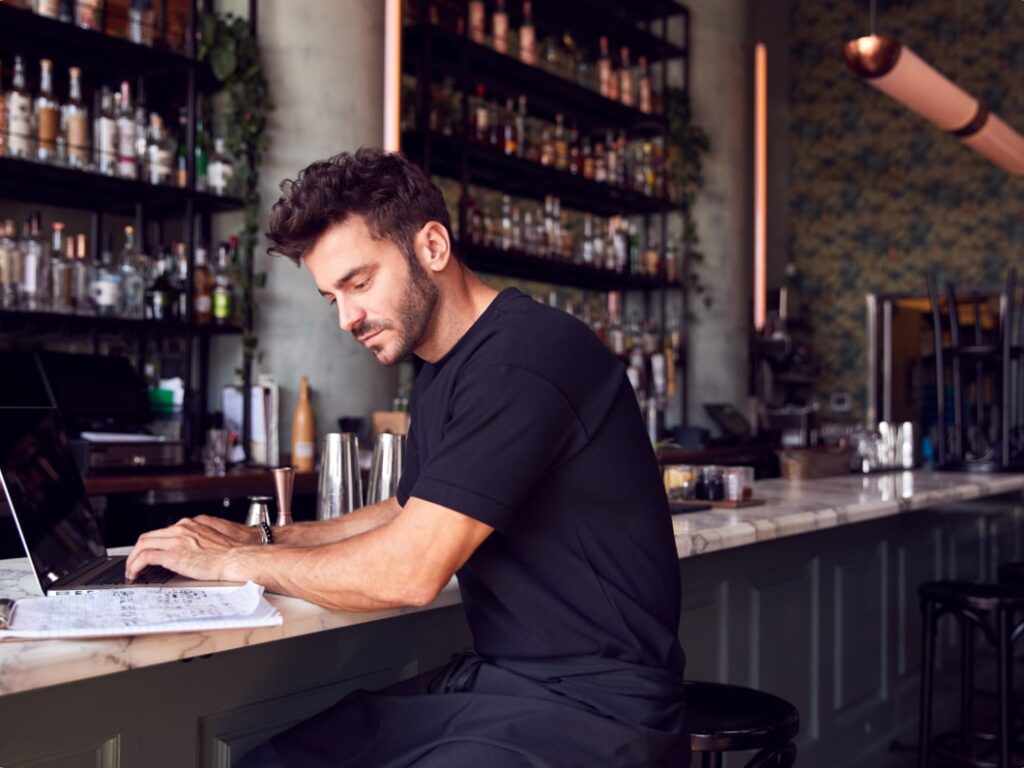 Subscribe to our newsletter for the latest insights in restaurant management
By clicking the button above, you agree that UEAT will use your information to contact you about relevant products, content and events. You can unsubscribe from these communications at any time. For more information, see our Privacy Policy.