The last couple of years have been quite tumultuous for everybody, to say the least. The beginning of the 2020s has definitely been a time for changes. While previous decades saw the steady growth of the restaurant industry in a more or less conventional manner, the advent of the technological revolution has catapulted dining experiences in all sorts of new, thrilling directions.
Top restaurant trends in 2022
Trends in 2022 seem to be pointing towards the ongoing digital transformation of the restaurant industry. After all, younger people have different needs and desires than past generations. Our understanding of artificial intelligence has evolved up to a point where we can now use it to fulfill functions that could previously only be handled by humans.
The covid-19 pandemic massively changed the way the restaurant industry works, and restaurant industry trends have been abruptly influenced by the general changes society has had to adapt to in the last years. Even if covid-19 is not going to disappear in 2022, it is safe to say that we are already versed in dealing with it and restaurants have learned to adapt.
1. Offering digital customer loyalty programs
Loyal customers make or break a business. After all, there are many benefits to having loyal or regular customers. They can subsidize costs related to restaurant operations, tend to spend more when they make a purchase, and help increase your customer base via word-of-mouth, effectively handling part of your marketing strategy for free, while paying you.
Long gone are the days of using physical scratch cards and other rudimentary methods to get your customers to return to your business. It's 2022, and advanced technology works wonders for restaurants. For example, restaurants who have UEAT's online ordering platform can leverage artificial intelligence to create personalized loyalty programs.
The online ordering platform can be synced with rewards programs, gift card management systems, or any other loyalty programs. Intelligent algorithms can then learn what every user enjoys the most and how they interact with the app. Using this information, the app can improve customer satisfaction, making customers more eager to interact with your restaurant regularly.
2. The rise of the ghost kitchen
Also known as cloud kitchens, these establishments handle delivery-only food service solutions. This means that the food is prepared at a facility intended to work as a kitchen without a dining room, and all orders are meant for online delivery. Using an online ordering platform has become widely accepted by all age groups and demographics across 2021, and there is no reason to believe this trend will go away in 2022.
This digital transformation has been spearheaded by the introduction of delivery apps into the restaurant ecosystem, and the sudden global changes produced by the coronavirus pandemic have only made this trend even more mainstream. Research by Statista, claims that ghost kitchens' market share in 2019 was $43.1 billion, and estimates say those numbers will rise to over $70 billion in the next five years.
Operating a ghost kitchen doesn't have to be as complicated as it sounds. Technological advances like AI-powered restaurant delivery ecosystems make it easy, whether you already have a delivery fleet under your disposal or not.
3. A shift in restaurant interior design
During 2020, the demand for restaurants dining experiences was still there, but rules and regulations made being physically present in a restaurant practically impossible. Even though curbside pickup is extremely convenient and has become the go-to solution for many, having delightful on-premise restaurant experiences is still in the minds of many people.
Due to current health trends and online orders picking up the slack, having a jam-packed restaurant in 2022 shouldn't be a major priority. Instead, dining experiences should distinguish themselves by providing comfort and being memorable. You can give customers who choose to dine in a little bit more legroom, and more open space also means that you can add a bit of your restaurant's culture and personality as decor.
During the warm days, outdoor dining will be a solution not only to stave off the heat and enjoy the sun but also to keep dining areas ventilated. When planning an open-concept design, some restaurants have taken it one step further and implemented open restaurant kitchens. These let customers take a peek at what is going on in the back and allows them to immerse themselves completely in their out-of-home dining experiences.
4. Adherence to health and safety protocols
It is very important not to let our guard down in the fight against covid-19. The restaurant industry has suffered enough from the pandemic already, and by doing our best to adhere to protocol and recommendations we can guarantee the best experiences for restaurant operators, employees, and customers.
Offering alternatives to physical transactions and reducing the use of objects that are often handed around is recommended. Information to the customer can be offered in the form of QR codes, and payment can be performed with the use of contactless payment methods. Needless to say, another method for restaurants to give covid-19 a run for its money is by adopting an online ordering system.
5. Customer demand for healthier restaurant menus
It used to be that big portions of greasy food were the best way to attract customers to a restaurant, especially in the fast-food industry. However, the dietary habits of consumers are changing. Be it because of the availability of better information about nutrition and self-care or because of a social media-driven desire to always look good, millennials and gen Z are interested in healthier dining experiences.
Nonetheless, the time to turn off the deep fryer is far from being here (and will be for a long, long time). A 2019 report by the UK Food Standards Agency claims that a large percentage of Gen Z is going through a teenage phase synonymous with eating burgers, pre-packed sandwiches, ready meals, and other such foods. In that regard, it seems like Gen Z teens are bound to behave as previous teenagers did.
Nonetheless, their eating habits change as they reach maturity, an event that will happen to many of them in 2022. There is a higher possibility for members of Gen Z and Millennials to become vegetarians or flexitarians than previous generations. Concerns about the environment make many reconsider their eating habits, and even among those who don't, they're still inclined to purchase food items they perceive as healthy.
6. Using customer data to improve dining experiences
Data is the hot new buzzword of the 21st century, and for a pretty good reason. After all, data can be used to guide decision-making and improve the customer experience. Our whole lives revolve around data, whether we realize it or not. From our doctor appointments to our movie suggestions on Netflix, almost all modern interactions have data involved in some way or another.
Just like Spotify can recommend songs to listen to based on your preferences, an online ordering system can recommend food items based on what you enjoy the most or order most often. Smart marketing tools can also give restaurant owners access to personalized reports to learn more customer behaviour and other areas of their business.
For example, AI-powered technology is able to change what's being offered to customers based on several factors. If an item is missing because of a random error from the supply side, AI will automatically remove that item from your restaurant menu, saving you time and avoiding dissatisfied customers.
7. Riding the fast-food fashion wave
From the beaches of LA to the boroughs of London, restaurant owners are finding new and creative ways to promote their brands and give their most loyal customers a way to display their love for their favorite fast food meals. Restaurant merch not only satisfies the growing customer demand for it, but it is also a great way for your brand to stand out in the crowd and gain notoriety.
Successful restaurant merch used to be something that happened once in a blue moon. Besides Hard Rock Café shirts or Starbucks-branded mugs, there wasn't much to see from restaurant chains when it came to marketable items. A shift in the cultural mindset, however, seems to be ready to challenge that reality. While band shirts were very popular last century, it seems food shirts' time to shine has come.
Restaurant-themed clothing items like baseball caps, jackets, and t-shirts are set to be hot new items in 2022, with several food service businesses teaming up with local artists to offer custom, limited-edition merch.
Here are items customers like:
Keychains
Pin-back buttons
Cutlery and dinnerware
Prints
Tote bags
8. The birth of kitchen automation technology
In Back to the Future II, Hollywood gave 80s audiences a glimpse of the advanced technology they thought we would take for granted nowadays, and that included a machine that could prepare a pizza by itself. Even though other promises that the movie made, like the hoverboard, never came true, kitchen automation technology is not only here today, it is also proving to be a quick and effective solution for many restaurants.
Automation has long existed in restaurant kitchens in the form of gadgets and other utensils that facilitate the preparation process. Very few chefs nowadays would use, for instance, a mortar and pestle, as there are much faster, easier alternatives. Machines can be programmed for precision so they always use the same amount of an ingredient, and the speed at which they can perform certain tasks is much faster than that of a human.
9. Using a smart online ordering system
Delivery apps are nothing new in 2022. It seems that as soon as smart devices hit the market people were already figuring out how to use them to order food. Services like Uber Eats or Deliveroo are quick entry-level solutions for many restaurant owners. Nonetheless, using these third-party delivery apps comes with a series of inconveniences.
Third-party apps don't give restaurant owners access to key data, impeding opportunities for growth in the modern restaurant industry. It is also common for delivery apps to ask for big commissions (up to a whopping 30%) on every purchase. Being in a third-party ecosystem also means that the app's algorithm will work for your competitions' menus as much as yours.
In contrast, UEAT's AI-powered food service solution provides you with a personalized online ordering platform and white label app. If that wasn't enough, UEAT works on a zero commission basis, so you can avoid huge commissions. UEAT's smart online ordering system gives users access to smart marketing tools, which will allow the most tech-savvy of restaurant owners to design every detail of the customer experience. Not only do you have access to all your data, but can also get AI-curated reports to improve the way you handle your business.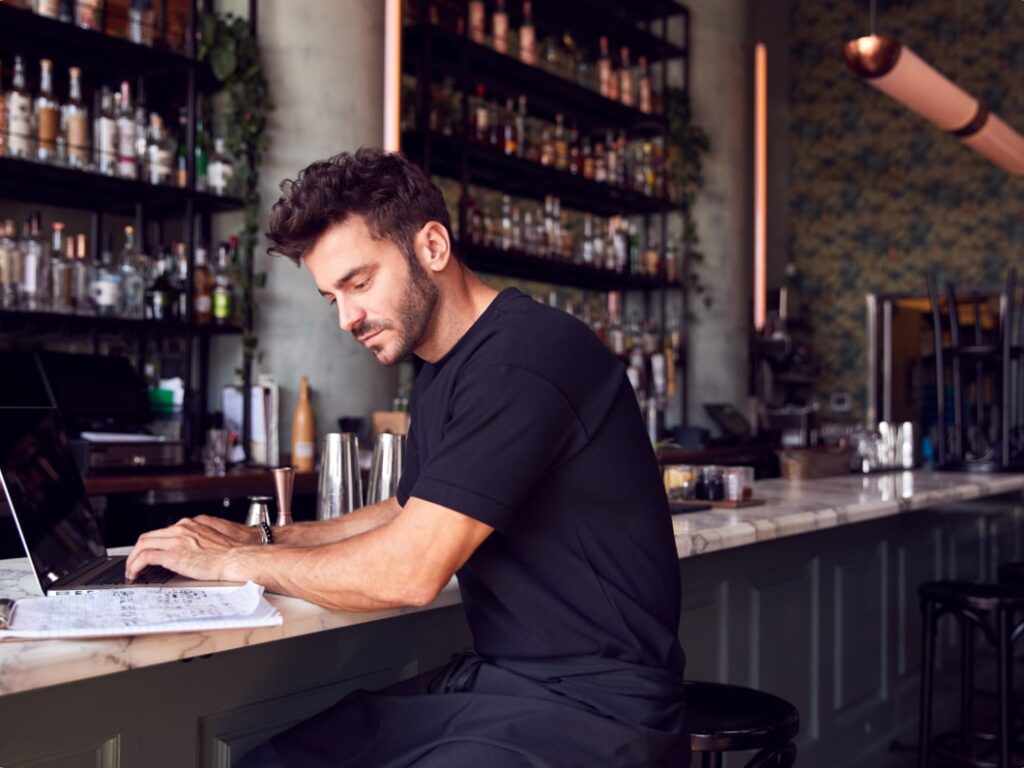 Subscribe to our newsletter for the latest insights in restaurant management
By clicking the button above, you agree that UEAT will use your information to contact you about relevant products, content and events. You can unsubscribe from these communications at any time. For more information, see our Privacy Policy.