In 2019, more than 60% of fast food consumers have used a food service ordering software and that number is rising every month. 
Just like banks adopting ATMs in the early 1980s, the restaurant industry is next in embracing the technological turn and its many benefits. In fact, more than half of restaurateurs mention that technology is on top of their priority for 2020. 
Even if most restaurateurs agree that online ordering is the logical next step in the overall customer experience, there is still uncertainties about whether to invest money in creating a homemade solution or to partner with an online ordering provider.
Here's what you should know about homemade solutions.
Hiring developers ain't cheap
Say you decide to create your own in-house online ordering, you need to find developers or partner with a development firm. The later will charge multiple thousands of dollars for the basic ordering structure and then an additional extra to build custom features such as basic promotions.
Before you get your first order, you are looking at tens of thousands of dollars that you need to pay upfront.
No integration
Restaurant POS system, cards & loyalty, payment processor, menu board – adding these integrations to a in-house solution are either overly complicated or simply not possible. Some software providers won't allow an integration with an unproven online ordering platform. 
This means that your restaurant online ordering platform won't communicate with your operations which will result in a poor in-house experience for you and your staff. At its core, online ordering is designed to optimize your operations, it shouldn't be a burden.
"Is this secure?"
Customers love the option to pay online to save time when picking up their order. For restaurateurs, this is a great feature since it considerably accelerate the flow during a rush. 
But accepting credit cards online is not as simple as you might think – you need to make sure you collect, handle and store the card holders' information securely. To reassure your customers that your platform is legitimate and secure, you want to obtain a PCI Compliance certification. Getting this accreditation is not really a walk in the park either. You're looking at an extra multiple thousands of dollars to build a secure platform for you and your guests.
The last thing you want to deal with is having an attack on your website resulting in the name and credit card info of all your customers leaked online.
What about technical support?
Imagine you're in the middle of your usual rush hour and a customer shows up to pick up an order they placed online. After checking everywhere you realize that the order never made it to your kitchen even if the customer's credit card was charged. The order is lost in limbo.
You might be able to fix the relationship with that customer but what if this starts happening multiple times each week?
It is often believed that when an online ordering platform is online, the heavy lifting is done. But in fact, it's just the beginning.
Costly maintenance
Let's say you finally go live with an in-house solution, there's always something unexpected creeping around the corner : bugs. No software is ever perfect. 
This means you will have to either hire a full-time developer or sign a contract with a firm to fix your bugs. 
Software maintenance is the same as car maintenance – you pay a price for the car but there's always unforeseen fees ("What in the world is a caliper?"). In-house online ordering platforms are the same – you need to budget for bugs and maintenance fees.
What about a whitelabel partner?
UEAT's mission is to simplify the lives of restaurateurs. Our team has spent time and resources developing an online ordering tool that is simple, quick and intuitive.
By being whitelabel, UEAT gives multiple benefits for restaurant owners and operators:
See UEAT in action in a quick personalized demo and witness how we can help you create the best version of your restaurant.


Let's talk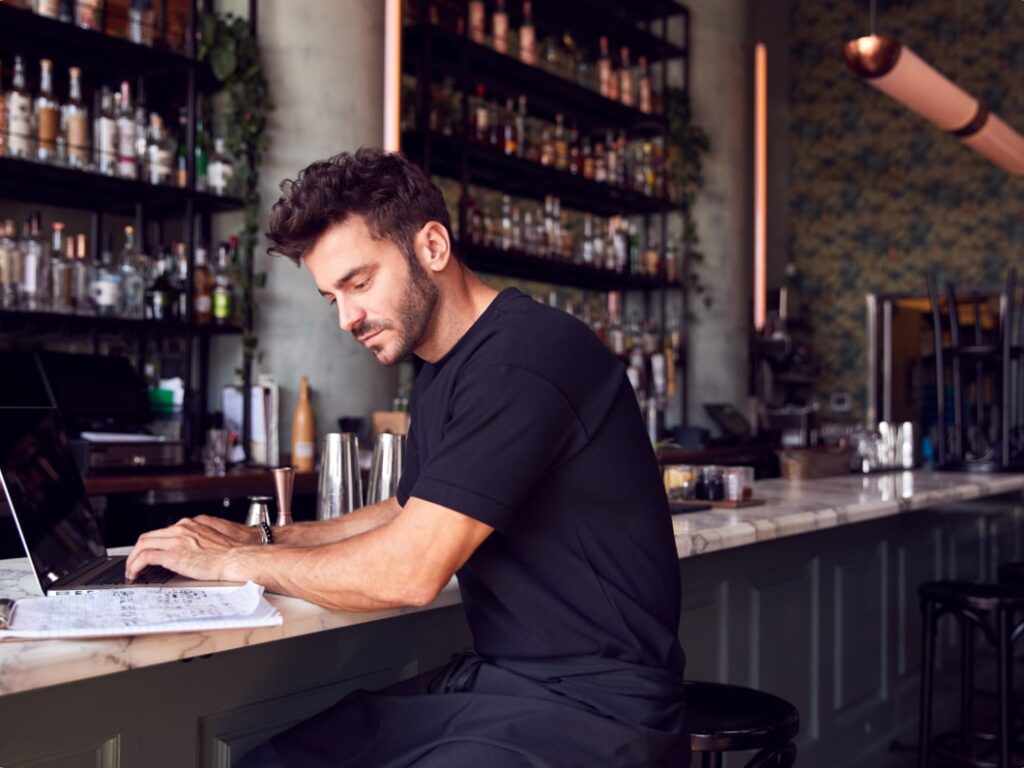 Subscribe to our newsletter for the latest insights in restaurant management
By clicking the button above, you agree that UEAT will use your information to contact you about relevant products, content and events. You can unsubscribe from these communications at any time. For more information, see our Privacy Policy.