Before the pandemic, self-ordering kiosks for restaurants were on the rise. As customers across all age groups became increasingly tech-savvy, more and more craved self-ordering kiosks in order to save time. In fact, research prior to 2020 found that 60% of customers would visit a specific restaurant more often if kiosks were offered. Restaurateurs also were interested in setting up self-ordering kiosks to save on labour, improve order accuracy, decrease wait times, and streamline in-restaurant foot traffic.
And then COVID-19 hit the world—and the restaurant industry. With public health authorities requiring social distancing and prohibiting any type of close contact, having customers use traditional self-ordering kiosks for take-out or curbside pick-up, became a risky activity. These self-standing physical kiosks or mounted tablets had to be continuously disinfected, making the process very inconvenient and inefficient. 
What's more, the risks of spreading the virus were still rampant if disinfection procedures were not closely followed. According to Harvard Medical School, studies show that certain viruses and bacteria can survive for hours if not days on surfaces, making physical kiosks and tablets potentially vectors in spreading the virus. 
Does this mean the demise of self-ordering kiosks for restaurants? Far from it. However, the future of self-ordering kiosks resides in a technology switch that will likely benefit restaurateurs even more than conventional equipment. 
And it starts with your customers' cell phones.
What is the new type of self-ordering kiosks for restaurants?
Next-generation self-ordering kiosks for restaurants will be found on your customers smartphones. Innovative food tech companies, like UEAT, are offering restaurants a technology platform that enables customers to simply scan a QR code using their smartphones' cameras. That QR code immediately offers a quick, three-step process to view your menu, place their orders, and pay for them via credit card, Apple Pay and Google Pay.
The QR codes can be displayed on your dining room tables (for table ordering), in your reception area (for take-out and skipping the line), in your parking lot (for curb-side pick-up and skipping the line), or even in surrounding areas (think: nearby businesses) for customers looking to order ahead of time—and again—skipping the line.
This new approach to self-ordering kiosks is also particularly conducive for stadiums, theatres and other venues that want to offer in-seat ordering to elevate their guest experience, increase concession sales, and even out foot traffic and order volume throughout the event. Imagine being able to watch a football game or movie without having to get up from your seat to get food and a drink…and miss a critical moment! That's the type of entertainment experience that cannot be matched!
What are the benefits of mobile self-ordering kiosks for restaurants?
There are many benefits to mobile self-ordering kiosks for restaurateurs that go beyond the benefits of their clunky predecessors:
Customer safety: Customers use their own devices to order and pay.

Improved efficiency: No more disinfecting terminals and screens ad nauseum.

Lower capital expenditures: Restaurants don't have to invest in any physical terminals or tablets.

Reduced maintenance costs: Restaurateurs do not have to spend money on maintenance with self-standing kiosks or mounted tablets.

More in-restaurant real-estate: Restaurants no longer have to compromise on space with huge kiosks or tablet stations/counters that can impact the flow of foot traffic.

Less line-ups: Wait lines to use a physical kiosk or tablet are a think of the past!

Higher ticket sizes: Did you know that smart, non-intrusive upselling can actually increase your average ticket size by up to 40%? 

Lower labour costs: You can make do with less front-of-the-house staff 

Data collection: You can collect data on your customers for marketing purposes
What to look for in a modern mobile self-ordering kiosk for restaurants? 
It is important to keep in mind that there are some features you should consider when shopping for a new mobile self-ordering kiosk. Here is a list of the most important functionalities that will improve your customer experience and boost your return on investment.
A frictionless ordering process

. You will want the platform to be as quick and easy as possible for customers to select your menu, order and pay. Anything more than three steps is likely to irritate your patrons. Be sure to test drive the interface yourself to ensure that it is lean, clean and simple to check out. Any hurdle as you test drive is a warning sign that your customers will undoubtedly hate it as well.

Non-intrusive upselling

. Because customers will be using their smartphones, don't choose a system that doesn't offer upselling options or that inundates them with annoying pop-ups. Rather, choose a mobile self-ordering kiosk that allows you to configure upselling menu items in a way that is relevant to what your customers are ordering at any given time as well as personalized to their tastes and past purchase. You can learn more about

UEAT's smart upselling based on artificial intelligence here

.

Expedited data entry

. While customers are used to texting and entering text on their smartphones, make sure your platform offers auto-filling of customer data, automatic geo-location of your customers if you have more than one location, and a simple tap to choose the date, time and order type (table ordering, take-out, in-seat delivery, curbside pick-up, office delivery, etc.)

Integrated loyalty and rewards programs

. Statistics abound about the fact that customers will keep coming back to a restaurant if it had a loyalty or rewards program. The mobile self-ordering kiosk you select must integrate with any program you offer your patrons. This strategy will encourage them to use their mobile devices for ordering and paying for their food.

Easy access to customer data and analytics

. Take full advantage of a mobile self-ordering kiosk that offers access to your customer's contact information for future marketing initiatives and analytics to help improve your business. Analytics is your secret weapon to improving inventory management, marketing and operations as you will always know what menu items are popular (or not), when you have order peaks and troughs, and a wide variety of other data that you can use to make better decisions.
The bottom line? Mobile self-ordering kiosks are the wave of the present and future as restaurants continue their digital transformation. Customers are already receptive to this new way of ordering and consider mobile kiosks as tools to make their dining experience more enjoyable and safe. Any technology that delights customers is a sure-fire way of boosting your profits.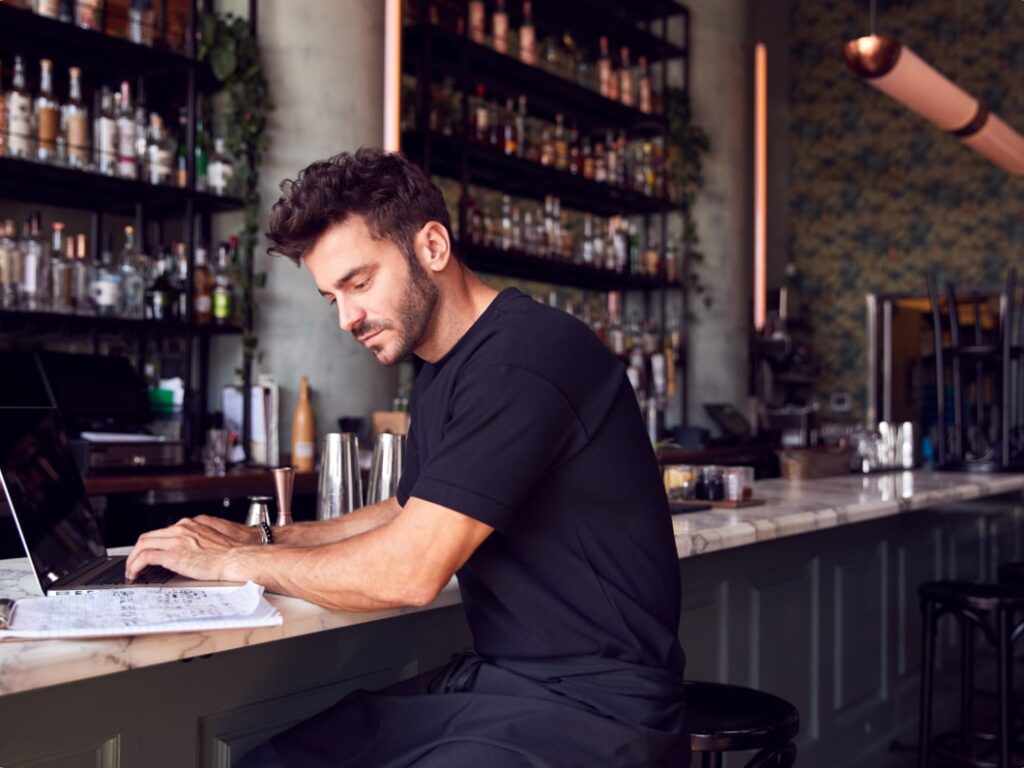 Subscribe to our newsletter for the latest insights in restaurant management
By clicking the button above, you agree that UEAT will use your information to contact you about relevant products, content and events. You can unsubscribe from these communications at any time. For more information, see our Privacy Policy.