With the closure of restaurants to curb the spread of COVID-19, food delivery is growing exponentially. Currently, most restaurants around the world only have two options to assess: they can stay open, offering food delivery and takeaway or close their premises and wait for the situation to improve.
Online food ordering has grown rapidly in recent years, that's why many restaurants already have an established model of integrated delivery in place. Other businesses, such as bars and luxury restaurants may not yet be very used to off-site consumption.
However, in today's landscape, even those who already know what food delivery is all about have to rethink their strategy to adapt to the current circumstances. This is where no contact delivery comes in the picture!
What is no contact delivery?
No contact delivery consists of avoiding physical or direct contact between the delivery person and the final customer. This can be done in a number of ways. Most of the time, technology plays a critical role (of course!).
Thanks to contactless delivery, it's possible to pre-pay without having to interact directly with other people. It also allows fluid communication between the delivery person and the customer in order to minimize any type of contact during the delivery.
Before the pandemic, no contact delivery did not play the role it does today. It was more focused on managing resources in order to save time and be more efficient. However, due to the COVID-19 situation, the entire world has had to adapt in different ways to increase security!
How do contactless deliveries work?
There are two main ways to do no contact deliveries:
1. No contact delivery + no direct contact with the delivery driver
This type of delivery is the most common one. The delivery person takes the order to the address indicated by the customer. It's almost the same as a regular delivery. The only difference is that in this case, the delivery person includes some security measures to prevent infections (the use of gloves or a mask, for example).
It's also very common for the package to be left in front of the customer's door and to notify them with an app or mobile phone so that they can pick up their order. This way, the delivery man can move away from the door and avoid any possible direct contact. In this type of delivery, the customers pre pay for their products or food online or through an app.
2. No contact delivery + no delivery driver
Only a few companies do this type of no contact delivery, although everything suggests that in the coming years it will become one of the most common forms of delivery. In this case, the order is delivered using delivery robots, which are in charge of transporting it to the customer's door. The customer can pick up the package directly at the door of his house without having to establish contact with a delivery person.
Ready to optimize your operations? Check out our Food Ordering Services and start skyrocketing your business today!
Tips to implement contactless delivery at your restaurant
In the context in which we live, investing in technology for your restaurant is not only necessary, but essential to achieve success and not risk being left behind. 
Want to speed up your sales? Facilitate communication between managers and employees? Improve your loyalty program? Reduce your costs? Offer various forms of payment? Or improve your online food ordering service? The benefits and possibilities that technology offers are endless.
If you have a restaurant and your aim to consolidate it and expand your brand, implementing contactless delivery will make you stand out from your competitors. We'll tell you why. 
Invest in an online ordering system
It's no surprise that the COVID-19 pandemic has accelerated the food delivery boom. Did you know that the sales of restaurants that already had an online ordering system have increased by 50%?
If you want to boost your sales and increase your revenue, the best way to use technology to your advantage is to implement an online ordering system. This is a golden opportunity to adapt to the current situation and make the best of it. You will satisfy your clients and boost the sales of your business at the same time. Win-win, right?
The habits of people around the world are changing more than ever. Life is not what it used to be, now people prefer to order food online for convenience. Think about it, 10 years ago you probably called your friends and family more often than now. Nowadays, you probably use WhatsApp or Facebook Messenger to get in touch with them.
Online ordering for restaurants is a strategic way to improve the customer journey and improve profitability. Take advantage of our industry-leading restaurant online ordering system and start boosting your sales!
Not so sure yet? Here are some key reasons to implement an online ordering system and take your restaurant to the next level: 
The demand for online orders keeps growing every year
These days, if you don't have an online ordering system, you're passing on an outdated image of your brand to your customers. It's better to be modern, accessible to everyone, and up to date with trends! Potential customers won't hesitate to order from your competitors if they let them order their favorite food from the comfort of their homes. It's time to catch up!
Online orders will boost your sales
With a strategic upsell, the average online order is 40% higher than on-site. Since customers can take as long as they want to choose their order without any pressure, they will not only order more, but will return more often!
Improved order accuracy
Your customers will have the facility to see all the products on your menu and make the changes they deem necessary. With direct integration with your POS system, orders will reach your kitchen without double entry. This reduces the error rate and makes things simpler for your staff!
Customizable online ordering system
New item in your menu? New offers and promotions? Don't worry! With our ordering system, you can make real-time design changes. You have absolute control!
Customer insights
Knowing your customers and knowing what works and what doesn't is a big part of running a successful business. Online orders provide this data. And if that isn't enough, our ordering system has an artificial intelligence module to help you do just that!
Another great option to adapt to the current times and improve your service is to implement a contactless ordering and payment system. This will enable your customers to check out your digital menu, place an order and pay without the need for any human contact. Seems just right for this year, no?
Nowadays, providing safe sanitary measures is fundamental for all businesses. Here are the different contactless order types our tool offers: 
Table ordering
Customers can browse your menu with their own mobile devices and pay online. The order will be sent directly to your kitchen and your customers will receive their order at the table. There is no need for a waiter to take the order!
It works in three simple steps: Scan the QR code on the table, pick your food and pay!
Skip the line
Let your customers save time and skip the line with priority orders. They simply have to choose their food, pay safely and collect it. No need to wait in crowded areas for someone to take your order. Social distancing at its best! 
Curbside pickup
Don't have room for a drive-thru? No worries! Curbside pickup is a safe way for your customers to pre-order and pick up their food without leaving their car. They simply have to pop up their trunk and an employee safely puts the order in the car. Quick and convenient!
Contactless delivery
With our fixed-rate third-party delivery and internal delivery integration, your customers can receive their food safely and conveniently. Every payment is already processed securely online, so there's no need to use cash or sanitize payment terminals. 
Integrate Delivery 
So, you want to provide delivery on your own terms and start receiving your first orders, but you're not sure where to start? We're here to help!
While there are many options to choose from, our online ordering system offers an all-in-one solution. We set up your custom app, integrate online orders and delivery all at once. In other words… we make your life easier! UEAT supports multiple delivery integrations to quickly get your food delivered to your customers. 
You can either offer deliveries through DoorDash while taking orders from your own website or opt for a direct integration with your operations. This means you can also offer delivery services with your own drivers. However, if you feel you're spending too much time managing your deliveries with your own staff and want to simplify the process, you can also leverage the GetSwift + UEAT integration. 
Whatever option you choose, we'll show you how you can enable an effective delivery service for your restaurant. 
Can you pay cash with no contact delivery?
While it's not necessary, you can also implement a cash payment method for contactless deliveries. The customer can leave the cash outside before the driver arrives at their door. They can leave it with a note that indicates where they put the cash so the driver can pick it up and leave the order with the change.  
What are the pros of implementing a delivery system for my restaurant?
New customers
Thanks to delivery services, restaurants can reach a greater number of customers, mainly because your coverage range increases considerably. For example, people who live in another neighborhood don't usually go to your restaurant because they don't see it every day. However, if you give them a delivery option, they will definitely consider you.
Profitability and increased sales
Offering a delivery service influences the profitability of your business, since the demand is constantly growing. According to studies, it increases by 8% every year! The increase in profits is due to the fact that it allows you to expand your sales volume, since you reach corners of the city where you normally don't sell. 
Increase your restaurant sales online
Increased visibility
All restaurants need to be recognized and convey a positive image in order to attract more customers. The more people know about your restaurant, the more positive reviews you will have online. Delivery apps are a great opportunity to gain publicity, awareness and reach. 
Improved brand image
Among other things, packaging is an essential element to transmit the personality of your brand to your consumers. The first impression of your brand will be through your packaging. It's an opportunity to reinforce your brand identity and retain your customers. This will make them choose your brand over others in the future. Keep that in mind!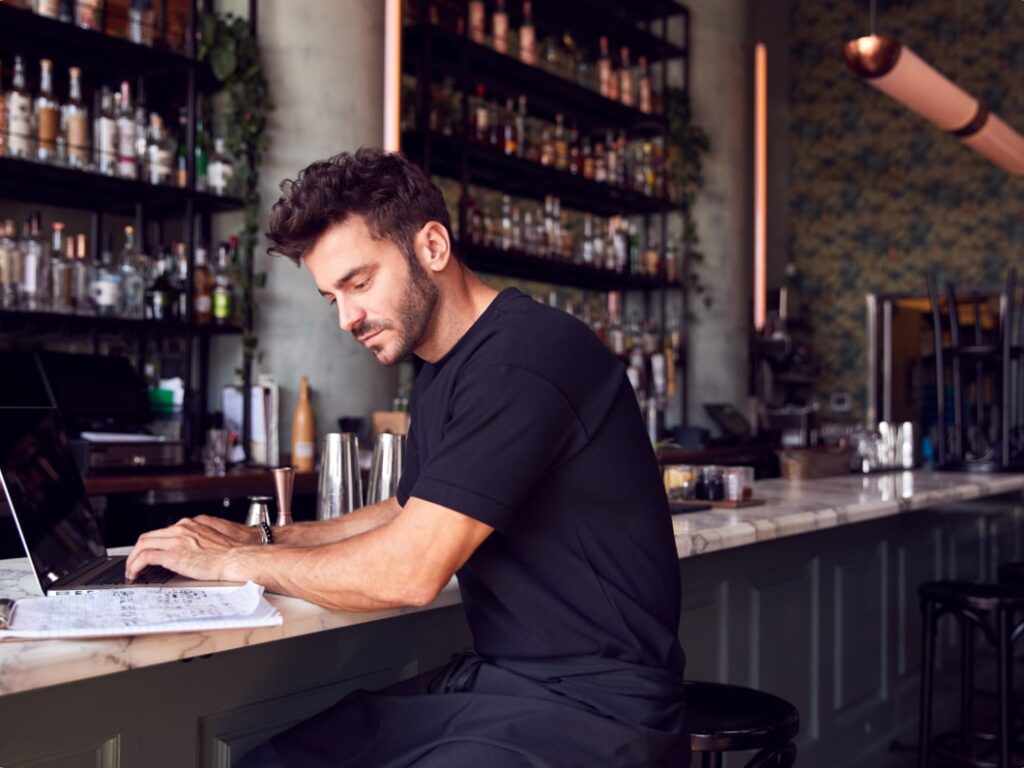 Subscribe to our newsletter for the latest insights in restaurant management
By clicking the button above, you agree that UEAT will use your information to contact you about relevant products, content and events. You can unsubscribe from these communications at any time. For more information, see our Privacy Policy.